This Paleo + Whole30 Chicken Mole Recipe  is sponsored by Crio Bru, but all thoughts and opinions are my own. Thank you for allowing me to work with companies I believe in so I can continue to bring you free content.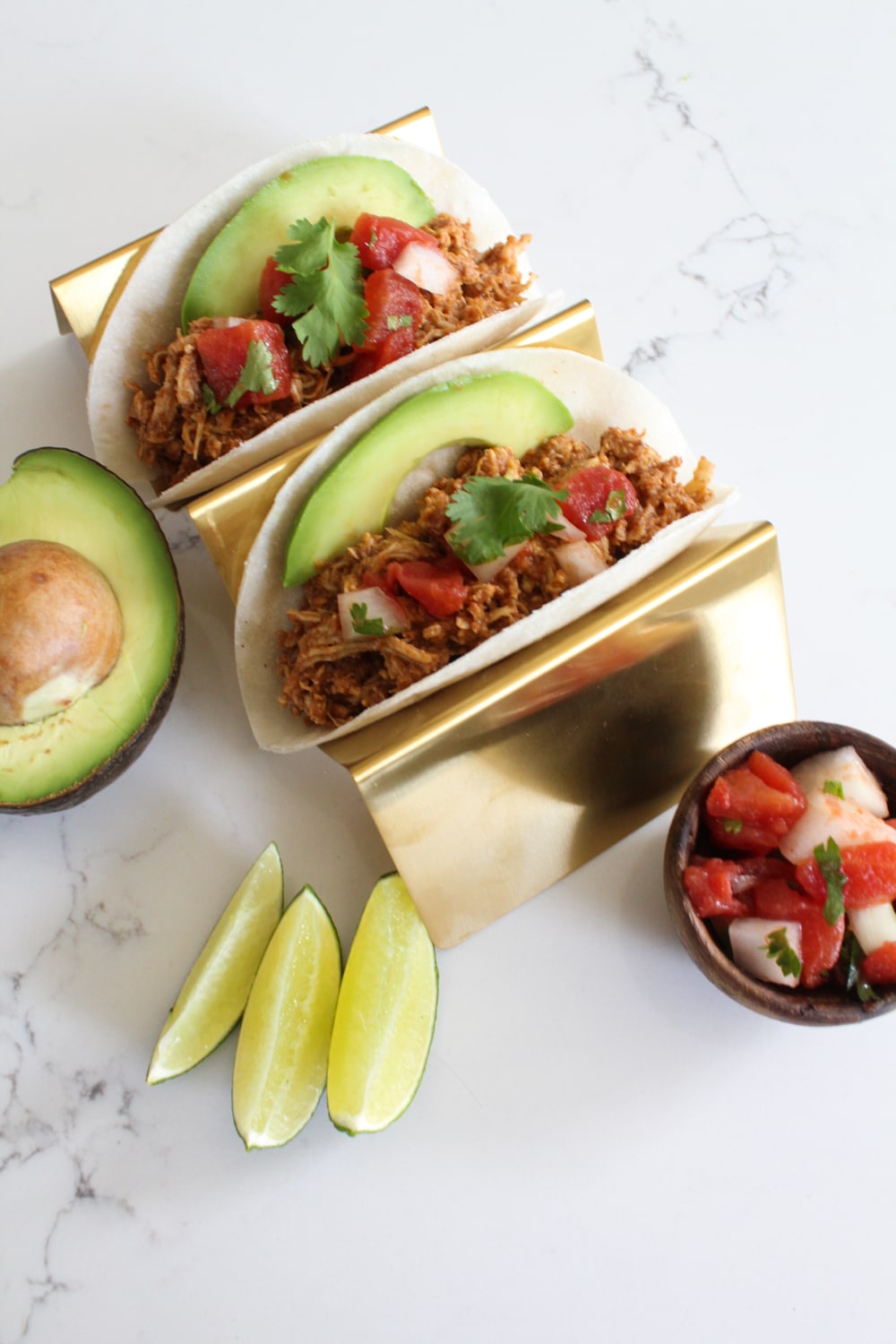 Have you ever had mole? It's a delicious, savory Mexican marinade and sauce made from chiles, spices, nuts, fruit, and… Chocolate! Yes, really. If you're a chocolate lover like me, you will LOVE this dish. 
While traditional mole sauces can have a huge variety of ingredients, this Paleo Chicken Mole Recipe is made with a secret ingredient- Crio Bru!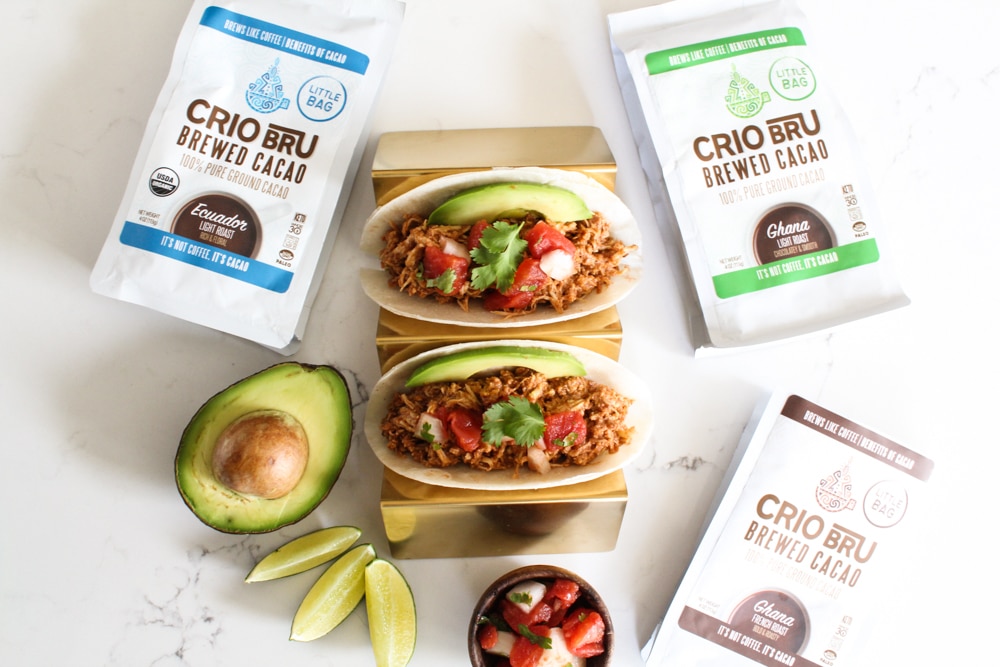 What is Crio Bru?
Crio Bru is a delicious alternative to coffee made from cacao beans (the same beans used to make chocolate!). It gives this Paleo Chicken Mole Recipe a super yummy chocolate flavor. 
To help support my adrenals and therefore my thyroid, I've been avoiding my normal morning coffee. Because I love the ritual of coffee so much, I've been drinking Crio Bru instead! I can brew it the exact same way as I normally brew my coffee, and even put in the exact same fixings 🙂 I love Crio Bru with a combination of full fat coconut milk, monk fruit, and vanilla. It's so delicious!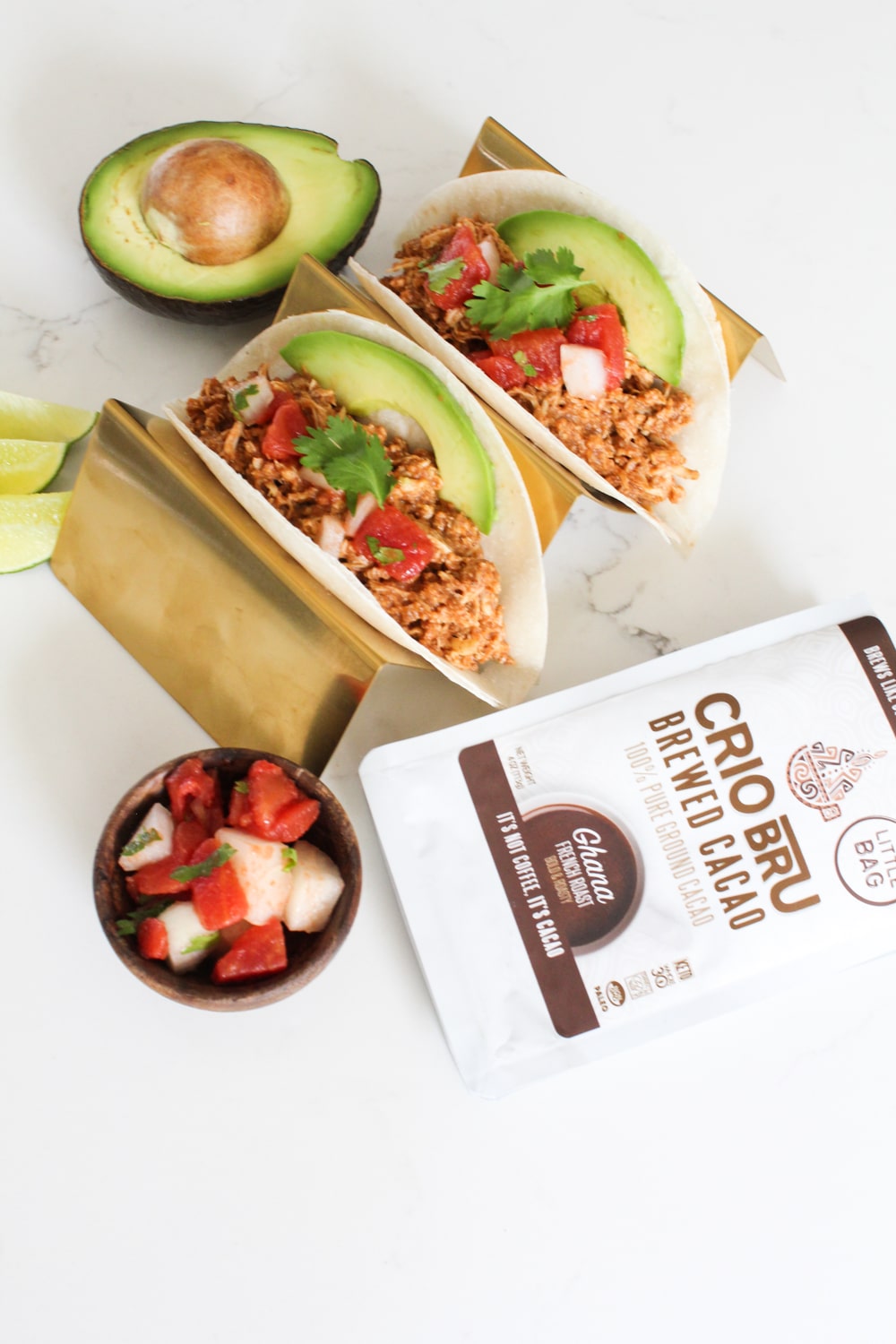 For this recipe, we use the Ghana French Roast variation of Crio Bru. It's dark and rich in flavor. While we serve this Paleo Chicken Mole sauce with shredded chicken, it can be used with any meat of your choice. It's also SO scrumptious served over any kind of enchiladas. 
Crio Bru Coupon Code
Crio Bru has been lovely enough to provide you a Crio Bru Coupon Code for your order! Click here and use the code OLIVEYOUWHOLE to save 15% on your entire order!
I typically serve this Paleo Chicken Mole Recipe in grain free tortillas and topped with pico de gallo. There are so many great sides you could serve with these tacos- Sweet and Spicy Jalapeño Cole Slaw, Dairy Free Queso, or this Mint Lime Watermelon Salad. 
Print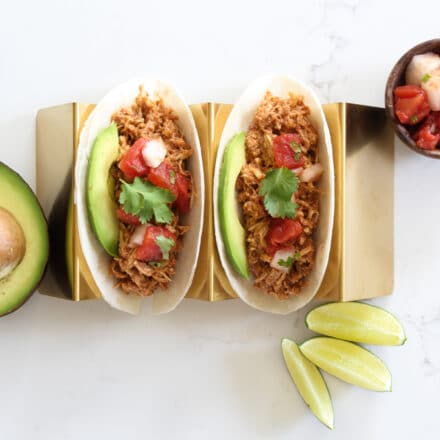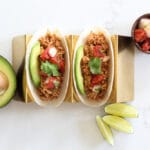 Chicken Mole Recipe (Paleo + Whole30)
---
1

(4 oz) bag of Crio Bru Ghana French Roast

1 1/2

c water

2

T olive oil

1

medium onion, chopped

3

garlic cloves, minced

1

t ground chipotle powder

2

t chili powder

½

t ground cinnamon

1

t tomato paste

1

c raisins

1

15 oz can diced tomatoes

3

T smooth almond butter

1

c chicken broth

1

t freshly ground black pepper

1

T salt

2 ounces

unsweetened chocolate (or

2 tablespoons

unsweetened cocoa powder), optional

4

chicken breasts, cooked and shredded

Fresh cilantro, for serving

Lime wedges, for serving

1

avocado, peeled, pitted, and sliced, for serving
---
Instructions
To brew the Crio Bru, add the entire contents of the 4 oz bag of Crio Bru Ghana French Roast to a french press. Add 1.5 cups of boiling water and let that brew for 8 minutes.
While the Crio Bru is brewing, add olive oil to a large pot over medium heat. Add onion and saute until translucent – approximately 5 to 7 minutes. 
Stir the Crio Bru and allow to brew for 2 more minutes.

Add garlic, chipotle powder, chili powder, cinnamon, tomato paste, raisins and diced tomatoes to your pot of onions and simmer for 10 minutes. 

Pour the onion and spice mixture into a blender and add almond butter, Crio Bru, and chicken broth. Puree until smooth. 

Return the mixture to the pot over medium heat. Gently simmer for 15 minutes to allow all of the flavors to combine, stirring occasionally.

If you're looking for an even deeper chocolate flavor, you can add unsweetened chocolate at this point and stir until melted. 

Add shredded chicken and stir until heated through. Season with salt and pepper to taste. 

Serve with tortillas and garnish with limes, avocado and cilantro.
Want to save this Paleo Chicken Mole Recipe for later? Pin it here!