This Five Pepper Sweet Potato Chili Recipe might just change your life! Traditional chili is made with a billion different kinds of beans…. Kidney beans. Chili beans. Pinto beans. Some chili recipes even call for sugar. 
NONE of those things are Whole30 compliant. It's hard to get a solid, delicious Whole30 chili recipe without those ingredients! And trust me, I've been trying to perfect this recipe for about five years!
As you know, we just moved to Colorado! It's mid-August, and it's been in the FIFTIES here!! It's seriously still like 100 degrees in Atlanta 🙂
The chilly weather has got me craving this delicious Whole30 Five Pepper Sweet Potato Chili Recipe! All of the peppers in this recipe give it a super yummy, smokey flavor!
I could eat soups all year round (ok, I do!). But my family (and most humans) just prefer soups in the fall and winter. Since soups are SO easy, I truly think they're the best reason to do a Whole30 in the winter. Just throw everything in one pot (or better yet, your Instant Pot!) and it's ready in 20-30 minutes! It doesn't get much easier!
It took me five years, but I think I've perfected the Whole30 Chili Recipe! If you make it, be sure to take a photo and tag me on Instagram! @oliveyouwhole Enjoy! 
Print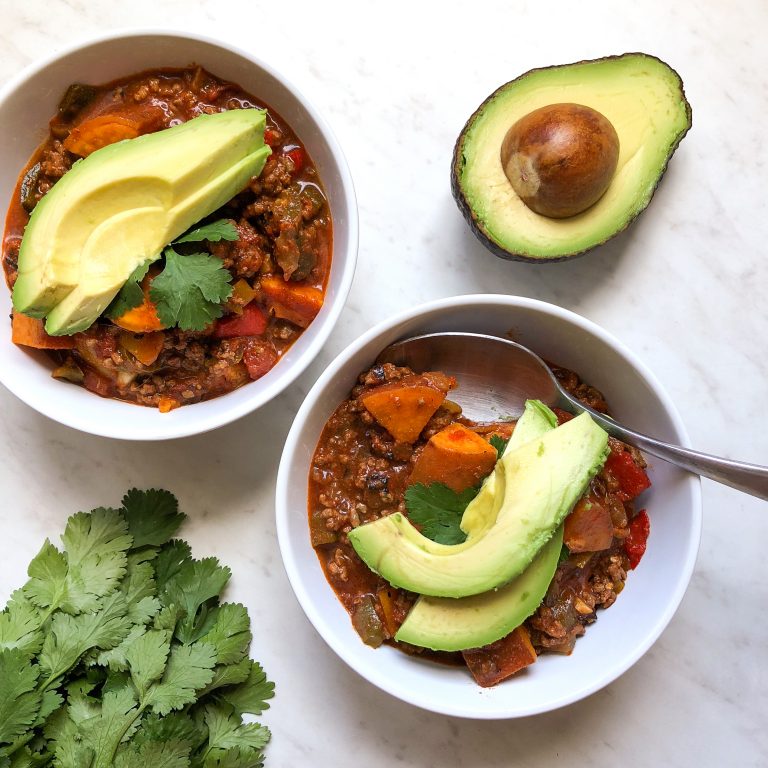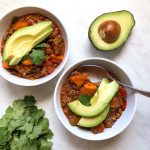 Paleo + Whole30 Five Pepper Sweet Potato Chili Recipe
---
2 T olive oil

1 onion, chopped (~ 1 C)

2 lb ground beef

4 clove garlic (or ½ t garlic powder)

2 T chili powder

1 T cumin

½ t paprika

1 t oregano

1 28 oz can diced tomatoes

1 red bell pepper, chopped

1 green bell pepper, chopped

1 yellow bell pepper, chopped

1 jalapeño pepper, chopped

1 poblano pepper, chopped

3 C chopped sweet potatoes
---
Instructions
In a large soup pot heat the olive oil. Cook onion, beef, and garlic until fully cooked, about 7-10 min.

Drain the fat- feel free to save it for another use- it's really delicious!

Add chili powder, cumin, paprika, oregano, and diced tomatoes.

Add all peppers plus sweet potatoes.

Bring the soup to a boil, then simmer for 30 minutes. Enjoy topped with avocado, guacamole, cilantro, and/ or radishes.