I'm so excited to share my Trophy Skin Rejuvaderm MD Review with you!! [This post is sponsored by Trophy Skin, but all thoughts, opinions, and photos are my own. Thank you for allowing me to work with amazing partners to continue providing you with free content!]
Since I was a teenager, I've struggled with acne. I have early memories of going to the dermatologist in middle school. That's how early I had acne that I needed a solution for! I tried countless creams, facials, and procedures, but nothing worked for long.
After I did my first Whole30 in June of 2014, I could definitely tell a HUGE difference in the clarity of my skin. It's so bizarre to me now that I never considered what I was eating could have a connection to my acne.. Now I have even narrowed down specific foods that definitely cause me to breakout. Dairy. Dairy is the biggest acne-causing culprit for me! If I have dairy, I can count on having a few pimples the next day… Beyond that, I think there are probably also other things that contribute to my adult acne, but I haven't been able to determine what else.
My Before Photos!





This took everything in me to post these photos!!
I know we all have those "problem areas" on our faces. Let me share mine with you: I have some pretty intense blackheads on my nose. Some of those pores are rather large… It's been my least favorite part of my skin since puberty! Blackheads are STUBBORN. They don't easily rid themselves.
Do you know what blackheads ARE?! It's super interesting, really. Blackheads are clogged hair follicles. All of our hair follicles have sebaceous glands that produce oil. Oil and dead skin cells can accumulate in this follicle (yuck!). When this follicle stays open to the air, the oil in our pores aactually goes rancid and turns black… Ok I know this is SO GROSS, but I tell you for this reason: there's a solution! (Truly!)
The other issue that's been true of my skin since middle school is freckles that look like age spots! (Seriously, since middle school!). The sun has always particularly affected my face. I get large brown freckles on my nose and cheeks… They get ever so slightly lighter in the winter, but I never in a million years even considered that they could be alleviated altogether! My other skin concerns included areas with large pores, scars from the aforementioned teenage acne, and the beginning stages of wrinkles.
PHEW!
Now that you know about all the skin conditions I was hoping to treat with the RejuvadermMD, let me tell you all about the device itself! RejuvadermMD is an at home or on-the-go microdermabrasion technology.
You can see here everything the RejuvadermMD kit comes with:
the RejuvadermMD device
power adapter
a diamond exfoliation tip
a pore extraction tip
an infusion tip
50 pack of filters
helpful user manual
How does the RejuvadermMD Work?
RejuvadermMD is a microdermabrasion tool. Microdermabrasion is a process of removing dead skin cells. RejuvadermMD uses suction and diamond exfoliation to remove the top layers of dead skin. As I mentioned earlier, this is SO important because that layer of dead skin can trap excess oil and debris that can cause my blackheads and clogged pores.
How does the cost of the RejuvadermMD compare to the cost of Microdermabrasion Treatments?
If you've had microdermabrasion treatments at spas, or even just seen the prices, you know how costly they can be! The great thing about the RejuvadermMD that I've been testing is that it's only $199, AND you get to use it the recommended 2-3 times a week.
When I did a quick Google search, I found that the cost of professional microdermabrasion can vary widely, but EACH treatment is usually between $75 and $200.
That's the ENTIRE cost of this RejuvadermMD device that you get to keep and use over and over!
My Trophy Skin RejuvadermMD Review – How did it work for MY skin?
To be honest: I've been BLOWN away. Before this partnership began, I even told Trophy Skin I wasn't sure I was a great candidate… I mean, my skin can be stubborn. They were confident their product could help me, so I decided to give it a try!
Firstly, I was surprised at how easy it is to use! Their manual shows me exactly how to use the device, even telling me how to stroke the tool on different areas of my face.
Secondly, it's super fast! Each time I do a treatment on my face, it takes me FIVE minutes. Five! That is significantly faster (and cheaper) than getting in my car, driving to the spa, getting a treatment, and driving back. I couldn't believe how fast and convenient it was!
Third, I noticed a huge difference in literally every problem area. I actually turned to my husband Chaz the other day and said, "BABE!! Oh my gosh you can *barely* see all of my sun spots!!" I was amazed! My blackheads on my nose are definitely going away… I can tell with continued use they're going to go sayonara…
Fourth and final, I think getting rid of all of the dead skin that had accumulated also allowed my beloved skincare products to work EVEN better!! So the combo was absolutely perfect for me.
Overall, my skin looks younger, firmer, fresher, and clearer. I've been really, really happy with this product and how it's transformed my face!
Trophy Skin MicrodermMD Before and After Pictures
I've never, ever wanted to do a close-up on my blackhead-studded nose… but I did with the hope that the after would be so much better! I think you can tell from the pictures that they're definitely going away!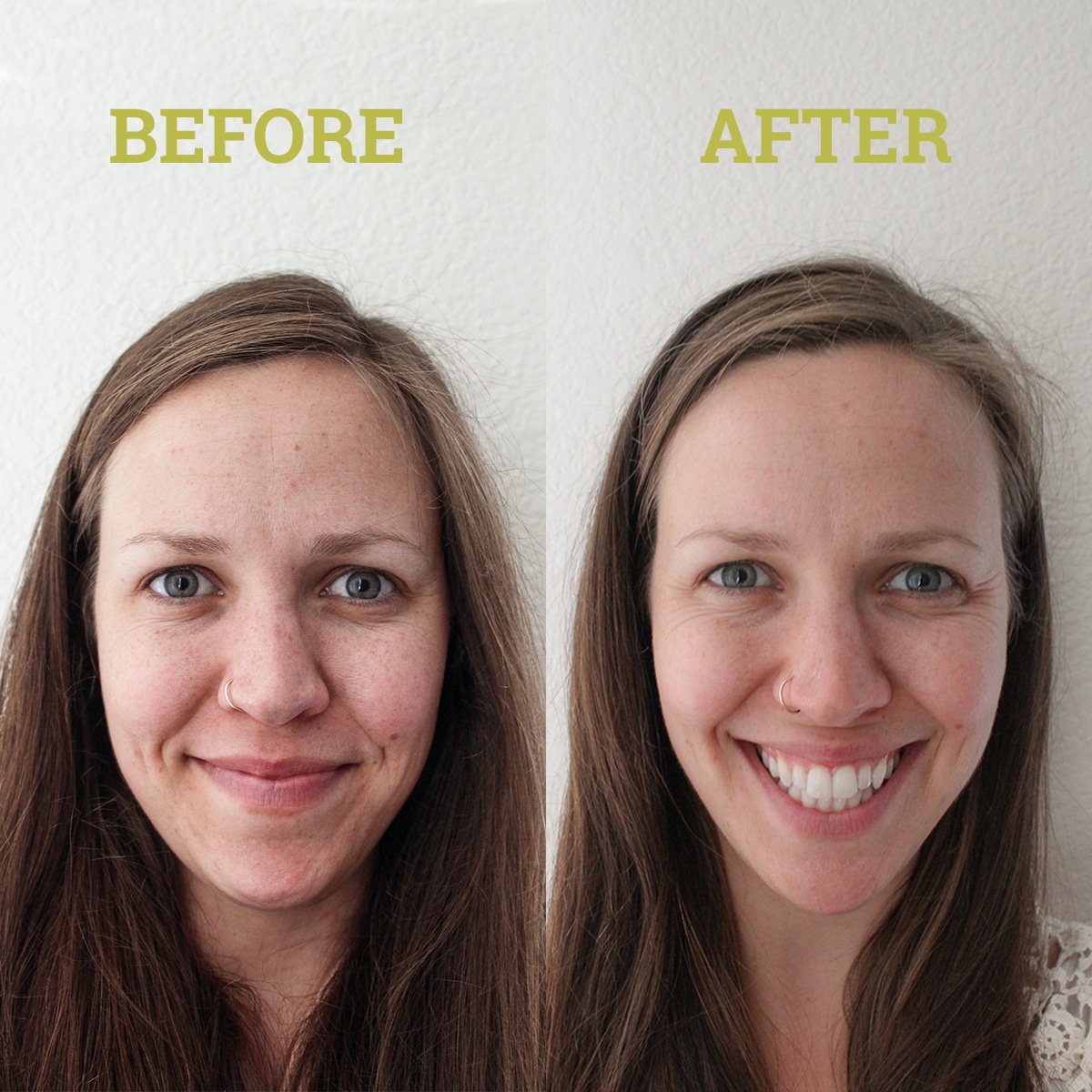 More After Photos
Get your Trophy Skin MicrodermMD Coupon Code!
Get 15% off your Trophy Skin order by clicking here and use the code OLIVE15!
You can also visit TrophySkin.com and subscribe to their newsletter to be entered into our monthly product giveaway valued up to $300!