I can almost guarantee you haven't made this recipe before… Sausage Kale Soup, inspired by Italian Wedding Soup! This recipe is Whole30 compliant and Paleo friendly!
Anyone else love doing Whole30 in the winter because…. #soup?? SO easy, am I right? I've been posting a lot of soup recipes recently because now that we're in Colorado, it's getting into the low 50's at night and in the mornings! We've been hiking so much on the weekends, and the leaves are ALREADY turning! And it's early September! I never realized how happy fall makes me until we moved here 🙂 To scroll through all of the soup recipes on my blog, click here!
I created this Sausage Kale Soup Recipe when I needed a way to use up some sausage and kale I had in my fridge! Traditional Italian Wedding Soup Recipe contain green vegetables (endive, cabbage, escarole, lettuce, spinach, or kale) and a meat (meatballs or sausage). This combo makes it a perfect Paleo and Whole30 recipe option! We left out some of the ingredients that can be found in Italian Wedding Soup Recipes like lentils and pasta 🙂 It's still so hearty and delicious without them!
Two details about this recipe- it calls for sausage. Sausage is one of those pesky foods that can have lots of yucky additives in it. For a full list of Whole30 Compliant Sausage options, click here! It also calls for bone broth. Bone broth is SO good for your health, and it's a great way to take your soups up a notch 😉 You can use regular broth here, but you sacrifice some major flavor and healing properties! 
I hope you love this Sausage Kale Soup Recipe as much as I do!
Print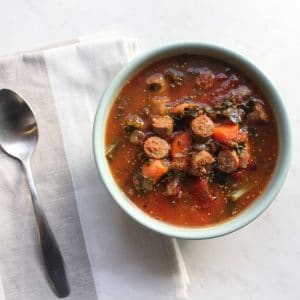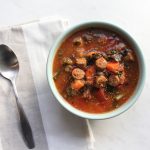 Sausage Kale Soup Recipe
---
2 lb sausage links, cut into ¼ in thick circles

1 onion, chopped

2 cloves garlic, minced

4 large carrots, chopped

2 28 oz cans diced fire roasted tomatoes

2 T whole grain mustard (or any other Whole30 approved variety)

Two bunches of kale, leaves removed from the stems and torn into pieces

8 cups beef broth (I prefer @barebonesbroth)

salt to taste
---
Instructions
Cook sausage in a large soup pot for 7 minutes.

Add the onion, garlic, and and carrots and cook for another 5 minutes.

Add the 2 cans of tomatoes, whole grain mustard, and salt. Bring to a boil and simmer until carrots are cooked but still crisp, about 30 minutes.

Turn the heat off and add the kale. It will wilt and cook slightly, but adding it at the end ensures it doesn't overcook.
#oliveyouwhole #Whole30 #Whole30Approved #Paleo #Whole30Recipes