I love eating salads for lunch! It helps me get in tons of fresh, raw fruits and veggies packed with micronutrients. But I've learned something the hard way- if I just buy the lettuce, knowing I'll throw things on top later, I won't. The lettuce will go bad and I'll feel guilty. That's why I've started making my own delicious salad dressings to ensure a yummy salad dressing. I have also started to buy ALL of the ingredients I want for said salad so I'll actually make the salad. This Whole30 + Paleo Greek Salad Dressing Recipe was part of this new-found resolution to eat delicious salads.
There's just something about a GOOD Greek salad. The combination of flavors is just perfect. I mean, they have had a while to get this right!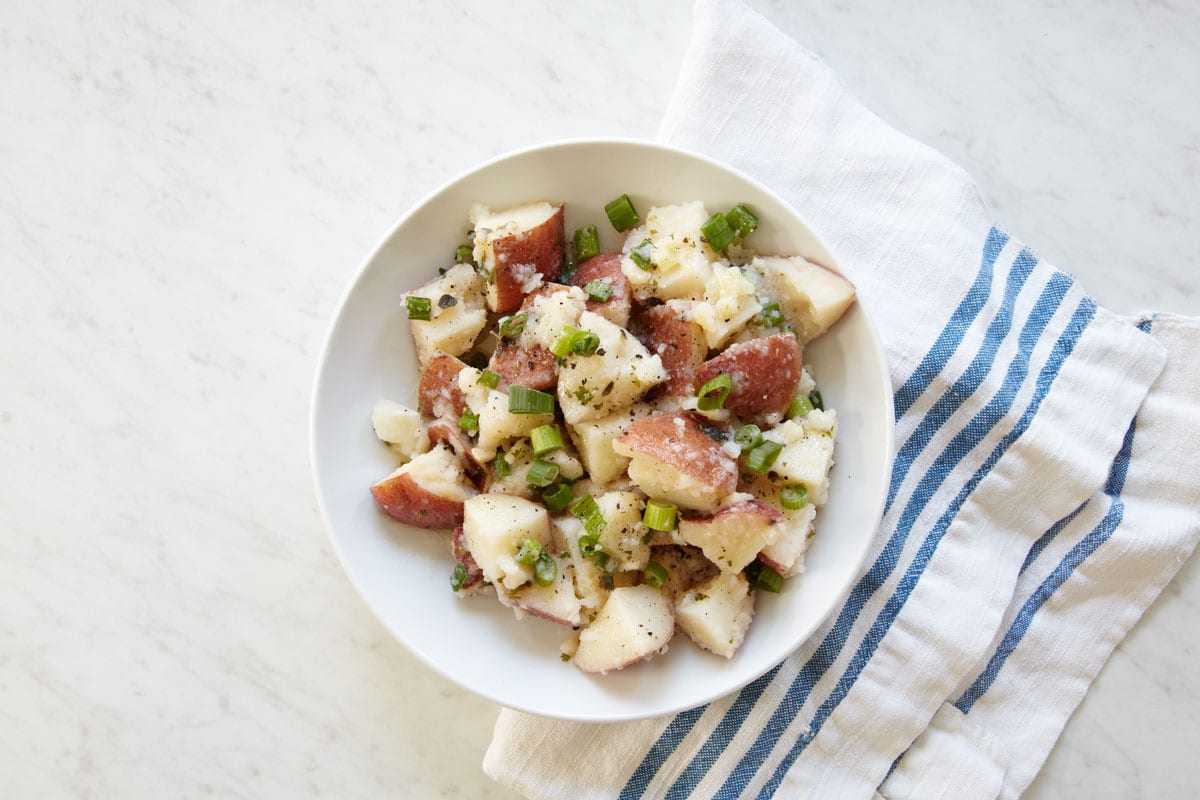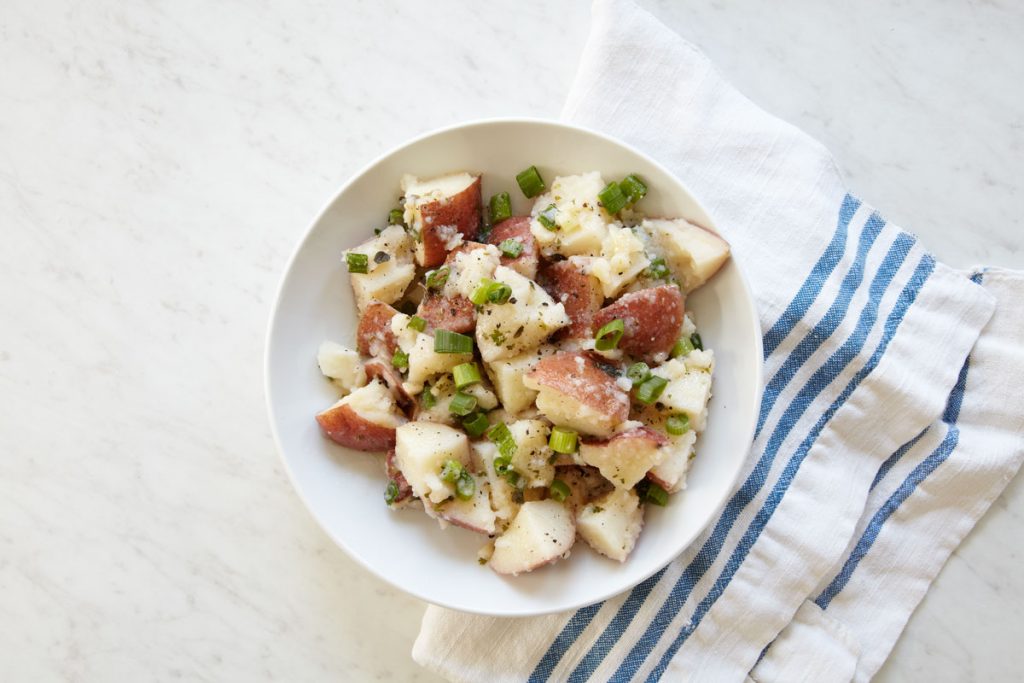 You may remember this Whole30 + Paleo Greek Salad Dressing Recipe from the bottom of my Potato Salad Recipe! But that's not a great place for it to live permanently, is it? 🙂
Do I have to use fresh herbs?
For this recipe, you can use fresh or dried spices, but I can't even communicate how much of a difference fresh spices makes! I know it's annoying to buy spices just to use a tablespoon at a time! What I do is buy the little herb packages at the grocery store, then store them in little silicone Stasher bags (snack size is perfect!) in the freezer! Herbs surprisingly freeze really well! I just take out the little bag right when I'm starting to cook, and they're thawed by the time I'm ready to use them! No food waste here!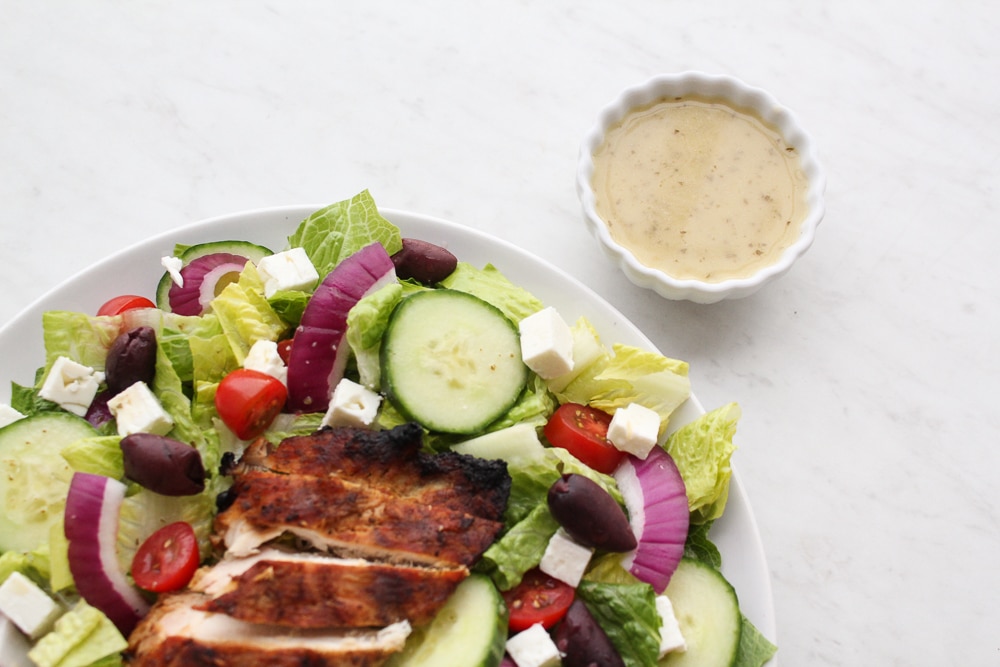 You can use this Whole30 + Paleo Greek Salad Dressing Recipe as a marinade too! I typically make this batch below, then use half of the dressing to marinade chicken in a Stasher bag (storage size), then use the other half as our salad dressing!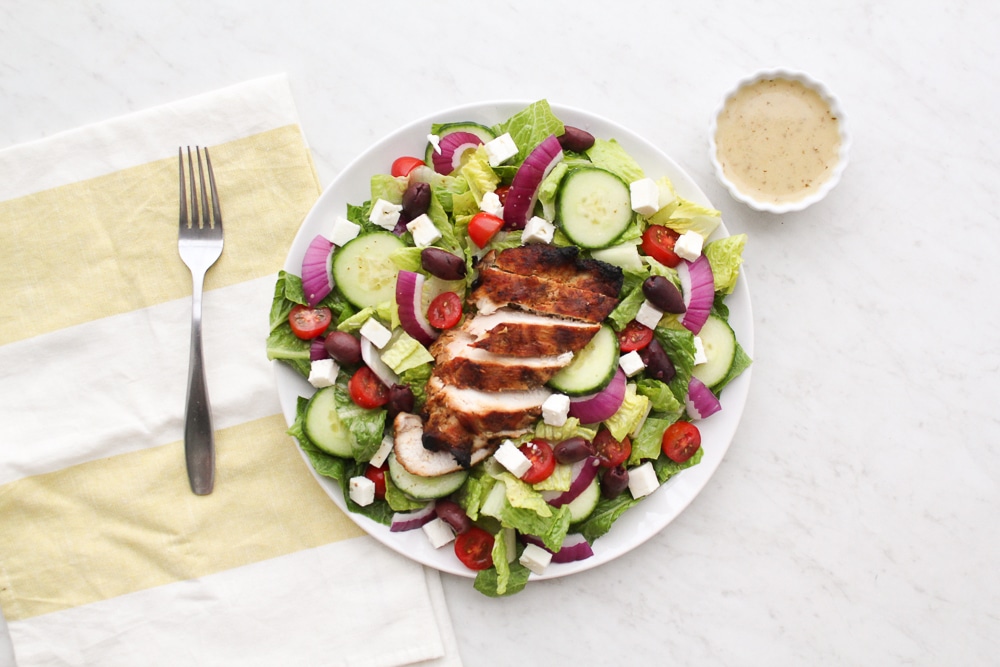 What should you have in your greek salad? You can use this image as inspiration! I typically use Romaine lettuce, cherry tomatoes cut in half, sliced cucumbers, red onion, Kalamata olives, and feta! If you're doing a Whole30, leave the feta out. Top with your delicious Greek Salad Dressing! I hope you enjoy!
Print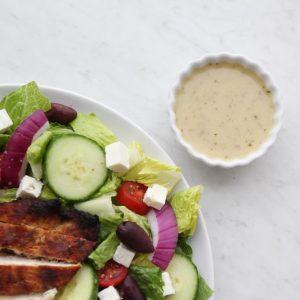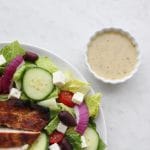 Greek Salad Dressing Recipe (Whole30 + Paleo)
---
1.5

 c olive oil

3/4

 c red wine vinegar

1

 c lemon juice

1

T fresh parsley (or

1

t dried parsley)

1

 T fresh oregano (or

1

t dried oregano)

1

 T minced garlic- about 4 cloves

1

 T salt

1

t black pepper
---
Instructions
Combine all ingredients and store in a glass container in the fridge. Pour over salads, use to marinate chicken, or in my potato salad recipe! 
Want to save this Greek Salad Dressing Recipe for later? Pin it here!