There's this delightful place in Nashville where I must go every time I visit called Bread and Company. One of the many things that Bread and Company is known for is its delicious fruit tea. It is so good, and when there's not tons of added sugar, it's actually Paleo and Whole30 approved and great for you! Scroll down for my Paleo Bread and Company Fruit Tea Recipe!
If you're not from the South (aka the Southeastern United States), you might not even know about "sweet tea." (Having grown up in Nashville, Tennessee, this thought is absurd to me…). I went on a trip to New York City with my high school my senior year, and we went on this amazing food tour. They took us through different parts of town, and we would try lots of different cultures' foods: hummus, empanadas, Chinese dumplings, etc. At the end of the tour, our New York native asked us what is a food that is indigenous to the South. When we said Sweet Tea, she gave us a blank stare… Then she said "Oh, is that what I keep seeing McDonald's ads for? You can get a large for a dollar?" We all died laughing. She had no idea what sweet tea was except for McDonald's, and she had never had it!! Oh, the sadness…
So if you're in her same boat, I'll let you in on our secret 🙂 We brew regular tea, and add a TON of sugar to it. And there you have it: sweet tea.
Something that is even more specific to Nashville is this delicious concoction called Fruit Tea. It is served at some of my favorite restaurants in Nashville, and I love to brew it up myself! If you're ever in town, go to Bread and Company, Loveless Cafe, or Baja Burrito to try some amazing food and some delicious fruit tea!
Print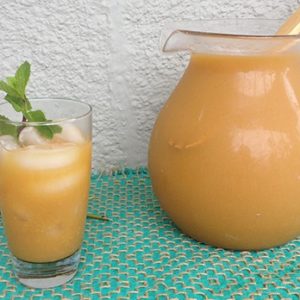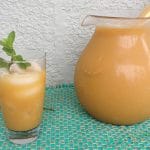 Paleo Bread and Company Fruit Tea Recipe
---
Tea bags for 2 gallons of tea

1 1/2 quarts

boiling water

1

(12-ounce) can frozen pineapple juice concentrate

1

(12-ounce) can frozen orange juice concentrate (I prefer with pulp)

1/2

c lemon juice

5

sprigs mint, plus more for serving
---
Instructions
In a large bowl, pour the boiling water over the tea bags. Let steep as little as the tea package's instructions call for, or as long as overnight for more flavor.
Stir in all other ingredients and store in the fridge until chilled.
To serve, pour into iced glasses. Garnish with mint sprigs. Enjoy!
Notes
You can substitute 1-2 drops of lemon essential oil for the lemon juice to make it even healthier! OR OR 1 (12-ounce) can frozen lemonade concentrate (this won't be paleo or whole30 approved as there is always some form of sugar!).
Other variations include fresh ginger or a stick of cinnamon and five whole cloves while brewing for more of a spiced fruit tea.
Prep Time:

5 minutes

Cook Time:

5 minutes
Pin this!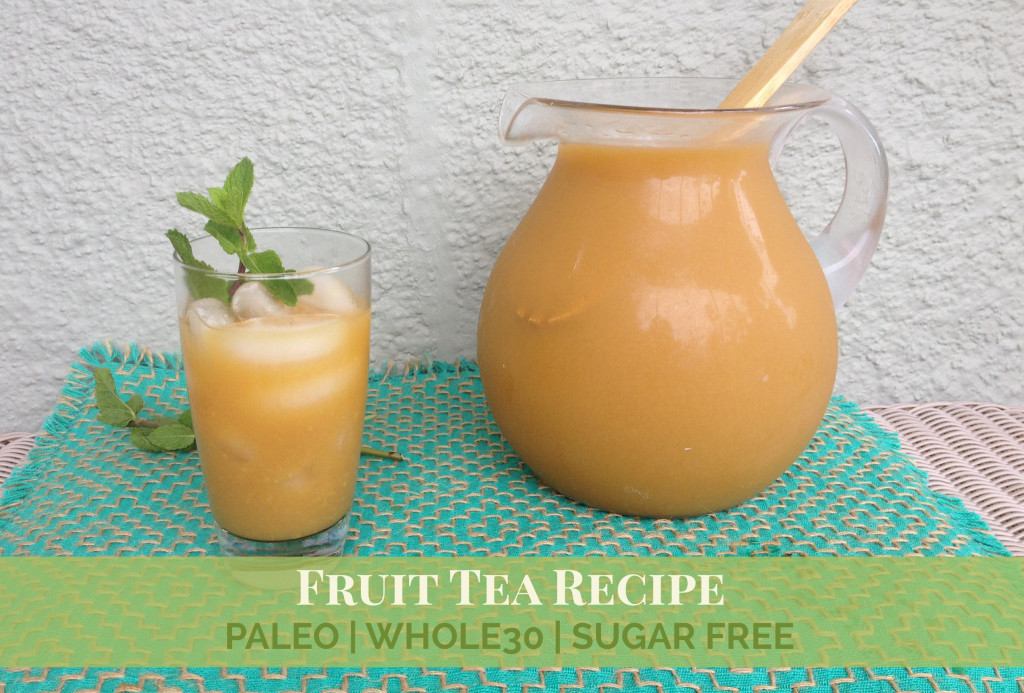 Have you ever made fruit tea? What's your favorite recipe? Comment below!