Bread and Company is one of my favorite lunch spots in Nashville. I always get the honey pecan chicken salad sandwich, on their award-winning Cranberry Pecan bread, served with green apples and alfalfa sprouts. Sometimes I add avocado 🙂
When we started doing Whole30, since we've been vegetarians for five years, I needed to create meat recipes that I knew I would love. This, my friends, is one of them! Normal mayonnaise is almost always made with soybean oil, making it unapproved for both Paleo and Whole30 diets and lifestyles. So this Bread and Company Honey Pecan Chicken Salad Recipe is both Paleo and Whole30 Approved AND extremely delicious. Enjoy!
Print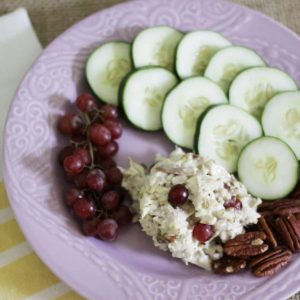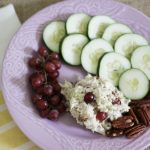 Bread and Company Honey Pecan Chicken Salad Recipe
---
4 1/2 cups

shredded, diced chicken

1/4 cup

chopped Red Onion

1/4 cup

chopped Celery

1 cup

chopped Pecans

1 cup

halved red grapes

1 ¼

–

1 ¾

cups sweet honey mayonnaise

1/4 tsp

salt

1/4 tsp

pepper
---
Instructions
Mix the salt and pepper with the mayonnaise (click for the recipe for sweet honey mayonnaise ).
Add the chicken to the mayonnaise.
Chop up the red onion, celery, pecans, and grapes. These can be cut as small or big as you prefer, then add them to the chicken and mayonnaise mixture.
Mix until combined. Store in the refrigerator, serve chilled.
Notes
I'm more of a grape and pecan fan in this salad, so the celery and red onion just complement and give a little crunch. Really you can use whatever measurements of any of these ingredients depending on your preference.
***In order to make this recipe Whole30 Approved, instead of the sweet honey mayo, use my recipe for olive oil mayonnaise . Add 1/2 c dried, pitted dates and blend in food processor to make "Date Mayo." Use date mayo instead of the "sweet honey mayo."***
Have you been to Bread and Company? What's your favorite thing to get? Or what's your favorite chicken salad recipe? Comment below!
Want to save this Bread and Company Honey Pecan Chicken Salad recipe to make later? Pin it here!