We've rounded up a list of the yummiest clean Keto Ice Cream brands (and flavors!) to satisfy your sweet tooth while you are eating Keto.
What is Keto Ice Cream?
Keto Ice Cream is a low-carb, low-sugar, high fat ice cream. (Also sometimes more protein than normal!) Regular ice cream contains sugar which contributes to most of its carbs. Keto Ice Cream uses low carb sweeteners and is often made with heavy cream, egg yolks and butter.
What to look for when buying Keto Ice Cream:
Net carbs – Be sure to check the total net carbs per serving before you dig into your favorite pint. Make sure that the net carbs fit into your daily keto allowance of carbs. You calculate net carbs by taking the total carbohydrates on the nutrition label, and subtract both the dietary fiber AND the sugar alcohols.
Sweeteners – Keto Ice Creams contain fewer carbs because they use less sugar or various sugar replacements. According to the Keto Certified Standards, the following sugar replacements are approved for Keto products: Honey, stevia (Reb A), coconut sugar, date sugar, fruit juice, monk fruit (lo han guo), inulin, cane sugar, allulose, and sugar alcohols are allowed. Read the labels to find out which sugars are used to sweeten the ice cream and stick to approved sugars, and avoid artificial sweeteners.
Ingredients – Read the labels and purchase Keto Ice Creams that have real ingredients, and as few as possible.
Serving size – Again, read the label and understand the total net carbs per serving and eat accordingly to stay within your daily carb allowance. Most pints of ice cream contain 3 to 4 servings. Most ice cream bars or sandwiches are 1 serving per size.
What to avoid when buying Keto Ice Cream:
Avoid brands that contain toxic seed oils, artificial sweeteners, and corn fiber.
Is Keto Ice Cream Healthy?
Keto ice cream can be a healthier alternative to traditional ice cream because it's lower in sugar! Make sure the keto ice cream you buy doesn't have fake sweeteners, seed oils, or corn fiber. The list of Keto Ice Cream brands below we have vetted to be some of the healthiest choices!
Keto Ice Cream Brands:
Keto Pint
All Keto Pint's ice cream pints are gluten-free, use only rBST-free milk, and contain just 3g of net carbs per serving (each pint is 3 servings). There are no added sugars as Keto Pint's products are sweetened naturally with organic monk fruit and stevia.
Triple Chocolate Brownie
Black Raspberry 
Butter Pecan 
Cherry Chip 
Cookie Dough 
Strawberry 
Peanut Butter Cup 
Mint Chip 
Sea Salt Caramel 
Peanut Butter Fudge Swirl 
Cake Batter 
Keto Pint also offers Ice Cream Bars. Each ice cream bar counts as a single serving and contains 2g net carbs per bar.
Chocolate 
Sea Salt Caramel 
Mint 
Peanut Butter 
Strawberry
Shop Keto Foods Ice Cream Pints and Bars online at their website or use their store locator for a retailer near you. Ice Cream Bars can be ordered online at Amazon.
---
Mammoth Creameries
Mammoth Creameries' frozen custard is low in carbs and sugar, high in fat, and packed with essential vitamins and nutrients. Each flavor is churned with grass-fed butter, golden egg yolks and real ingredients.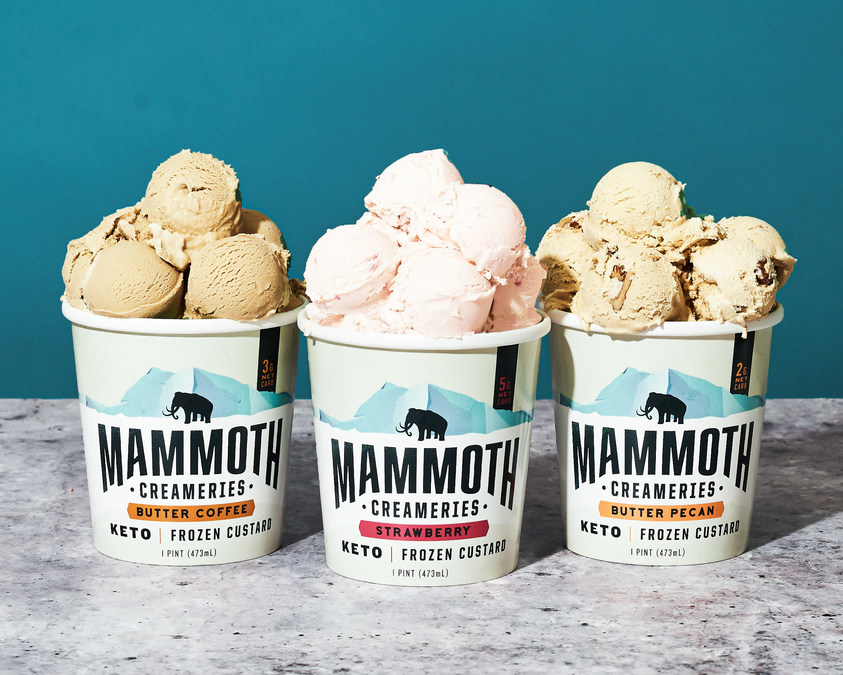 Vanilla Bean 
Chocolate 
Chocolate Peanut Butter 
Lemon Buttercream 
Strawberry 
Butter Coffee 
Butter Pecan
Order online at Amazon or the Mammoth Creameries website or use their store finder for a location near you.
---
Rebel Creamery
Rebel Ice Cream is the lowest glycemic index ice cream on the market, since they only use 0 glycemic fibers and sweeteners. 85-90% of the calories in Rebel Ice Cream come from quality animal fats.
Banana Peanut Butter Chip
Birthday Cake
Black Raspberry
Butter Pecan
Cherry Chip
Chocolate 
Chocolate Chip
Chocolate Peanut Butter
Coconut Almond Swirl
Coffee Chip
Cookies & Cream
Cookie Dough 
Mint Chip
Orange Cream
Peanut Butter Caramel Chip
Peanut Butter Fudge 
Salted Caramel 
Snickerdoodle
Strawberry 
Triple Chocolate 
Vanilla
Buy Rebel Ice Cream online at Amazon or via the Rebel website. Use their Store Finder for a grocery store near you.
---
Our Favorite Dairy Free Keto Ice Cream Brand
Nubocha (Dairy-Free Gelato)
Nubocha's gelato recipes feature just 3 main ingredients: nuts or cacao, pure spring water and allulose (a rare sugar with nearly zero calories found naturally in foods like raisins, figs and maple syrup).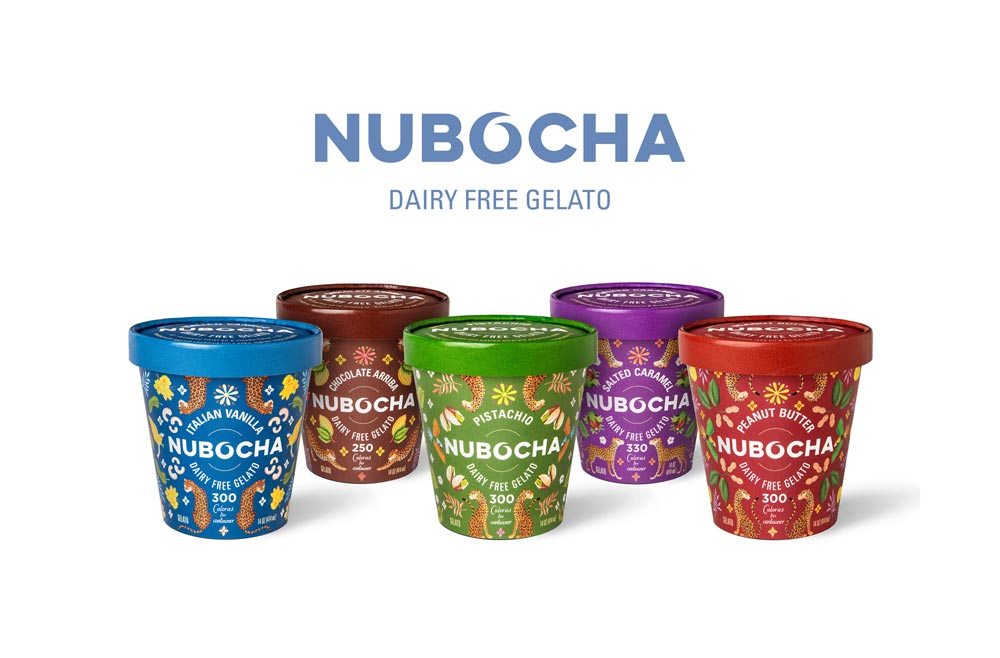 Chocolate Arriba 
Italian Vanilla 
Peanut Butter 
Salted Caramel 
Pistachio
Find Nubocha Gelato at a grocery store near you using their store finder or buy online via Nubocha or at Amazon.
---
Looking for more Keto resources? Click here!
Want to save this Keto Ice Cream Brands for later? Pin it Here!