This healthy, Paleo + Whole30 General Tso's Chicken Recipe is sponsored by my friends at Yellowbird Foods, but the recipe and all thoughts and opinions are my own! Thank you for allowing me to partner with companies I believe in so I can continue to bring you recipes and content for free!
I know what you're thinking… Is it really possible to make a healthy, Paleo + Whole30 General Tso's Chicken Recipe?! YES! ? I tried it, and it came out perfectly the first try- something that doesn't happen often in the recipe development world!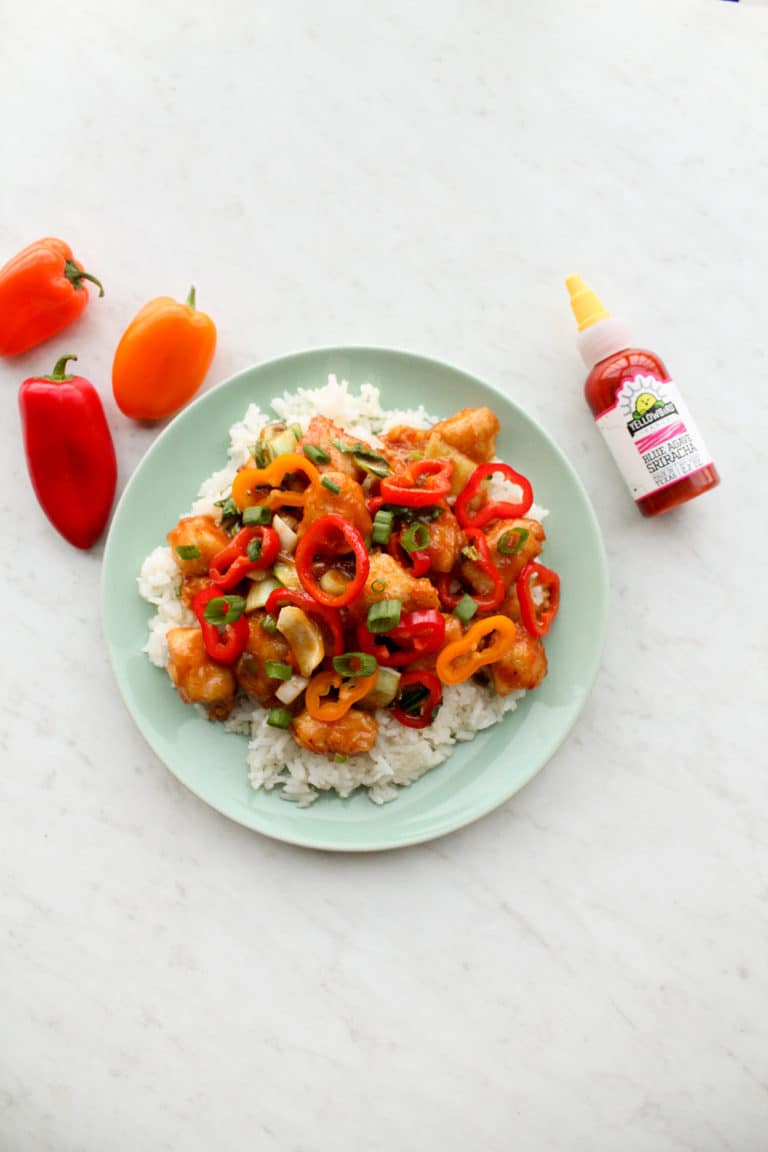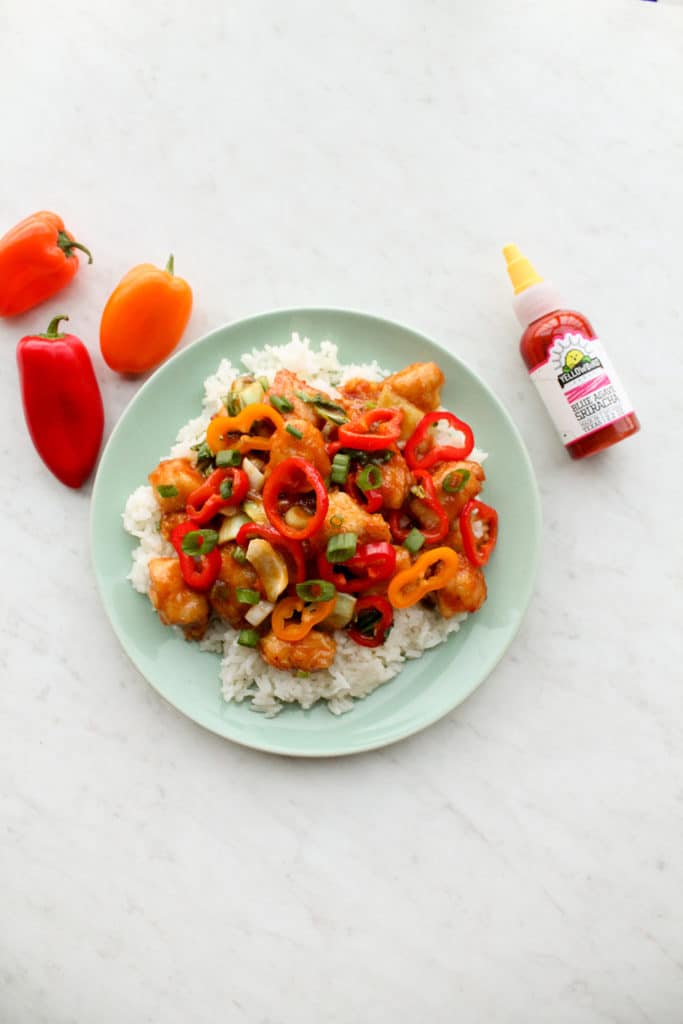 I have a deep love for Asian recipes. Whenever I go out with my family for some Asian food, this is one of my favorite recipes to order! The unfortunate part is it's typically made with ingredients that aren't healthy, including: soy sauce, rice wine, sugar, cornstarch, and probably more.. All of these aren't Whole30 compliant and are likely not Organic or Non-GMO.
This gives me every reason to make a healthy, Paleo + Whole30 General Tso's Chicken Recipe AT HOME! Yay!! Let's get into the yummy details.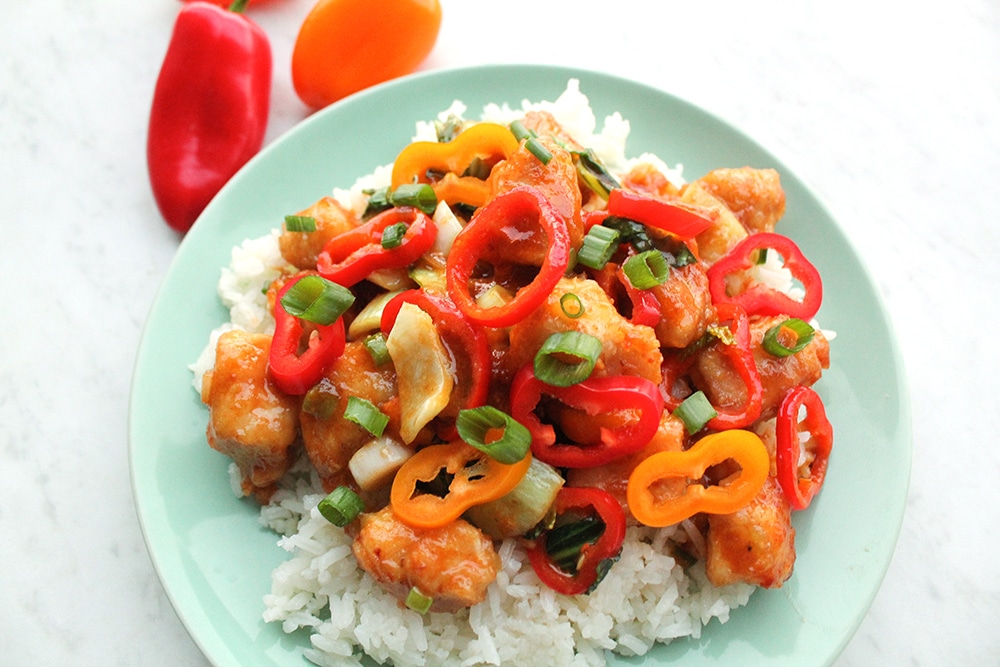 I chose to use chicken that is organic and grass fed with no hormones… I used arrowroot starch for breading the chicken and pan-fried the chicken in olive oil instead of the harmful seed oils that are typical. As a Whole30 compliant way to sweeten the General Tso's Chicken sauce, we used dates! Dates are a way healthier option for you because they provide lots of fiber!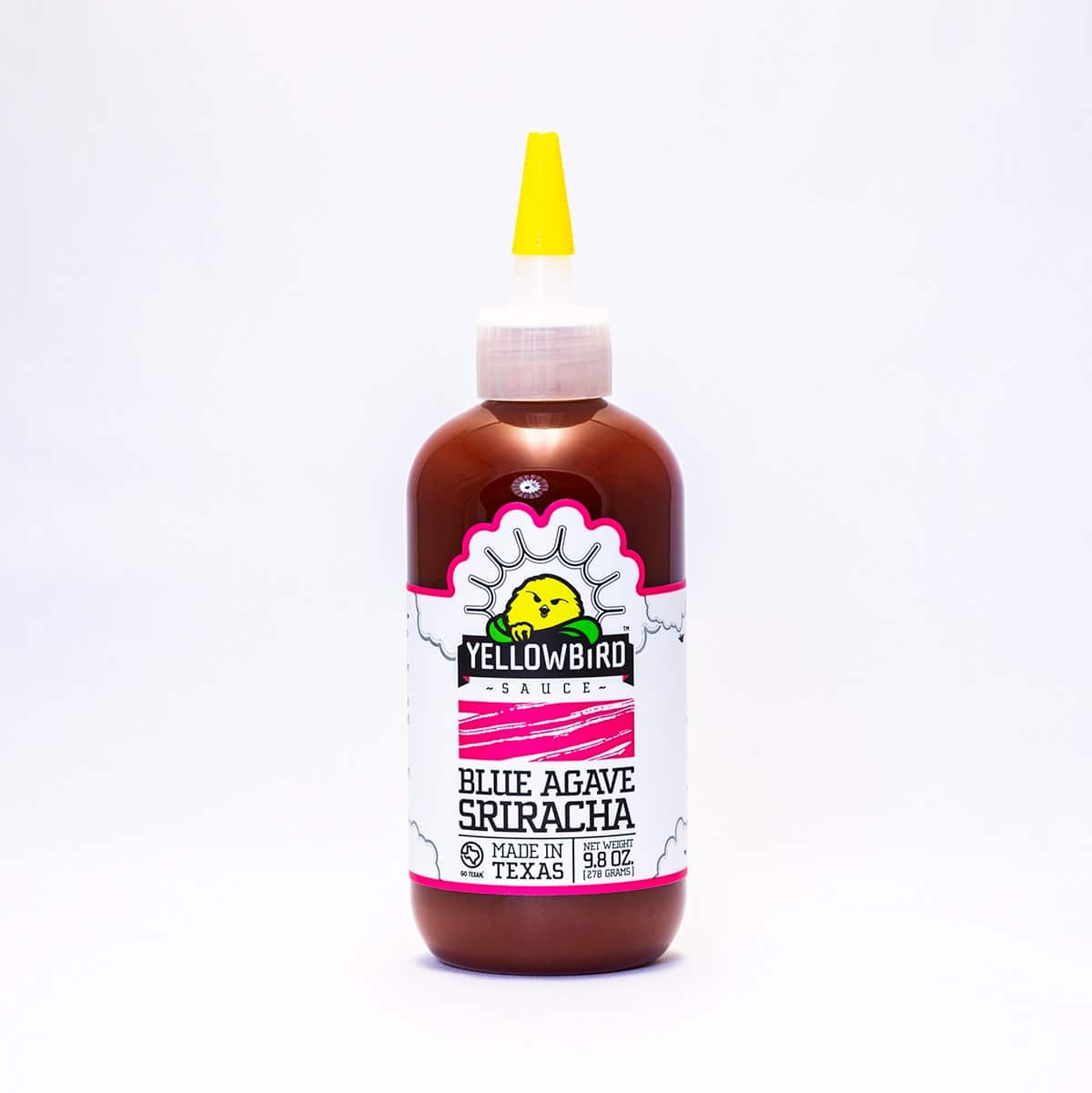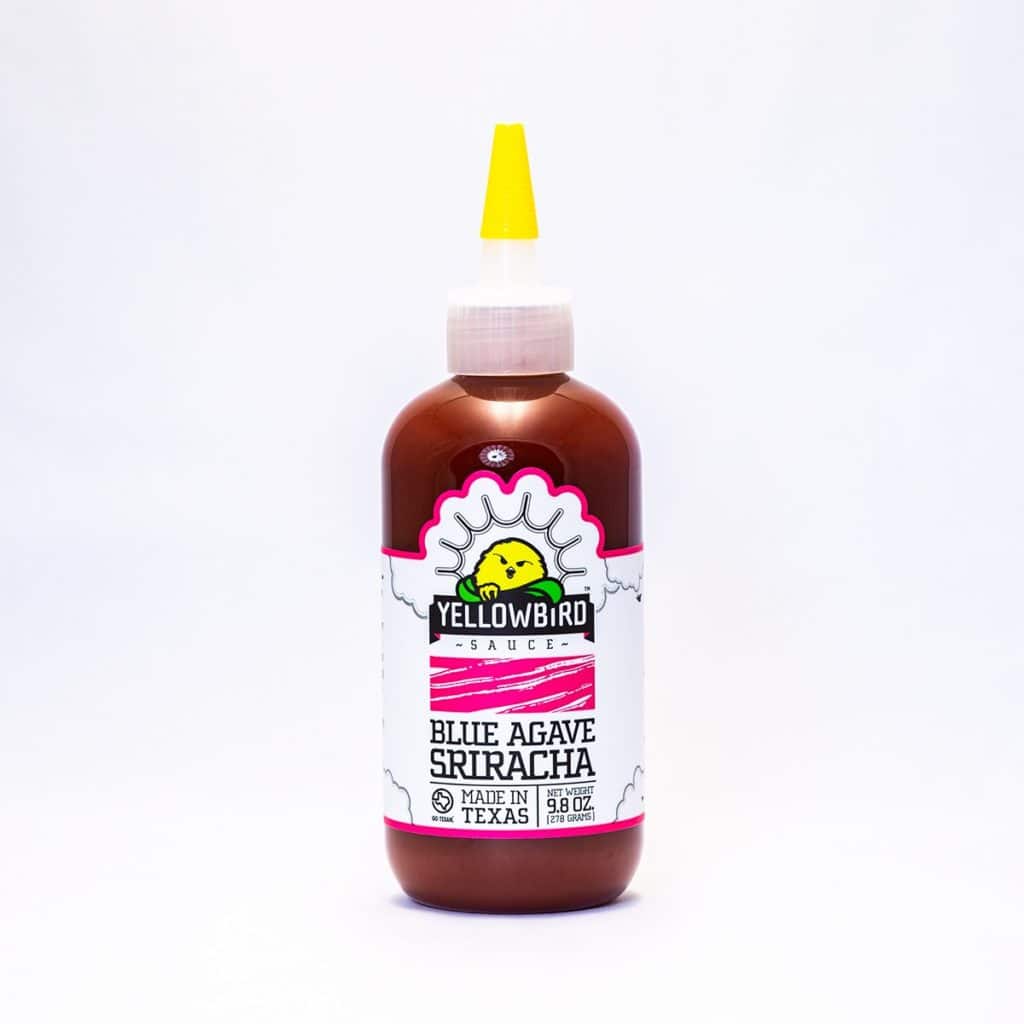 The star ingredient in this recipe is the Yellowbird Foods Blue Agave Sriracha– it's AMAZING. I'm impressed it's a super clean hot sauce! Here are the ingredients: Ripe Red Chilis, Garlic, Organic Blue Agave, Organic Distilled Vinegar, Sea Salt. If you love hot sauces, you will LOVE their entire line! Shop it on Amazon here. 
A fun fact: this dish isn't actually well known in China where many think it originated from! It was created by Chef C.K. Peng in Taiwan during the 1950s or so. He needed to name his fancy banquet dish, so he chose his hometown hero and called it General Ching's chicken. Then in the 1960s/70s he introduced this dish in NYC where it became a hit and spread like wild fire. It wasn't until the 1980s that General Ching's Chicken started being called General Tso's Chicken. Isn't that so interesting?!
Print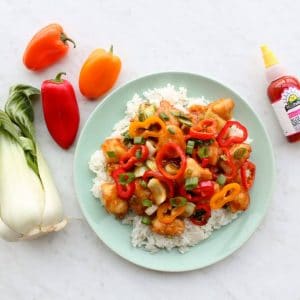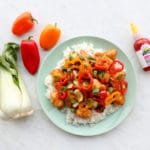 Healthy, Paleo + Whole30 General Tso's Chicken Recipe
---
For the chicken:
6 lb chicken, cut into bite sized chunks 
1 cup arrowroot starch
Olive oil
Salt and pepper 
8 small sweet peppers, cut in 1/4 in circles
2 bok choy, chopped
1 bunch green onions, chopped and separated into white and green parts
For the sauce:
4 cloves garlic
2 T sriracha (use a Whole30 compliant Sriracha to make this recipe compliant!)
1 T ginger 
2 dates
2 T sesame oil
1/2 c coconut aminos
---
Instructions
Cover the bottom of a large saucepan with olive oil. Heat olive oil until it starts to sizzle.
In a large bowl, combine the arrowroot starch, salt, and pepper. Working in batches, add the bite sized chicken and coat. Remove the chicken, shaking off any extra breading mixture and add to the hot oil. 
Cook each batch for about 10 minutes, turning often to crisp all sides. 
When each batch is done, add it to a bigger soup pot, until all chicken is cooked. Add the white parts of the green onions, the sweet pepper circles, and the bok choy, and cook until slightly cooked but still crisp, about 5 minutes. 
While that cooks, pour all of the sauce ingredients into a high-powered blender and blend until smooth. Pour over the chicken and veggie mixture, then serve over cauliflower rice (for Whole30) or rice.
Top with the chopped fresh green onions. Enjoy!
Notes
If you know you're going to reheat this recipe later, add the sauce on top of individual bowls instead of the entire batch. It will keep better that way!
If you try this healthy, Paleo + Whole30 General Tso's Chicken Recipe I would love to hear from you in the comments below! What are some of your other favorite Asian recipes?!
Want to save this healthy, Paleo + Whole30 General Tso's Chicken Recipe and make it later? Pin it here!