I have the pleasure of working with The Board of Control of Mahón-Menorca Cheese. They sent me some of their delicious Mahón-Menorca Cheese to make some recipes with, and it's DELICIOUS. Before I bring you THREE yummy Mahón Cheese Recipes, I wanted to share with you some Mahón Cheese history!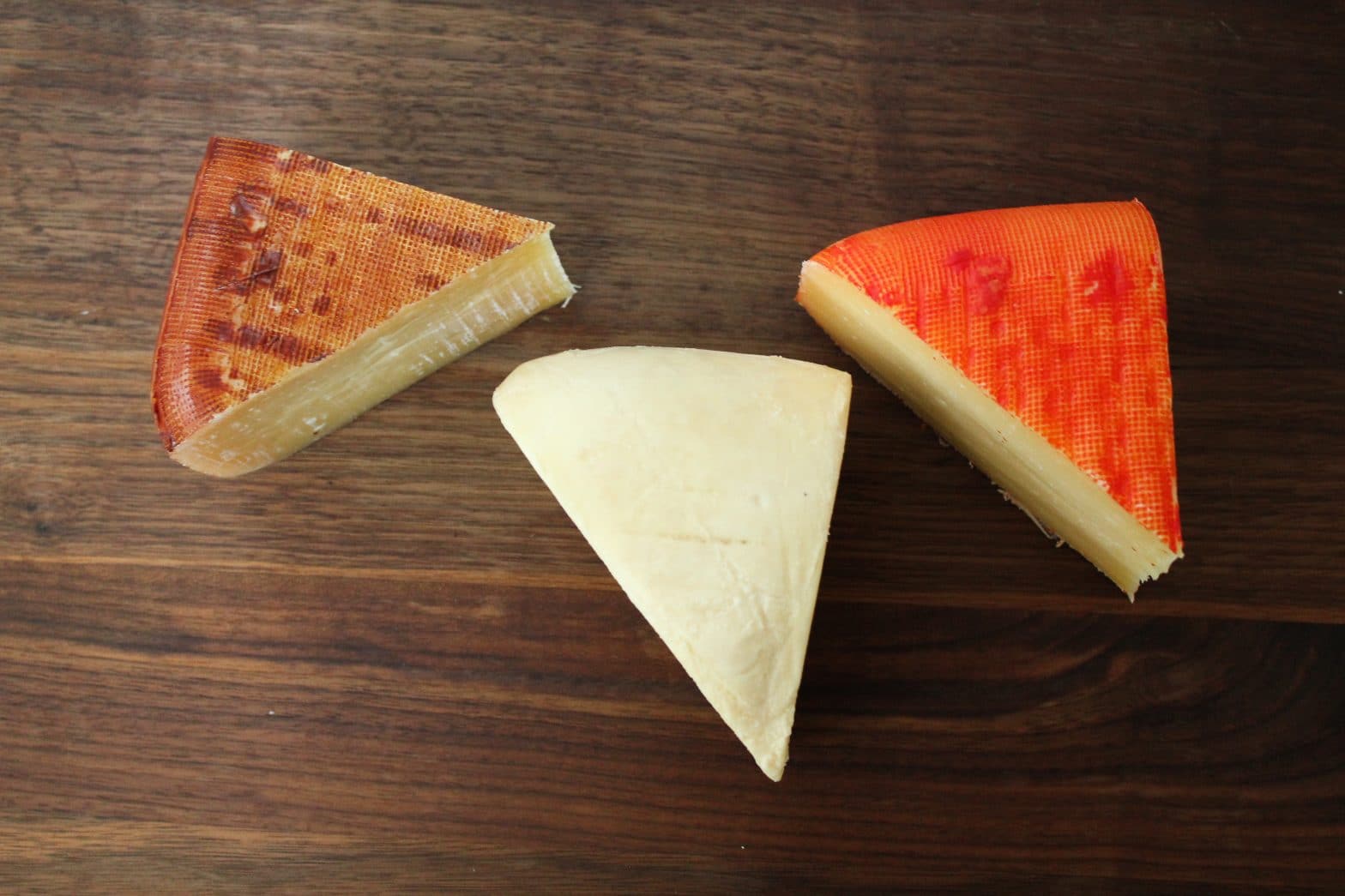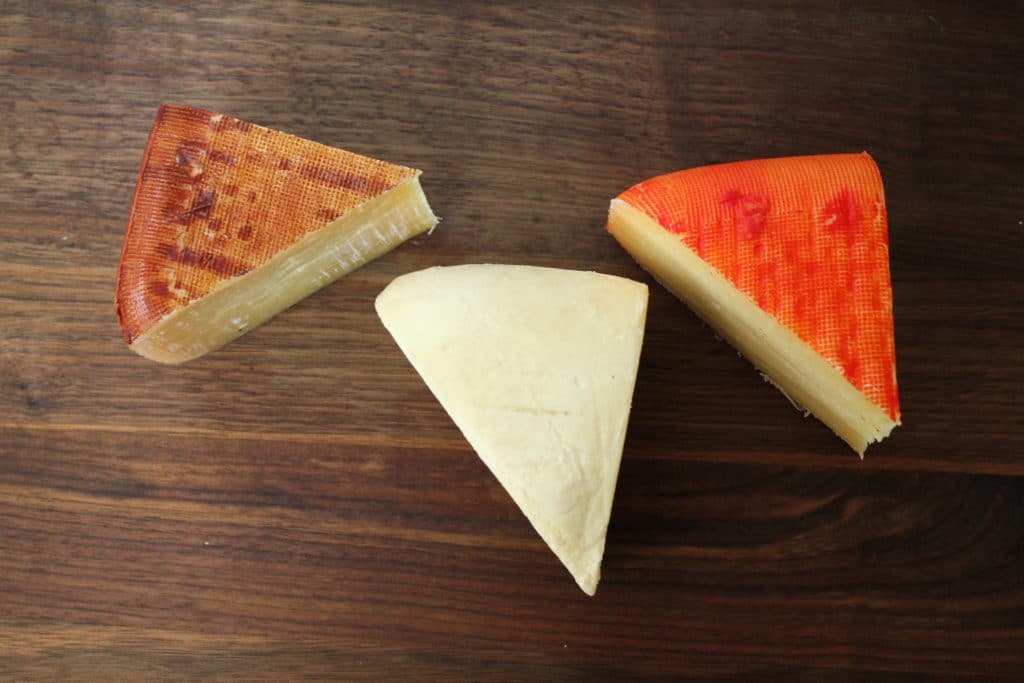 Mahón Cheese History
Mahón Cheese history is rich… Mahón Cheese is also called Mahón-Menorca cheese, because it is produced on the island of Menorca. There was some pottery found, utensils used in the process of making cheese, that dates back to 3000 BC! Beyond that, there is also written documentation that goes back to the 5th century AC, and Arab documents referring to Menorcan cheese from the year 1000!
During British rule, the name Mahón was giving to the cheese, named after the products' shipping port. The Guarantee of Origin was granted in 1985 (see more below) and in 1997 its protected denomination widened to become "Mahón-Menorca".
How is Mahón-Menorca Cheese Made?
Mahón-Menorca Artesano Cheese starts with fresh, non-pasteurized cow's milk. They put the curd into a cotton cloth (fogasser) and suspend it by its four corners. Then they place it on a table and press out the whey. They tie it with a string called a lligam and place it in a press. The cheese is then placed into brine and then is aired, which fosters development of its surface flora. Then it is stored in maturation cellars to become the iconic Mahón-Menorca Artesano cheese.
Mahón-Menorca Cheese is made with pasteurized cow's milk. The process is very similar to the one described above, but they use special moulds giving this cheese its square shape with rounded edges. The cheeses are rubbed with oil and/or paprika, giving it the iconic orange rind.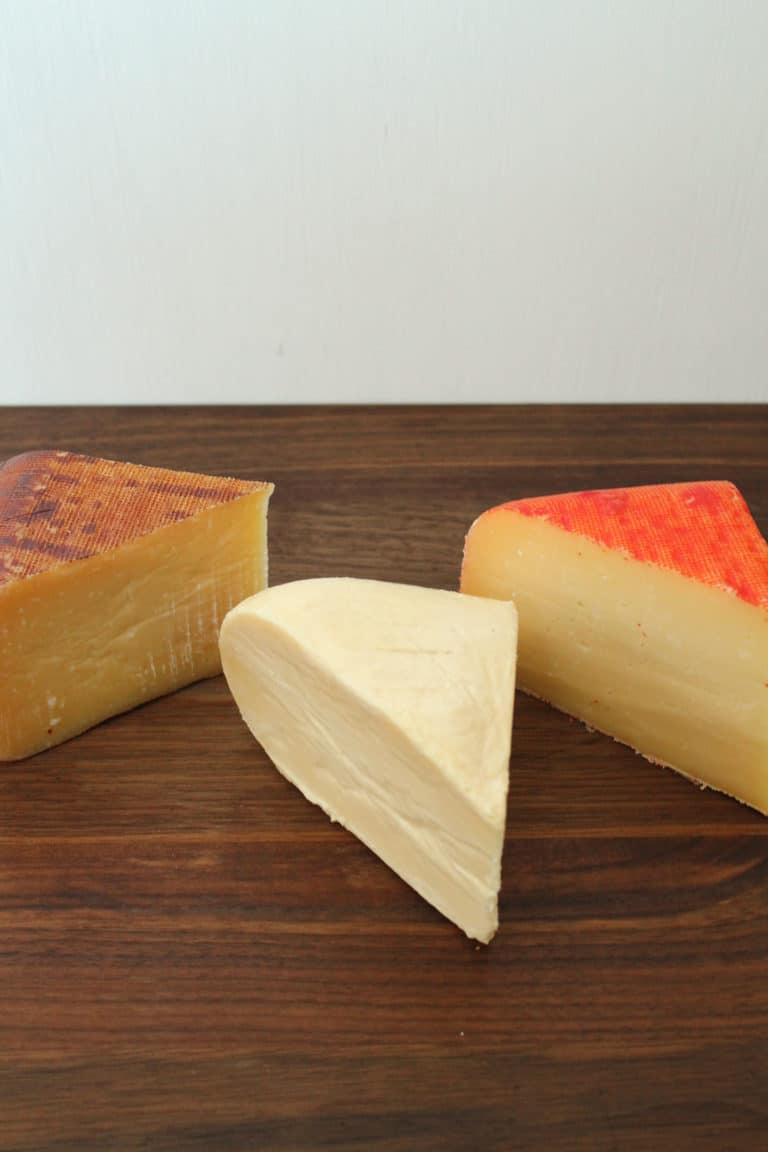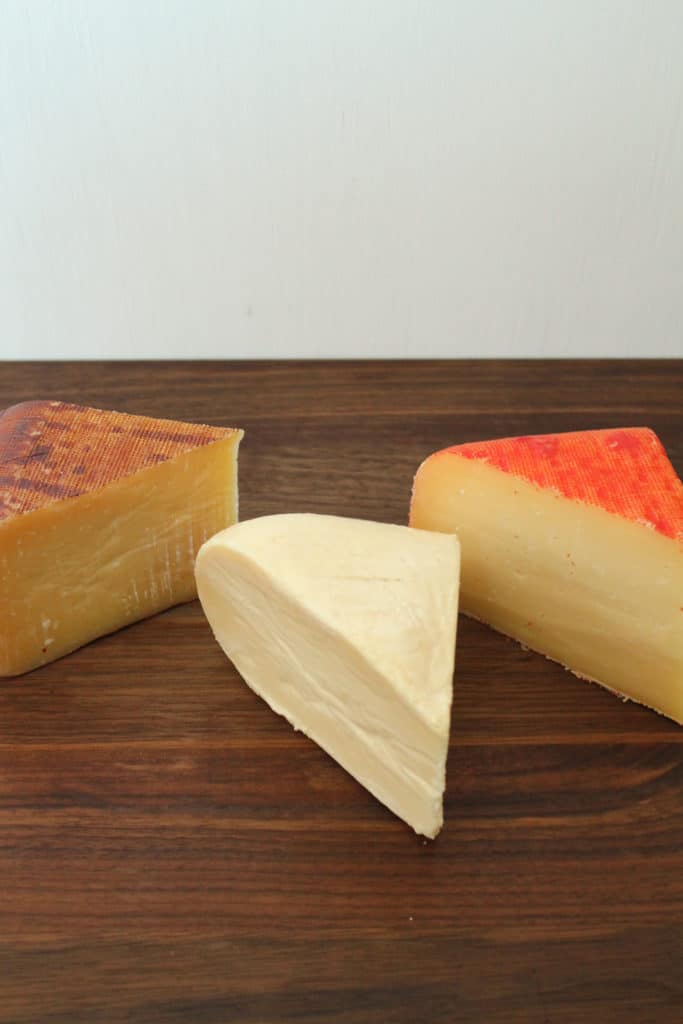 Mahón-Menorca Cheese Varieties:
The different types of Mahón-Menorca Cheeses depends on its degree of maturity.
Tender: This cheese is yellowish-white. It has very little developed crust. This Mahón Cheese is made using raw milk and covered with oil and paprika during it ripening period. Its taste is soft, creamy, and buttery. It is matured 21-60 days.
Semi-cured: The crust of this cheese is orange or dun in color with an interior that is a ivory yellow. It is a firm cheese, but still easy to cut. Each piece of cheese has irregularly distributed holes throughout. It has more developed milky taste, with notes of butter and hazelnut (YUM!). It is matured 2-5 months.
Cured: This hard cheese has an orange, almost brown exterior. It is a hard cheese, and breaks and flakes upon being cut. Its taste is very developed and intense, with a long aftertaste. It has notes of old wood, tanned leather, even slightly spicy. It is aged more than 5 months.
What makes Mahón-Menorca Cheese Different?
Mahón-Menorca cheese is produced on the island of Menorca, one of Spain's Balearic Islands. Mahón-Menorca Cheese is a product with Protected Guarantee of Origin (P.G.O.). This means it's very closely related to the geographic area where it is produced: the island of Menorca.
It has geographic and distinct climate factors including its land features, temperature, humidity, light, wind and salty pastures. That is combined with its human factor: the ancient farming methods and process of elaboration and traditional practice of maturity mastered by generations of the Menorca family farms.
The island of Menorca is declared a paradisiacal Biosphere Reserve island by the UNESCO.
What wine pairs well with Mahón-Menorca Cheese?
The younger Mahón-Menorca Cheeses pair well with white and young red wines, while the more aged cheeses are better suited for mature wines.
Wondering Where to buy Mahón Cheese?
I'm sure it will continue to expand in availability, but now you can find Mahón cheese at your local Whole Foods or Kroger!
Mahón Cheese Recipes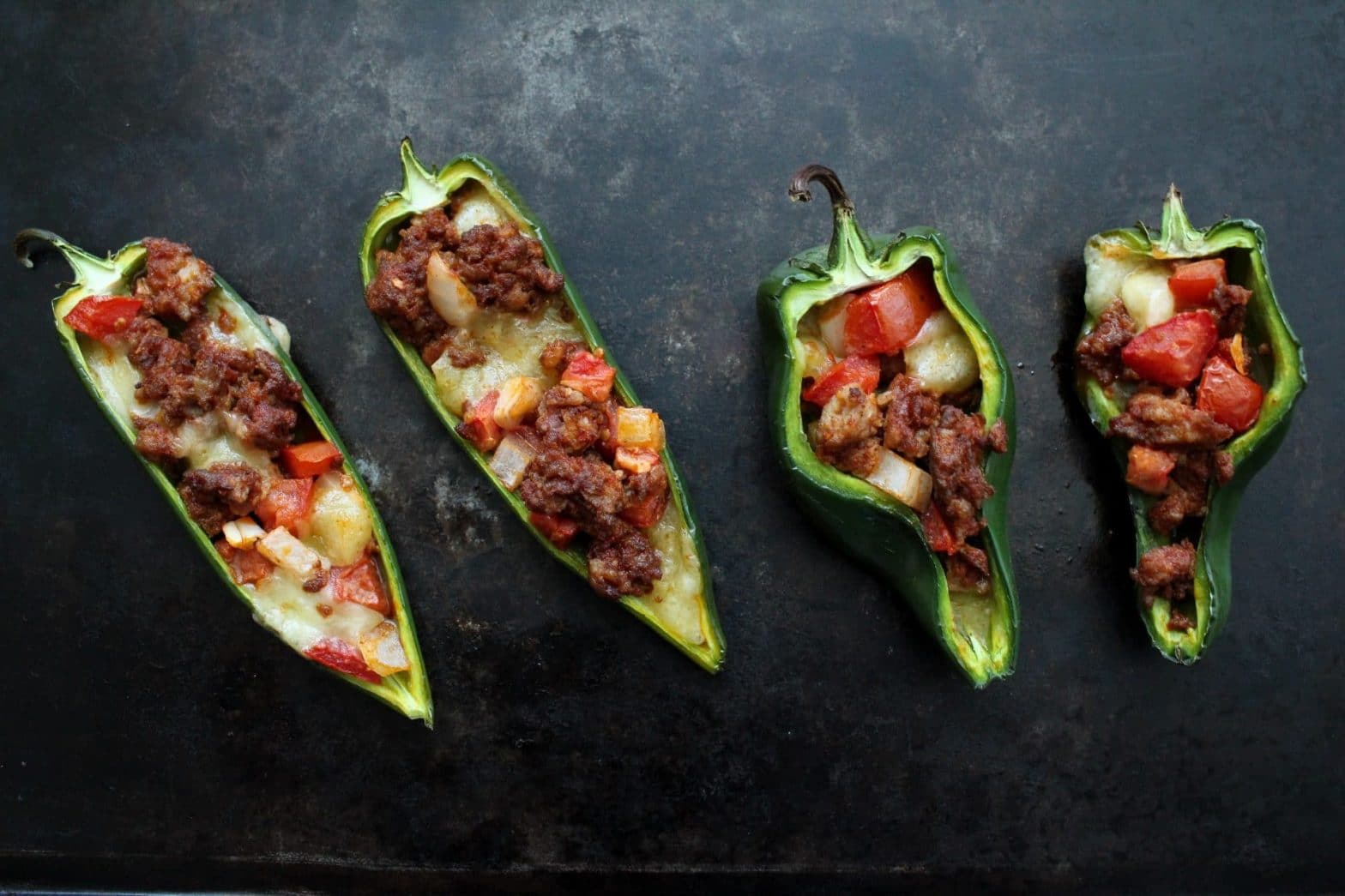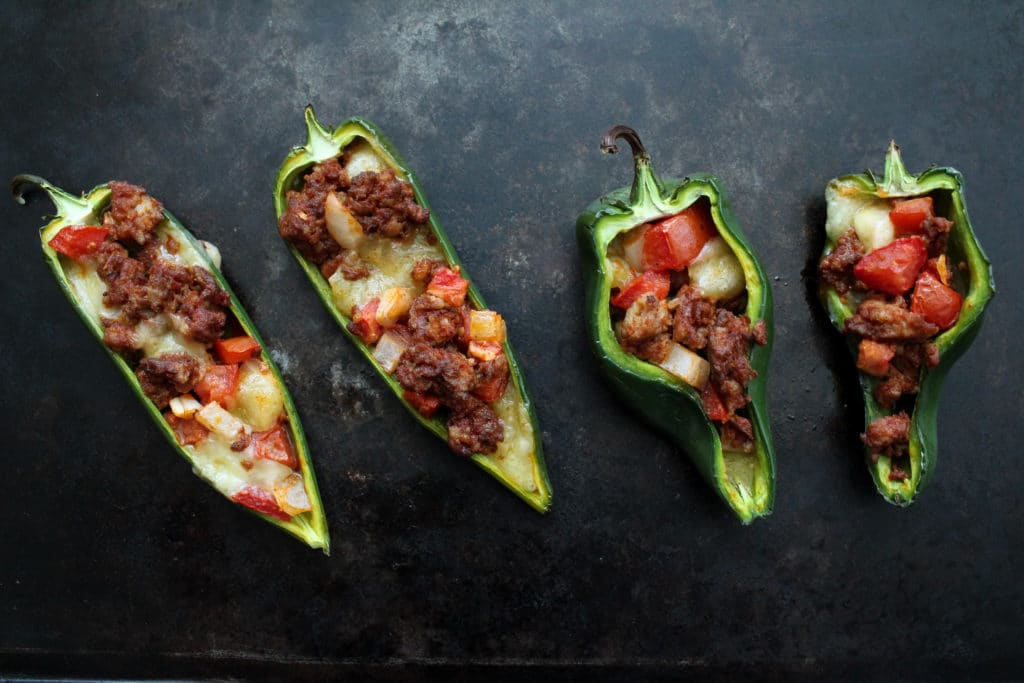 Chorizo Stuffed Poblano Peppers Recipe
To see more from Mahón-Menorca Cheese, click the links to follow them on Instagram, Facebook, and Twitter.
Want to save this Mahón Cheese Recipes and History resource for later? Pin it here!