This Shrimp and Squash Skillet is an easy to make dish that will get dinner on the table in just 30 minutes! It's the perfect seafood dish that's Whole30 friendly!
I am SO happy to introduce you to my new friend Ana who created this Shrimp & Squash Skillet 30 Minute Meal!
A Little Bit About / From Ana:
I am so excited to be here sharing a brand new recipe with you all! As a creative and passionate recipe developer determined to share all the healthy food options I can, I am so excited Caroline has opened her blog to me for sharing a special recipe with all of you! Along with spending much of my time in the kitchen recipe developing Paleo and clean eating recipes, I am a boy mom to four little munchkins, homeschool mom to the older two, and a little fitness obsessed. I hope you enjoy the new recipe and follow along for more clean eating recipes and tips.
You can find Ana here:
Instagram: @anaankeny
Facebook: @healthyrecipesanaankeny
Pinterest: @ana_ankeny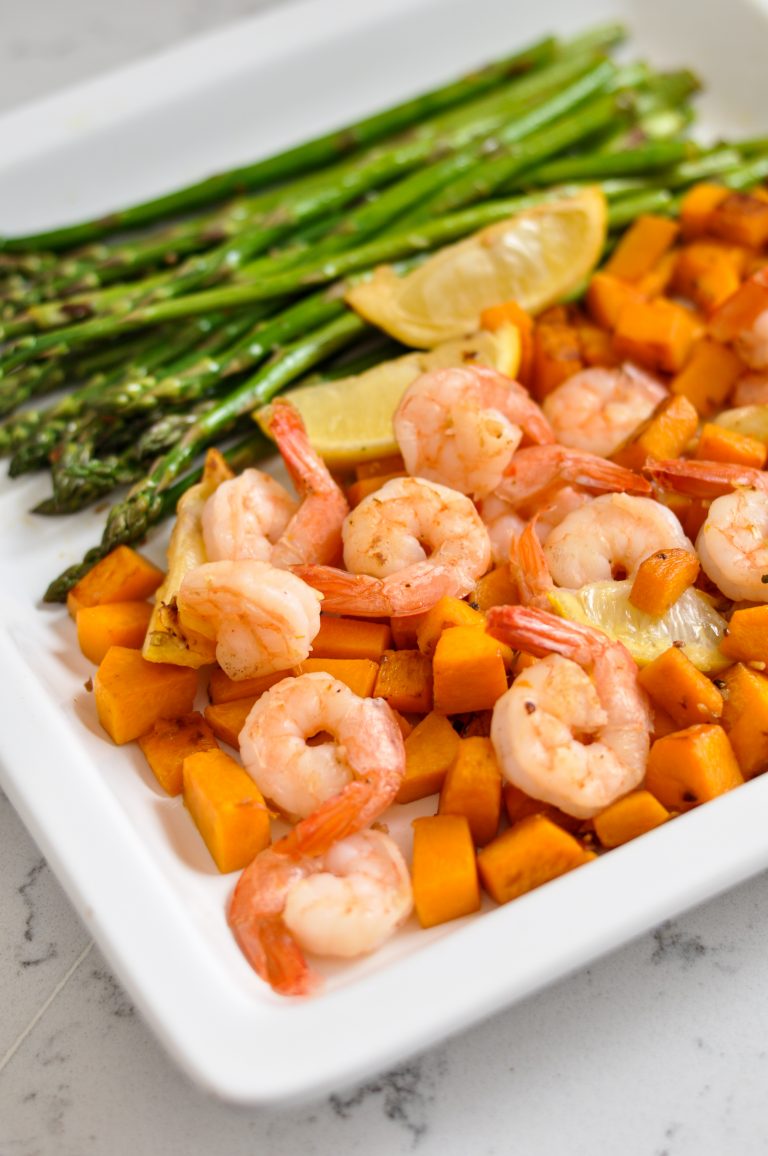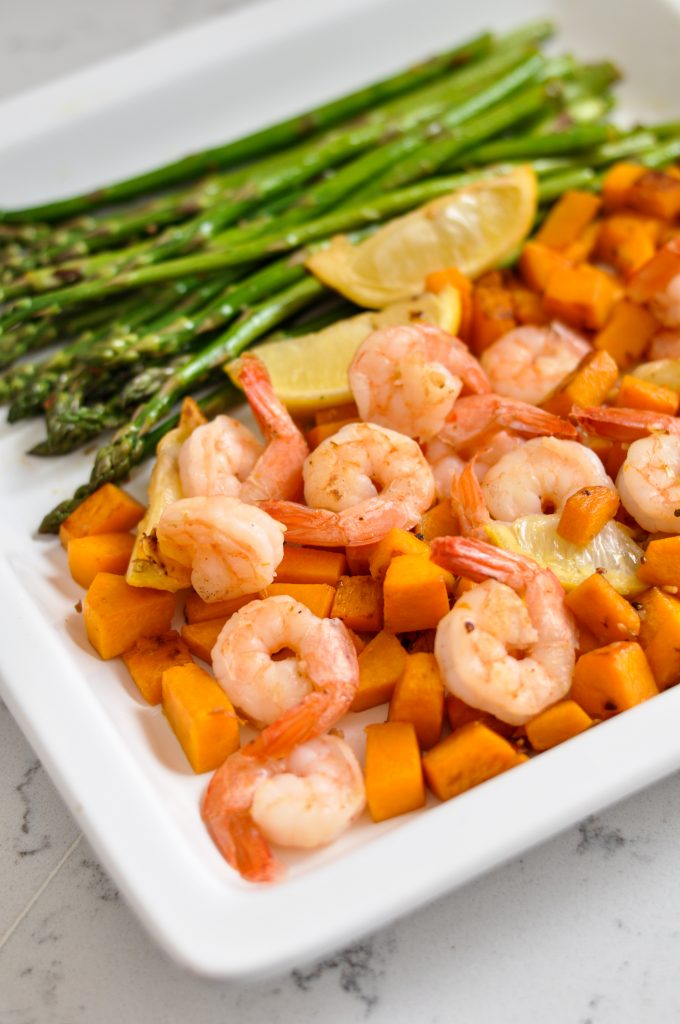 The perfect weeknight meal for your busy life is here! This Shrimp and Squash Skillet 30 Minute Meal is a great balanced meal, quick to make and made with easy to find ingredients. We are all about creating balanced meals that are nourishing. It's the key element in keeping a balanced diet and staying full until your next meal. Making sure to have good quality protein, carbs from vegetables and good healthy fat will be a great way to fuel your body for optimal performance so you can feel your best.

A quick to make dinner you ask? We've got you covered there! I am all about making quick dinners. Here at my house getting dinner on the table at 6pm can be challenging. Even though I love to be in the kitchen making meals, sometimes life can be a little full and bustling and finding that full hour to make a homemade meal just isn't an option. So I turn to my quick 30-minute meals like this brand new Shrimp and Squash Skillet and my Creamy Chicken and Brussels Sprouts Skillet. You'll have an amazing dinner on the table in just 30 minutes!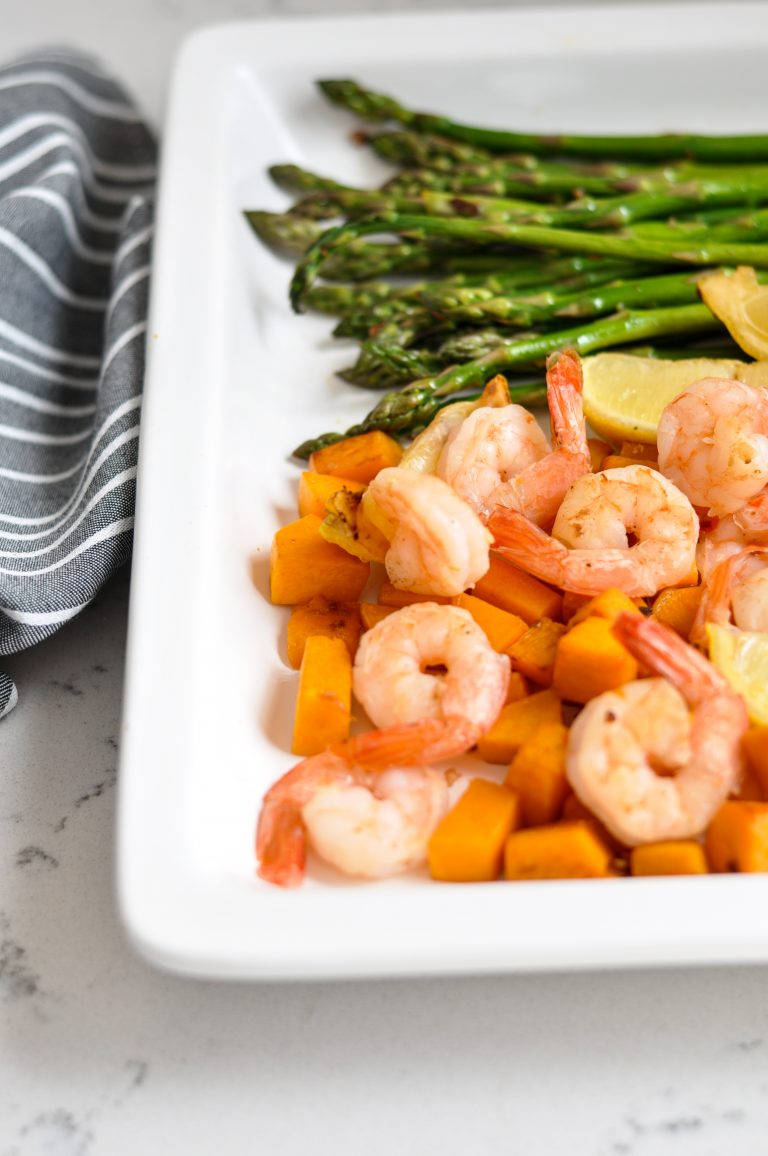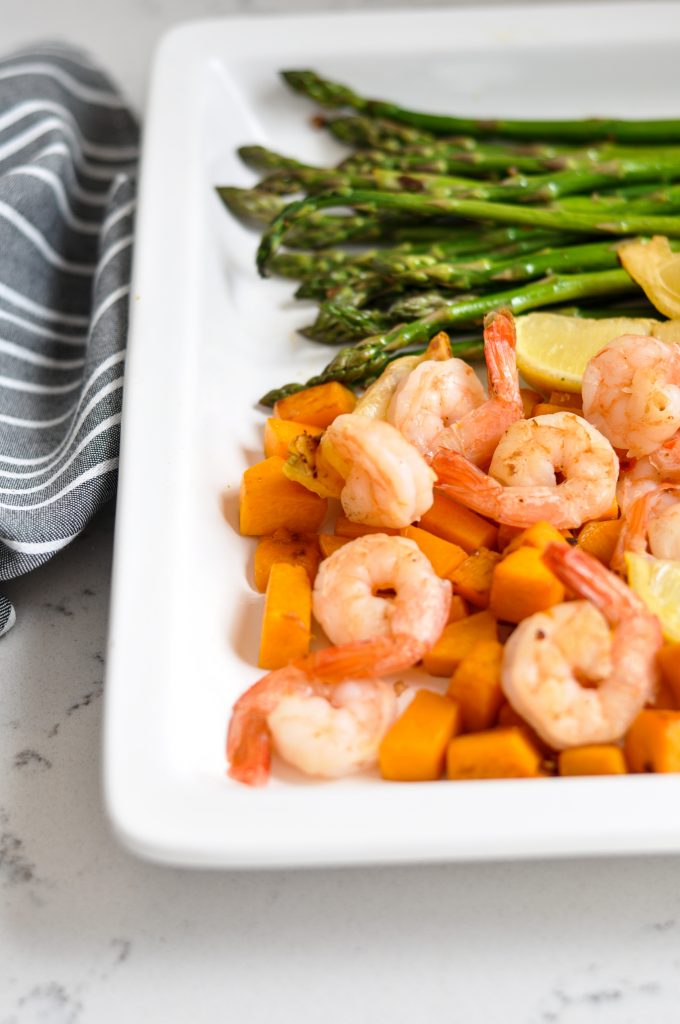 We all love a recipe that hosts easy to find ingredients, right? Keeping to whole foods, it will be easy to find all the ingredients at your local grocery store. Right now for me living in a small town, I have one local grocery store. I am able to find almost everything I need for recipes at that grocery store or else I have to drive about 45 minutes away to a bigger store. Whether you're keeping to a Whole30, Paleo, Keto, or just clean eating, finding whole foods is really easy and they're readily available in all grocery stores. This Shrimp and Squash Skillet 30 Minute Meal has just 6 ingredients and they're all easily found at any grocery store. So grab this recipe and get ready for a super easy dinner that everyone is going to love!

Print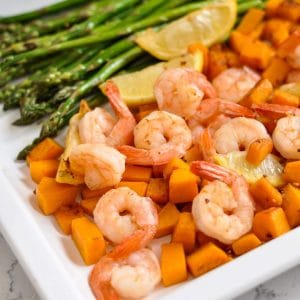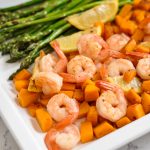 Shrimp and Squash Skillet 30 Minute Meal
---
3 cloved garlic, minced
4 Tbsp avocado oil
12 oz bag medium cooked shrimp, thawed
½ butternut squash, peeled and diced to 1" chunks
1 bunch asparagus, cut to 4" lengths
1 lemon, cut to wedges
---
Instructions
Heat a skillet over medium heat. Add 2 tablespoons avocado oil and the diced butternut squash. Let cook for 10 minutes, stirring every 2-3 minutes.
Add the cut asparagus and stir into the squash. Cook for another 5 minutes stirring occasionally.
Add the minced garlic and remaining 2 tablespoons of avocado oil.  Add the thawed shrimp to the skillet.
Lightly squeeze lemon wedges into skillet. Add the lemon wedges to the skillet and stir together. Cook over medium heat for another 10 minutes or until shrimp is heated through.
Remove from heat. Transfer to a large serving dish and serve immediately.
Store leftovers in a covered glass container in the fridge for up to 5 days.
Want to save this Shrimp and Squash Skillet 30 Minute Meal Recipe for later? Pin it here!