This delicious Green Chicken Enchilada Casserole combines all the delicious flavors of your favorite chicken enchiladas and can be thrown together in half the time. Instead of rolling individual enchiladas, we stacked layers of yummy green chili chicken, tortillas and cheese. Customize this casserole by adding additional veggies, using a green or red sauce, and flavors you and your family enjoy!
I love enchiladas! Check out my recipe for Green Chicken Enchiladas here!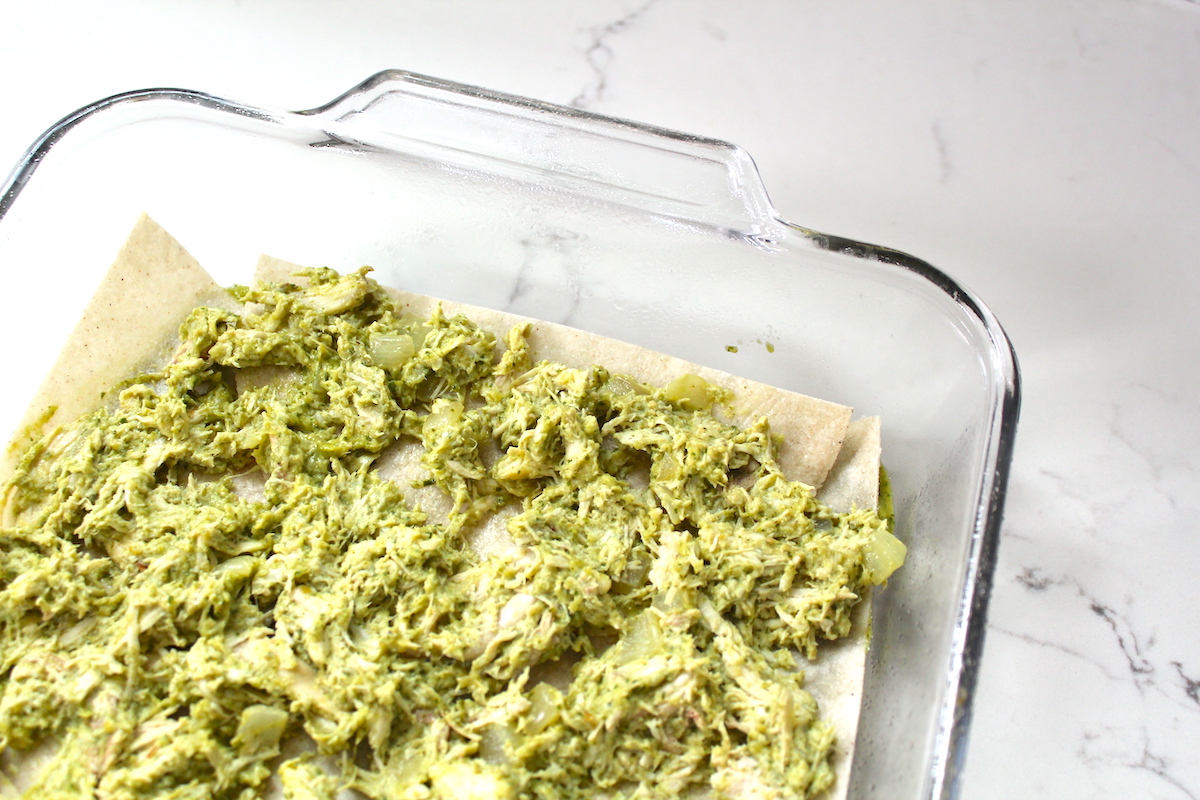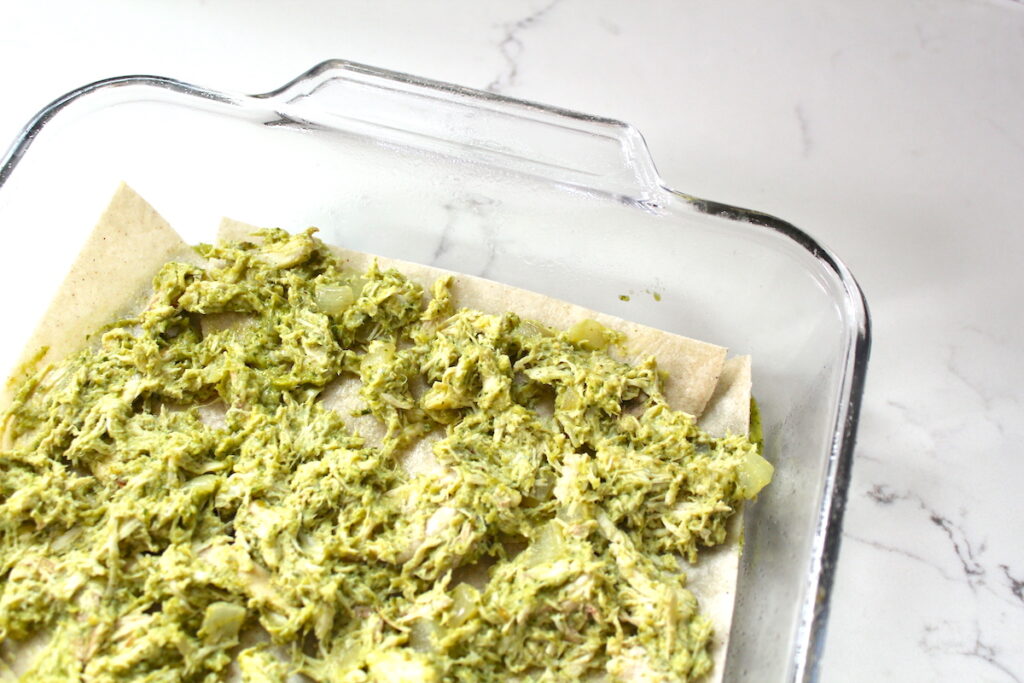 That being said, sometimes if I am short on time, but am still craving the yummy flavors of enchiladas, this Chicken Enchilada Casserole ticks all the boxes. Make the enchilada sauce ahead in batches; it will store in the refrigerator for up to 1 week or freeze for up to 4 months or just use a store bought sauce if you are in a pinch.
The recipe below is for a Green Enchilada Sauce, but check out my cookbook Prep, Cook, Freeze for a delicious Red Enchilada Sauce.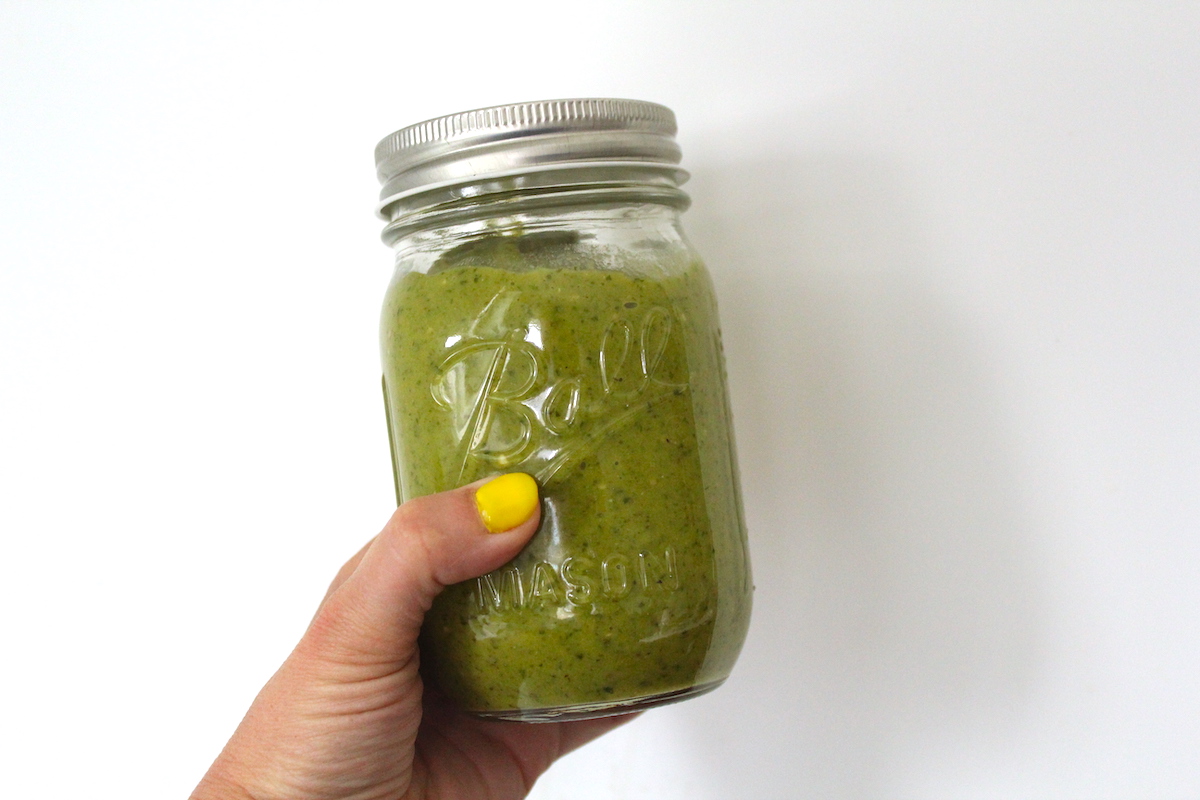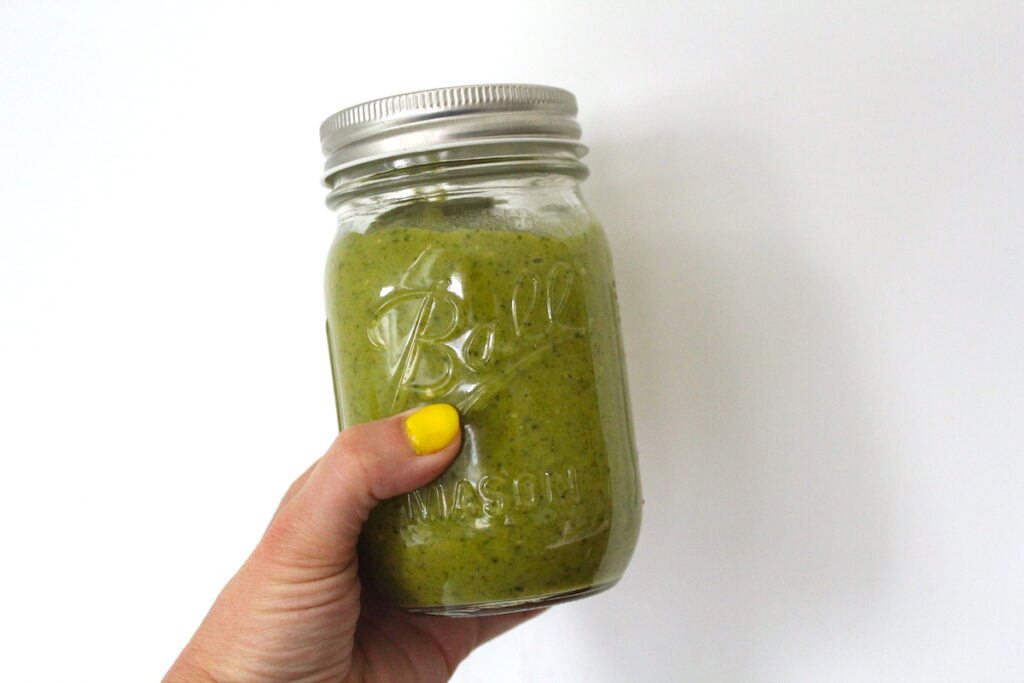 Customize your Enchilada Casserole by adding different vegetables such as roasted sweet potatoes, spinach, or zucchini. Use green or red sauce or a combination of both! If you are dairy free, use a plant-based shredded cheese. Check out my blog post of Plant-Based cheeses here.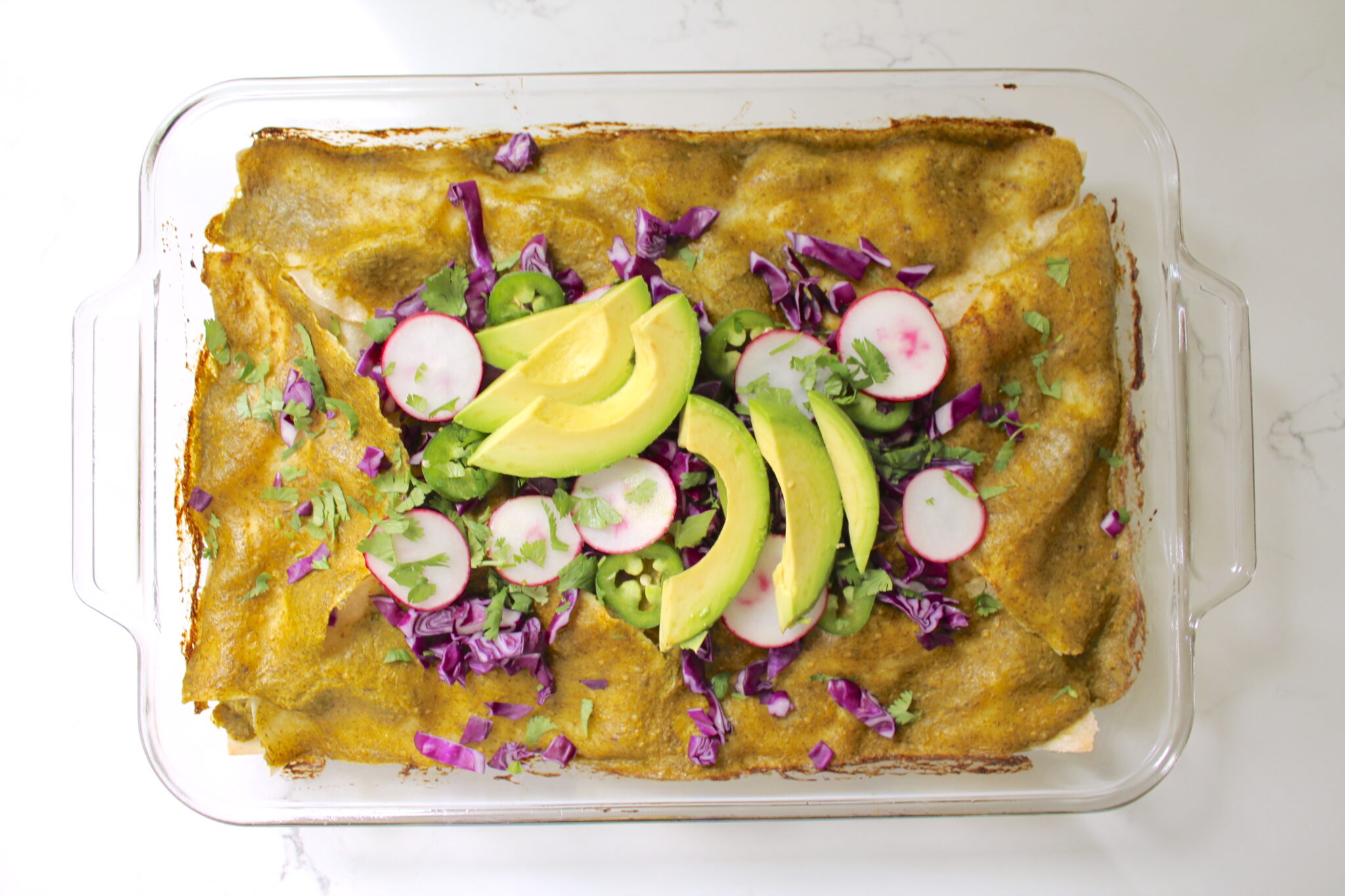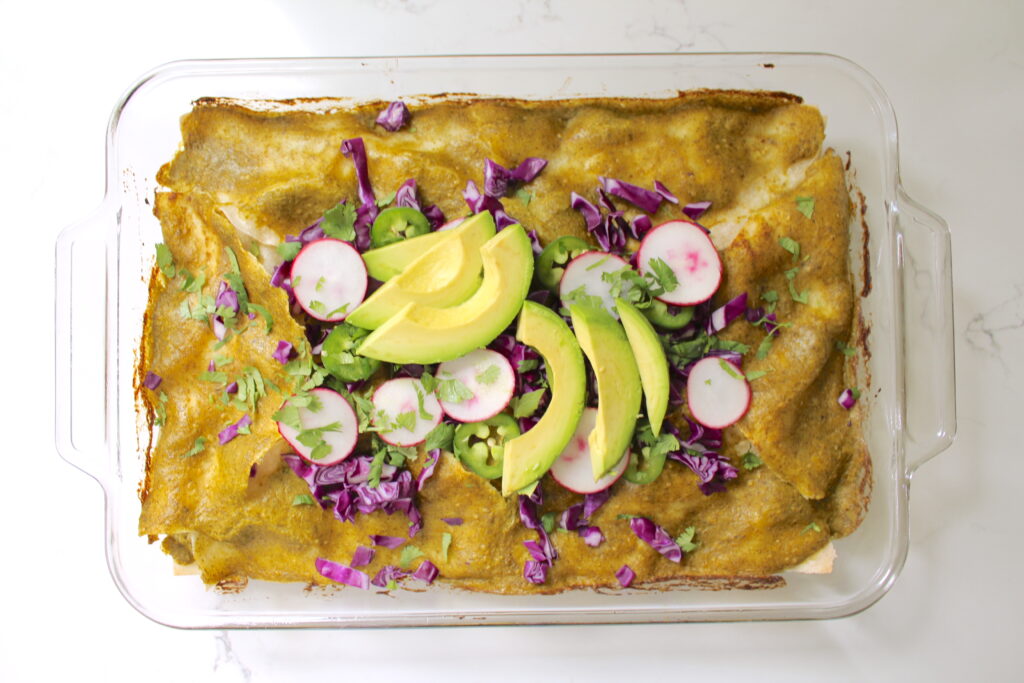 This Green Chicken Enchilada Casserole is a quick and easy weeknight meal for dinner or make ahead and freeze for future meals.
Print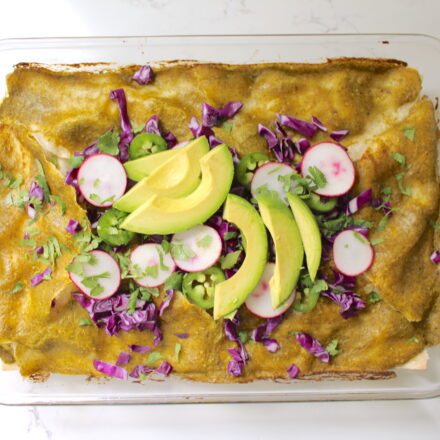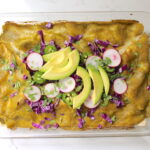 Green Chicken Enchilada Casserole
---
Green Enchilada Sauce: 
• 1 batch Green Enchilada Sauce here.
Enchilada Bake: 
2 Tbsp olive oil
1 Vidalia or sweet onion, diced
1 clove garlic, minced 
2 cups shredded chicken
2 cups green enchilada sauce, homemade (above) or store-bought
12 tortillas (corn or Siete for Paleo and grain-free), cut in half
2 cups shredded Monterrey Jack or Mexican blend cheese, if you'd like to add dairy or use a plant-based cheese
Toppings- all optional:
chopped fresh cilantro, diced red onion, thinly-sliced green onion and diced avocado
---
Instructions
Assemble Enchilada Bake 
Spray a 9×13 baking dish with cooking spray and set aside.

Preheat oven to 375°.
Heat 1 Tbsp olive oil in a saute pan. Add 1 diced onion and saute until soft – approx 5 min. Add 1 clove minced garlic and saute for 1 minute more until fragrant.
Add 2 cups shredded chicken and 1 1/2 cup enchilada sauce to the onion mixture and stir until combined and heated through. Set aside.
Pour ½ cup of enchilada sauce in the bottom of a 9 x 13 casserole dish. Add a layer of tortillas, a layer of chicken mixture and a layer of cheese, if using. Repeat with another layer and finally a third layer topped with remaining ½ cup enchilada sauce and cheese.
Cover the baking dish with aluminum foil and bake for 30 minutes. Remove foil and bake an additional 10 minutes until the top layer of cheese is melted and bubbly.
Remove from the oven and let cool for a few minutes before serving.
Serve with roasted vegetables for Whole30/ Paleo, or rice and beans.
Want to save this Chicken Enchilada Casserole Recipe for later? Pin it Here!