Crepes are one of those things that I love in so many different avenues- I will eat a crepe with savory or sweet fillings, in any country, any time of day. They are just so dang versatile, which is what makes my love of them that much stronger.
The History of Crepes
Crepes originated in northwest France called Brittany, and the word "crepe" literally means pancake in French. The word is derived from the Latin crispa, meaning "curled," which makes it ever the more essential that these Paleo crepes stick together enough to be worthy of their name 🙂 While they were created in Brittany, they are now widespread throughout the country, and are considered France's national dish.
Crepes were originally made using buckwheat flour, which is naturally gluten free and in its place has a more easily digested protein. Buckwheat was an easy to grow plant, making its flour also affordable. In these times white flour was very expensive, so much so that it was reserved for royalty. The white flour crepes we're used to seeing today didn't come until the beginning of the 20th century when white flour became more affordable. Now that both types of flours are used, sweet crepes are typically made with wheat flour or white flour and savory crepes are made with buckwheat flour.
In addition to flour, crepes commonly also include eggs, milk, butter, and salt… all of which aren't very paleo friendly, are they? Thankfully there are so many great substitutes, and these paleo crepes turned out tasting very similar to their original counterparts!
On February 2, the Catholics celebrate the holiday of Candlemas, which is also called Purification of the Blessed Virgin. Much as its name implies, it's a feast to celebrate the purification of the Virgin Mary and her presentation of the baby Jesus to the temple. This holiday is called three different things in France: la Chandeleur, Fête de la Lumière, or jour des crêpes. The last name for this holidays gives way to the fact that the French eat a LOT of crepes on this holiday, which is why I wanted to get this paleo crepes recipe in time for us all to join them! 🙂 Happy Candlemas!
Print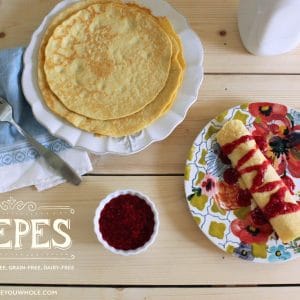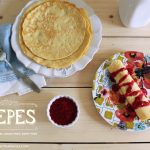 Paleo Crepes Recipe with Raspberry Compote
---
Crepes:
2

T grass fed butter or ghee, melted

2

eggs

3/4

c almond milk

1/4

t salt

1/2

c blanched almond flour

1/4

c coconut flour

1/4

c tapioca flour
Raspberry Compote:
1

c raspberries (fresh or frozen work!)

2

T honey, or more to taste

1

t tapioca starch or arrowroot powder
---
Instructions
Start with the melted butter in a medium sized bowl.
Add eggs, one at a time, and whisk vigorously after each addition.
Add almond milk and whisk.
Mix dry ingredients together, and slowly add to wet ingredients while whisking.
Heat grass fed butter or ghee in a crepe skillet or large saucepan on low-medium heat. Add crepe batter to the pan 1/2 c at a time. Pick up the pan and swirl it around to make the crepe as thin as possible.
Cook for 3-4 minutes, then flip and cook another minute.
Enjoy with sweet or savory fillings, or use these as tortillas!
For the Raspberry Compote:
Heat the raspberries on medium-high heat in a small saucepan until the berries have started cooking and lost their shape. They should look like jam.
Add the honey and stir until combined.
Sprinkle on the tapioca starch or arrowroot powder and whisk vigorously… if you don't get it combined super quickly, the starch/powder will form clumps.
Remove from heat and serve immediately inside the crepes! Yum!
Nutrition
Serving Size:

4 1/2 c crepes
Print this recipe card at home!
Save the below images and they'll print perfectly on 3×5 index cards!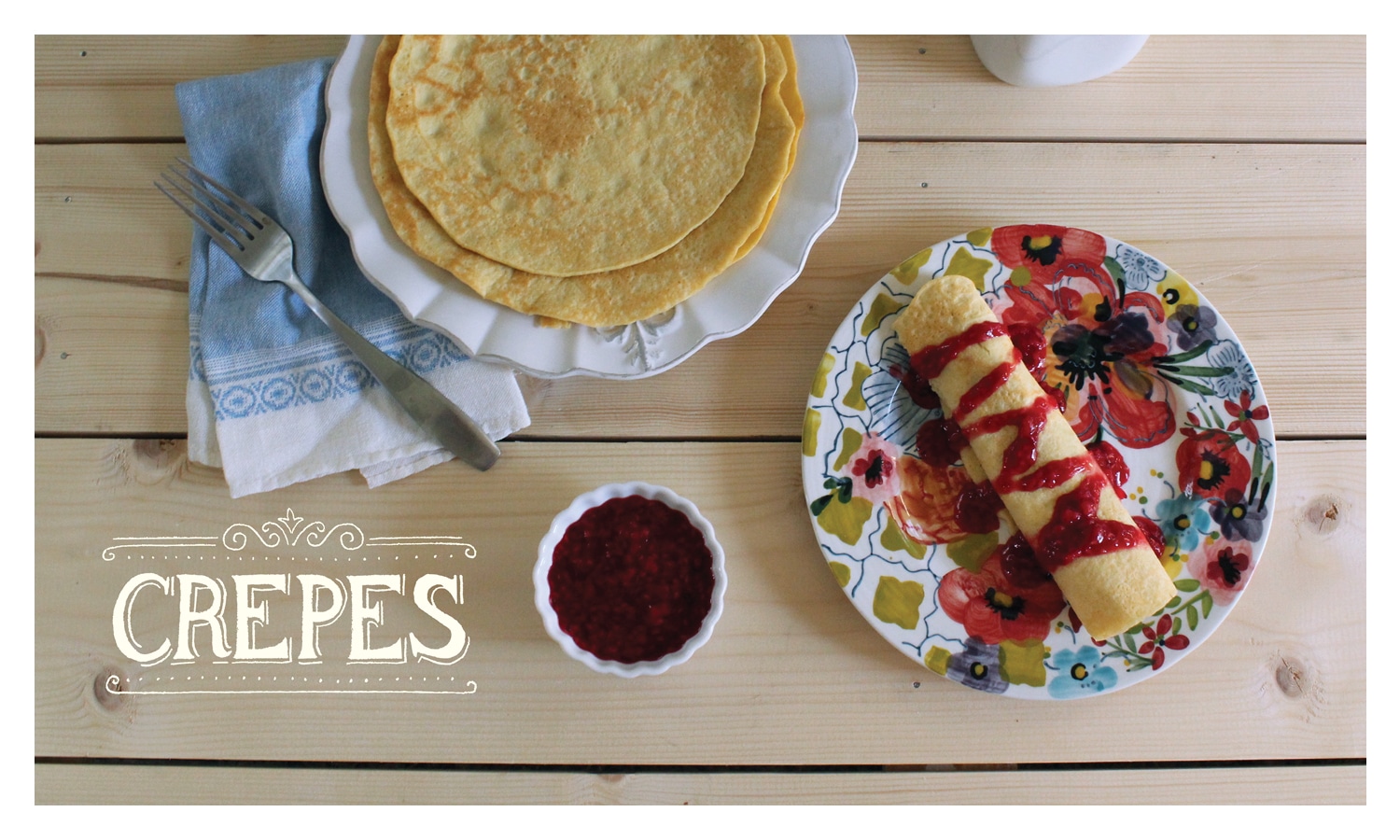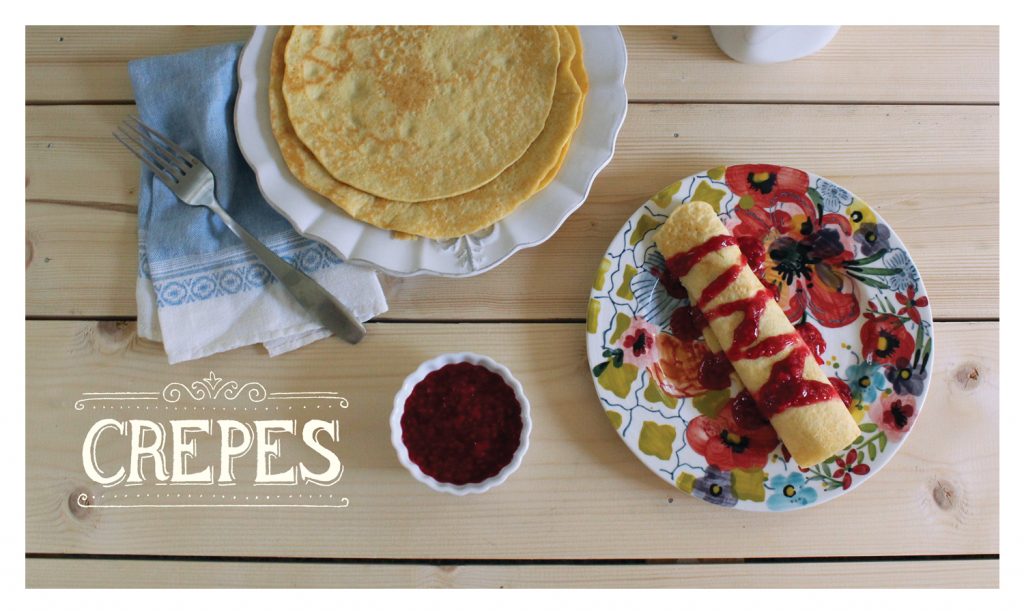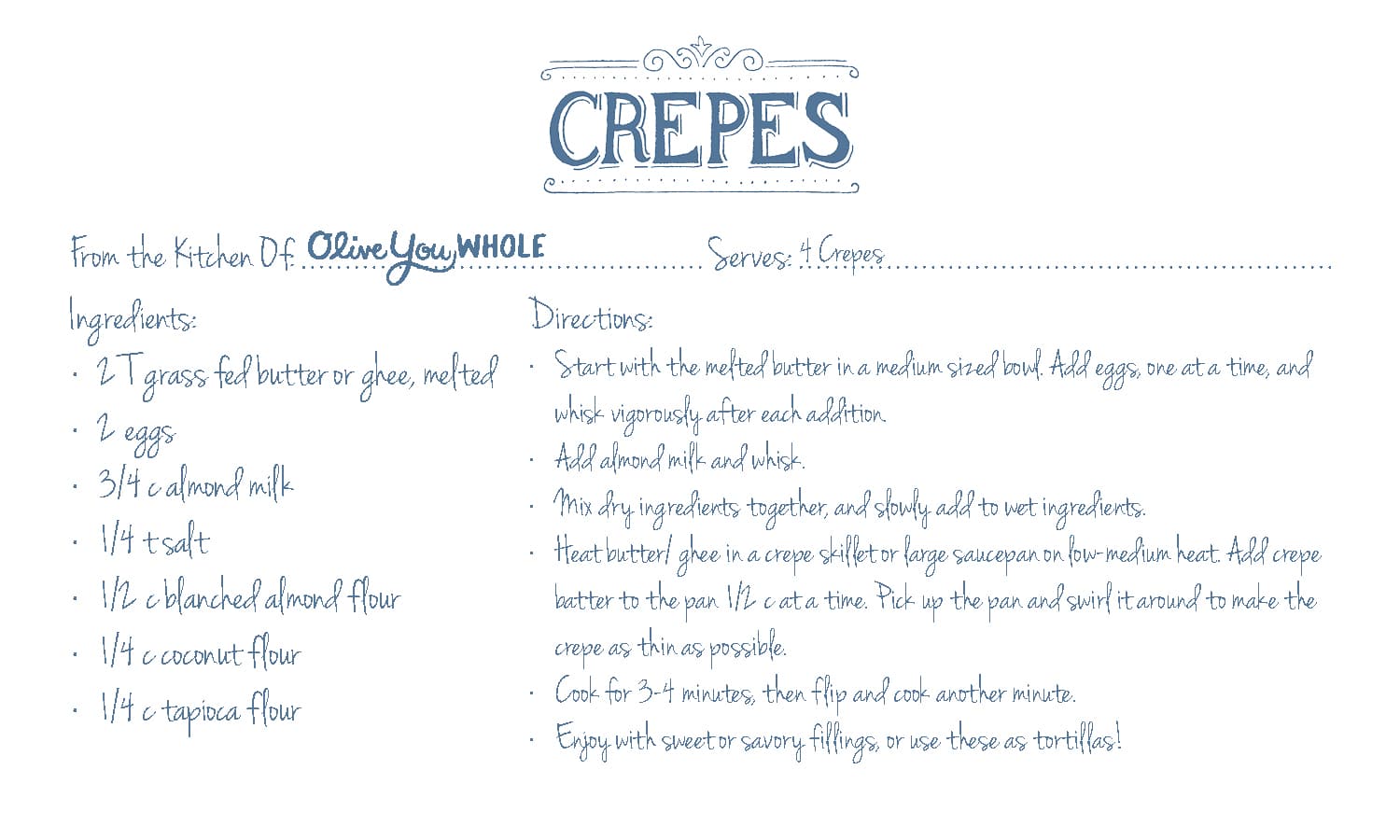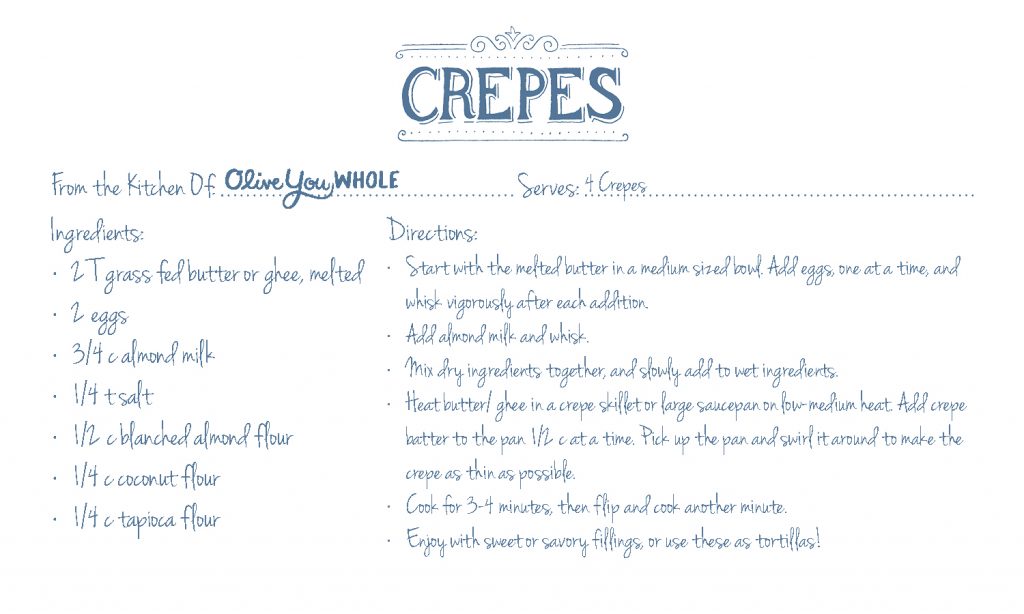 Want to save this Paleo Crepes Recipe for later? Pin one of these images!