07.22.2019
I consider myself a pretty stealthy airline travel finder. I know all the sites to find the best fares. I'll give you all of my tips for traveling to Europe in a later post, and I'll include all of my stealth ways. For now, it's just important to point out because it ended up really changing our trip for the better! We were planning a getaway to Italy, but we flew into Paris because Norwegian had direct flights from Denver to Paris for only $150 a person! Seriously! See my full review of this flight here. 
The Best Time of Year to Visit Paris
We had my Mom and Chaz's Nana stay with our kids for our 10-day adventure (they're saints!). Since we're minimalists anyway, we knew we wanted to only take backpacks… It saved us SO much money with all of our flights. Pretty soon after we left to go to the airport, Chaz realized he didn't have a single jacket. He hates being super hot. I honestly don't know how he survived in Georgia for so long…
This was one of the huge factors for doing our European trip in April and not in the middle of Summer. But it was going to get down to the 30's and 40's at night- he was going to need a coat! Thankfully, since we live in Denver, there was an outdoor store in our terminal! Chaz got a really cute lightweight blue coat that was perfect! 
Exploring Paris in the springtime is maybe one of the most gorgeous things I've ever experienced!! The weather is PERFECT. It's not as horrifically busy as it is during the summer months when kids are out of school. Every flower and tree is in bloom. I don't think it gets much better than Paris in the springtime!
Getting to Paris
We flew Norwegian Air from Denver to Paris! See my full review here– I really couldn't recommend this enough!
Alas, we got to Paris, albeit not as well-rested as we had hoped. We got in at 1pm, then our plan was to explore that first day. Remember Chaz's new blue jacket? We were about to get on the train to go to our hotel, and he realized he left it on the plane… womp womp! Since we just got it, we wanted to at least try to find it! So very tired and grumpily, we went to the Norwegian desk. While we were talking to them, one of our flight attendants came by and said yes! They had found his jacket! Hurrah!
They told us to go to the French equivalent of lost and found… Long story short, they did NOT have his jacket, and we wasted hours trying to find it. Oops! That was just mistake number 1, and not the most expensive mistake we would make on our trip!
Even though we knew we wanted the bulk of our trip to be in Italy, we were already flying into Paris… Might as well stay! We had 2 nights in Paris, but basically just one full day. We left bright and early the next morning. (You're not going to believe that story!)
A note on the Metro in Paris:
We took the train from the airport, which is Northeast of the city, close to where our hotel was. Taking your recommendations, we stayed in Le Marais neighborhood. It was absolutely perfect and exactly what I wanted! We stayed at a super cute boutique hotel called Hotel Monsiuer Saintoge in La Marais and we loved it! Our room was tiny, but the location was perfect! 
A note on the metro- Paris is HUGE. Especially compared to the smaller European cities like Florence, where you can walk around everywhere. It would behoove at least one person in your party to be the designated Paris Metro person. Get a map in advance and study it. Plan out where you want to go, how many changes it takes, and which lines you'll need. I highly recommend getting all day passes for the Metro for as many days as you'll be in Paris. You will use it ALL day getting from place to place. Just take a look at this map!!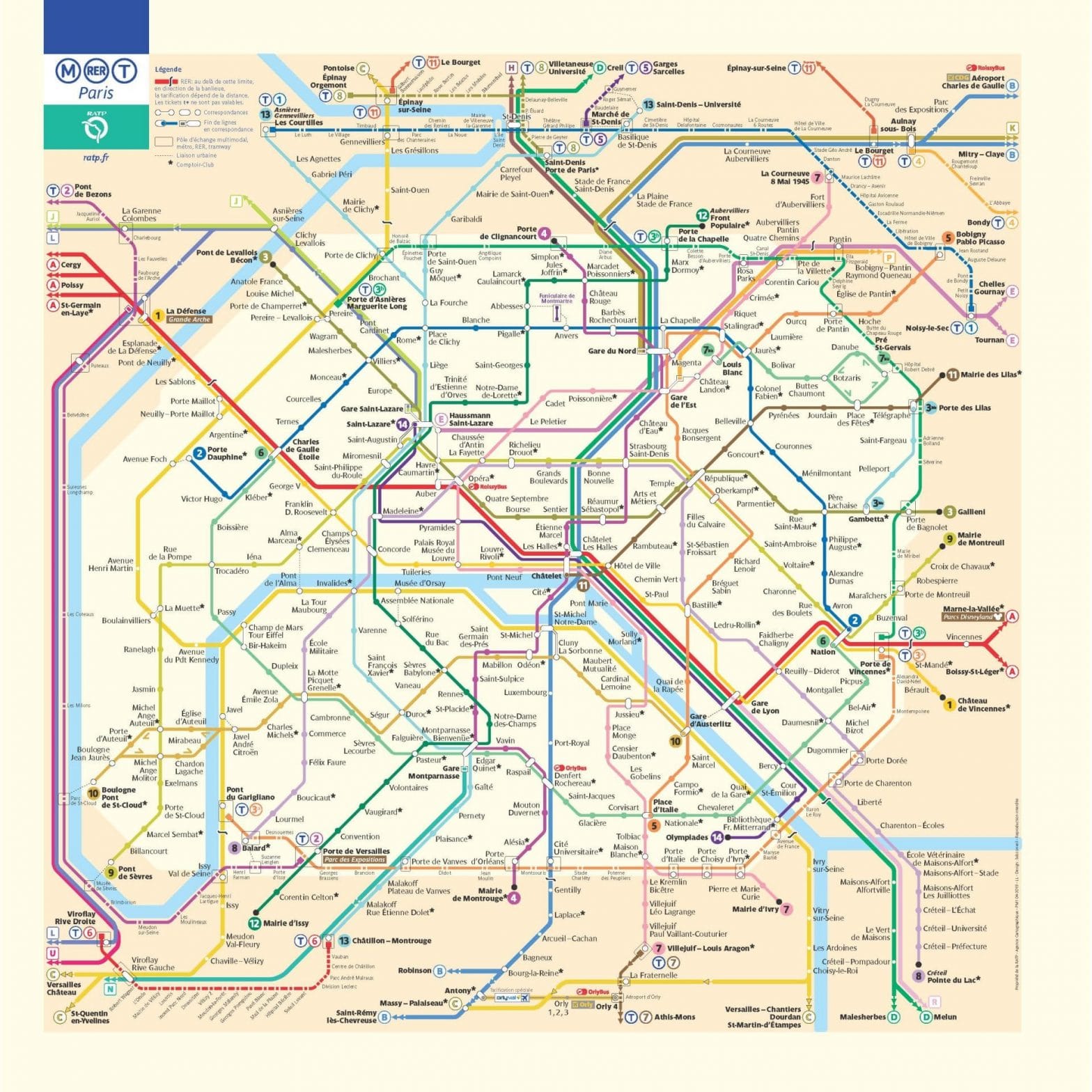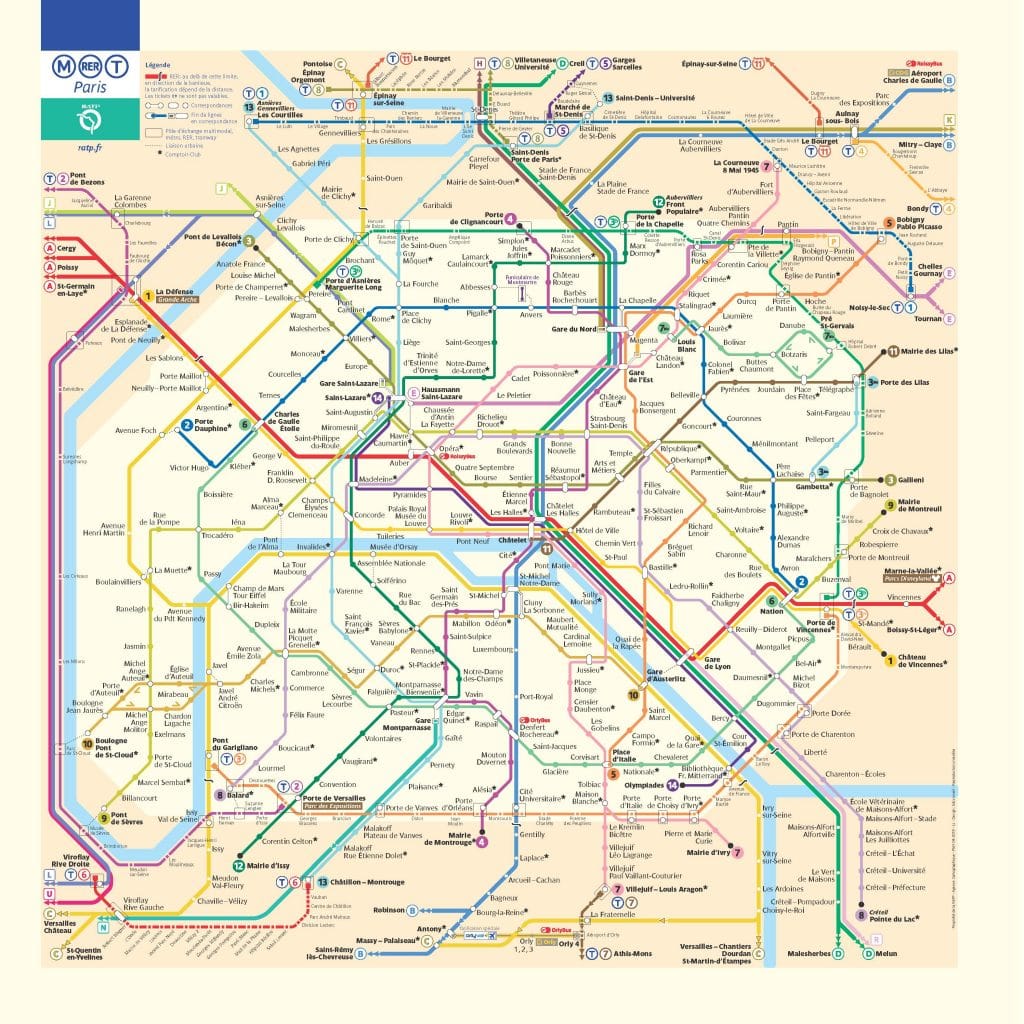 Exploring La Marais Paris
First we changed our clothes, freshened up, and then headed out to explore! We walked around La Marais! There are SO many cute TINY shops, flower shops, and creperies. It's the cutest thing. We walked all the way down to the river, then walked all along the Seine. We passed by Notre Dame, the Louvre, Museé D'Orsay, and through the Tuileries Gardens. 
Where we ate in Paris!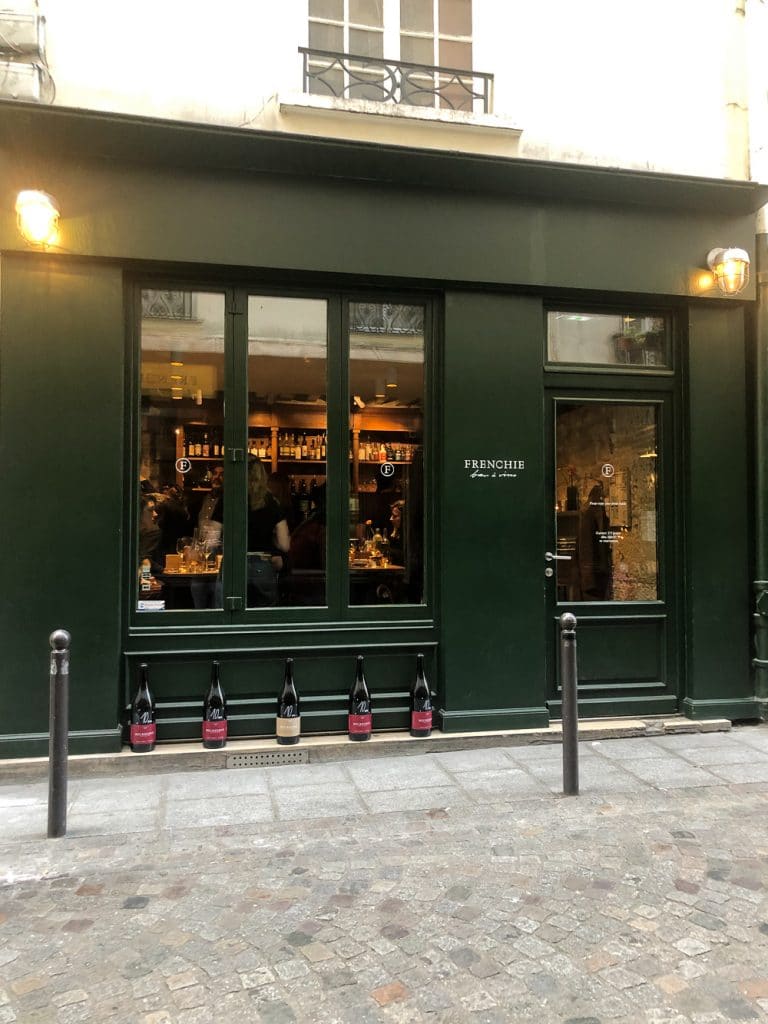 We walked to dinner at Frenchie bar à vins. Chef Grégory Marchand has five restaurants. I didn't necessarily want something SUPER fancy, so Frenchie bar à vins was the perfect way to get the taste of Chef Grégory Marchand in a wine bar setting.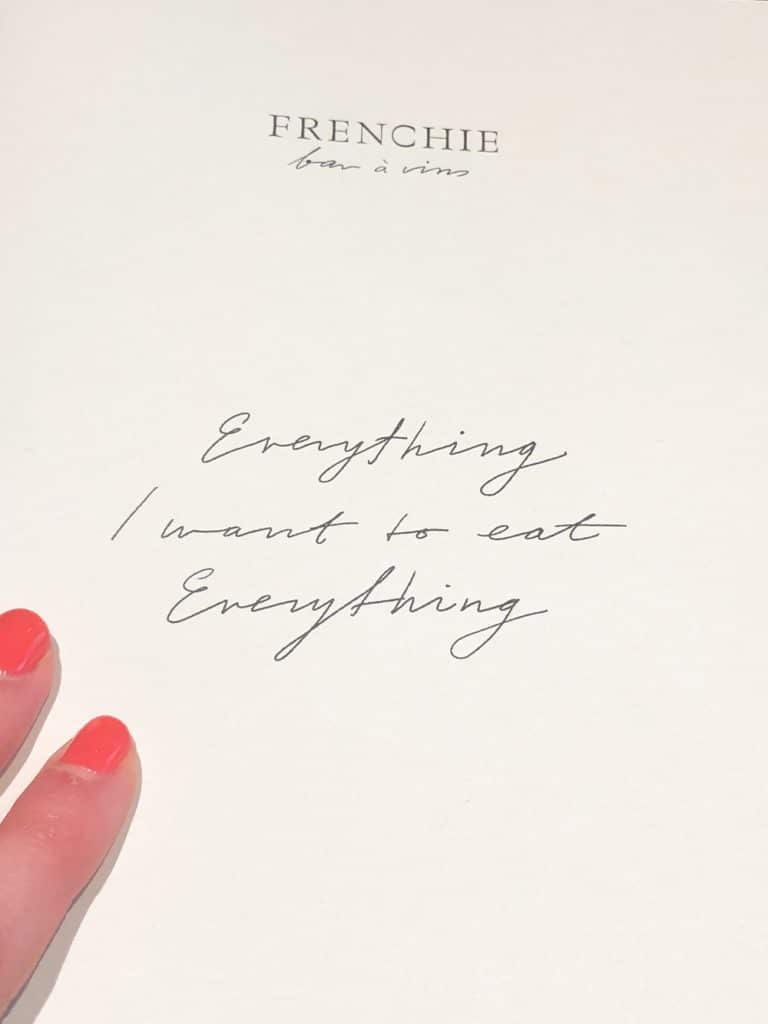 In the chef's words: "There's something so very easy-going and friendly about the Wine Bar: you can come alone or with friends, eat standing at the counter or sitting at one of the high tables. The food is simple, yet elegant: terrines, fresh pasta, perfectly prepared vegetables, flavourful family-style dishes. And, of course, a broad selection of wines that you can enjoy by the glass. It's a restaurant in its own right, but freer and more relaxed, a reflection of my personality, and that of my chefs." — Greg Marchand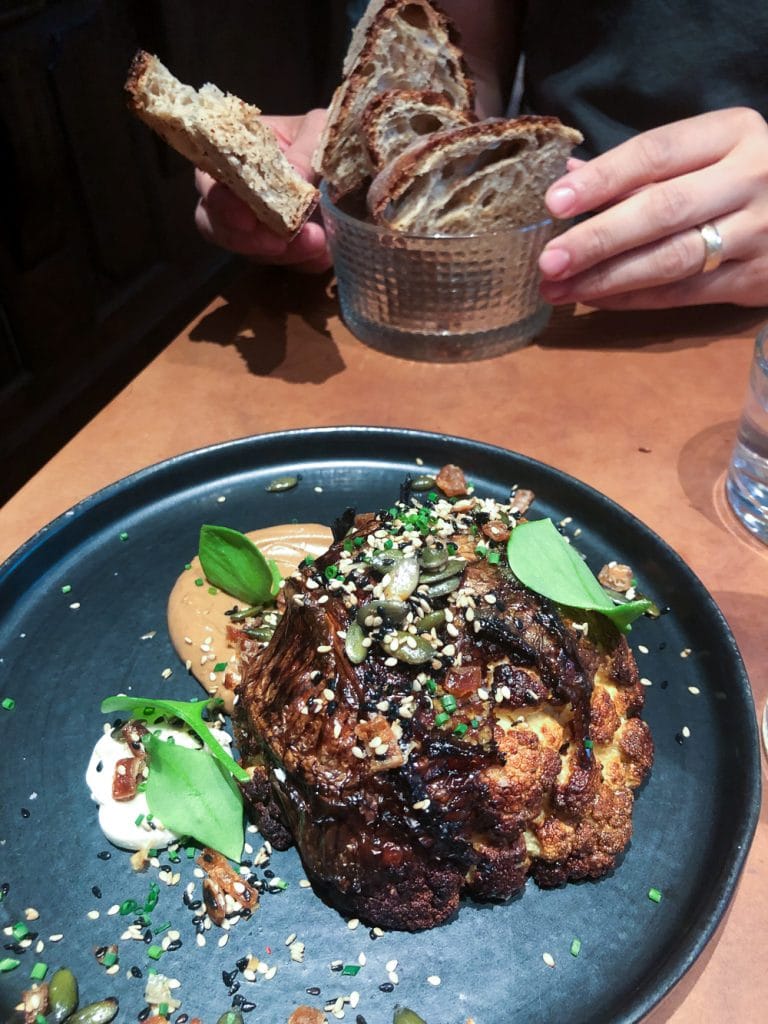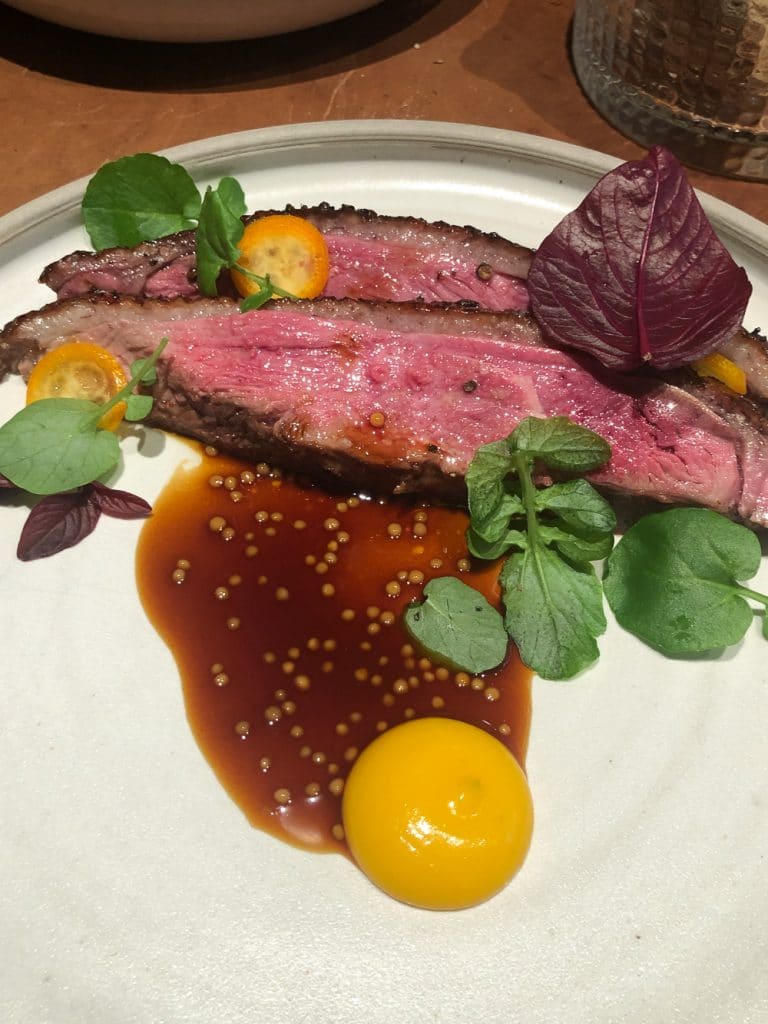 There was an abundance of beautiful dishes. The roasted cauliflower (above left) was insane. It had a nutty sauce that MADE the dish. We also had the duck with orange marmalade (above right) and the flavor combination was so unique and divine! It was out of this world delicious, and relatively pricey, but nothing exorbitant. If you want an even more casual experience, he has a fast-casual restaurant called FTG that looks delicious, too! If you want to see all of his restaurants, check them out here. Note that some require reservations. 
Always stop for crepes!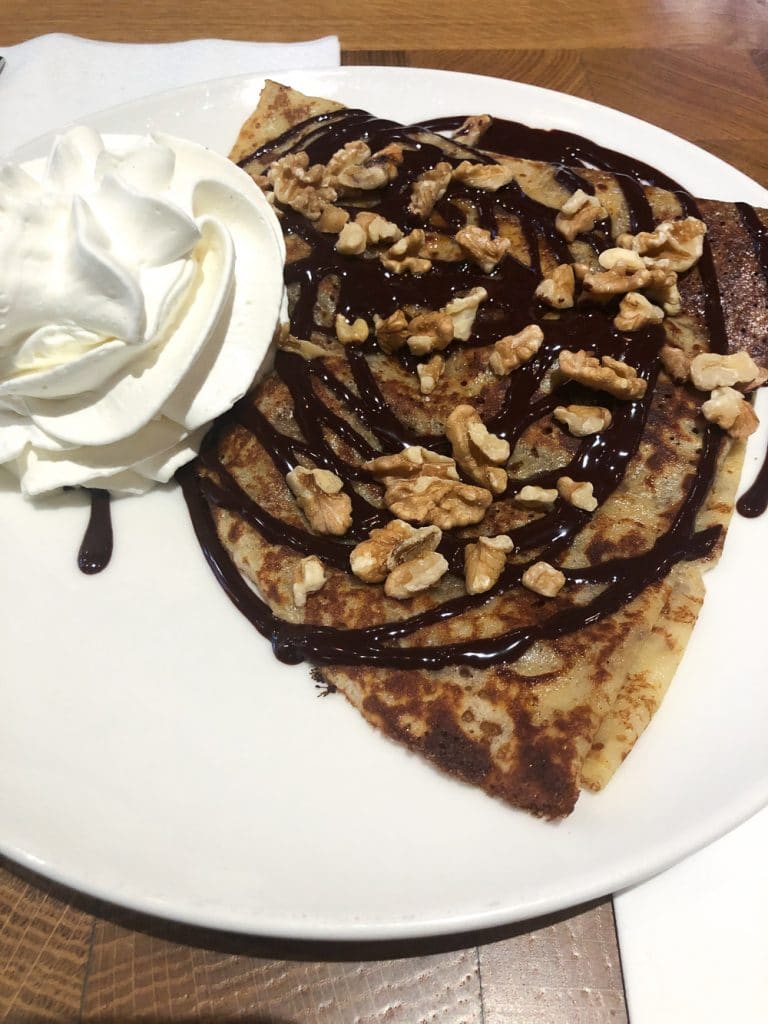 Seriously- always stop for crepes! We skipped dessert at Frenchie bar and stopped by a Creperie on the way back to our hotel. I just tried to find it on Google maps for you and couldn't – ah, the magic of Paris! Also, I don't think you can go wrong with crepes!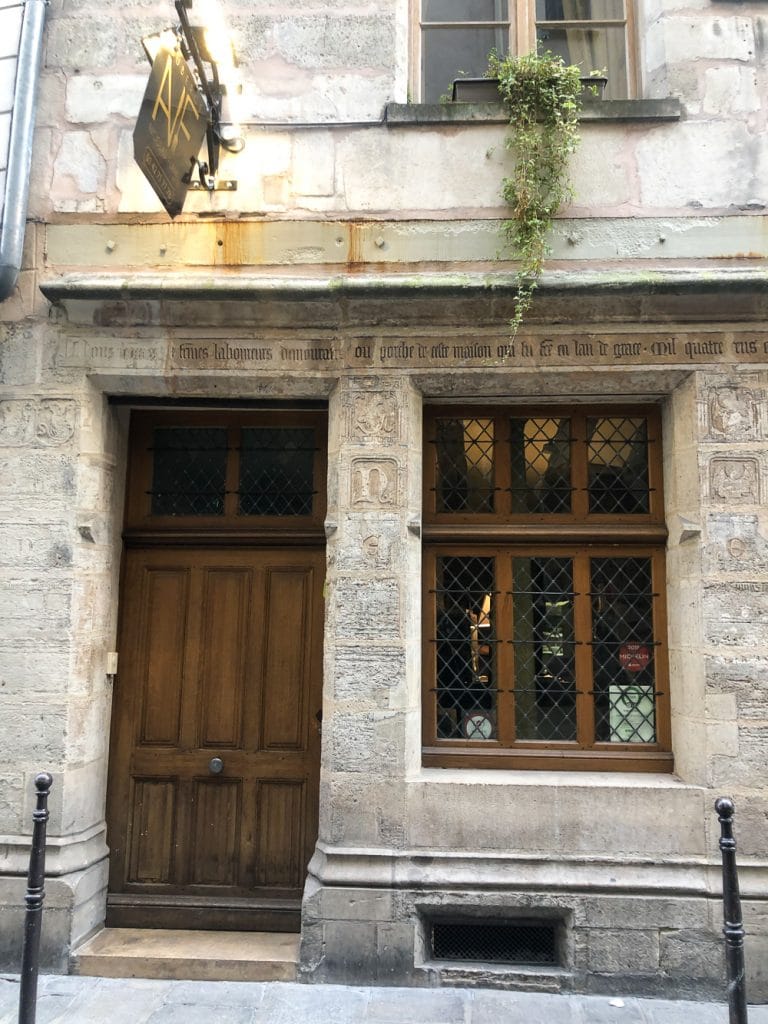 Our second night we had an INCREDIBLE dinner at Auberge Nicolas Flamel. Of course, I was tempted to go there because of Harry Potter, duh.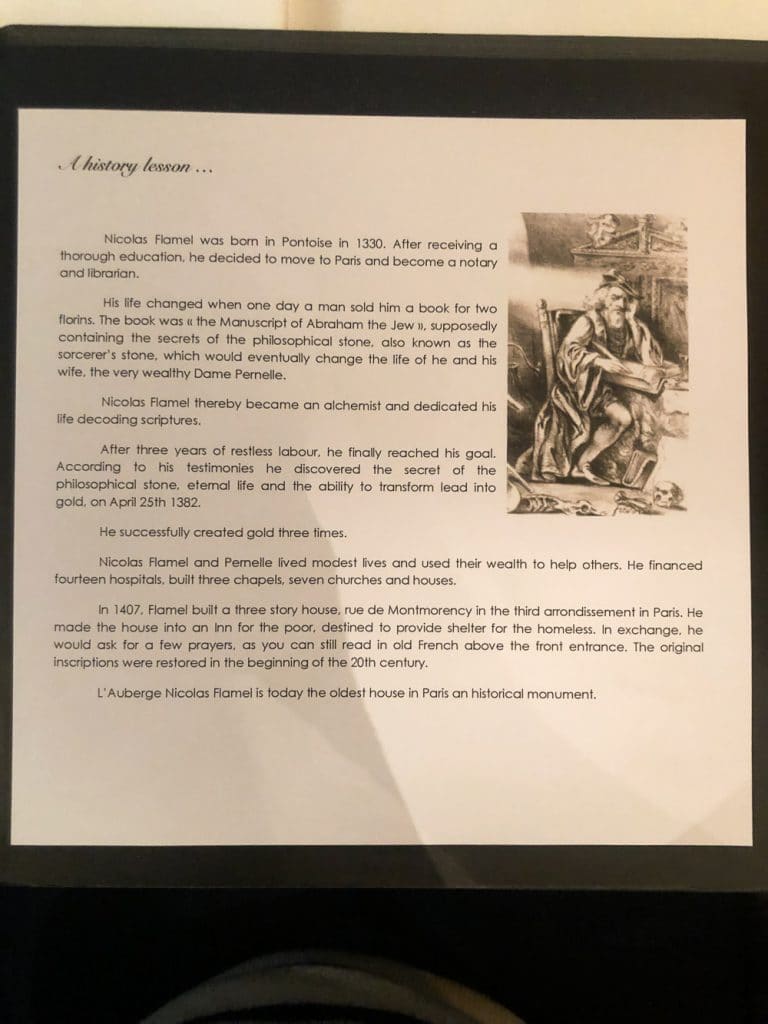 Nicolas Flamel apparently discovered the secret of the Philosopher's Stone and made gold from lead three times in his life. You can read more of his history in the image above I took from the menu!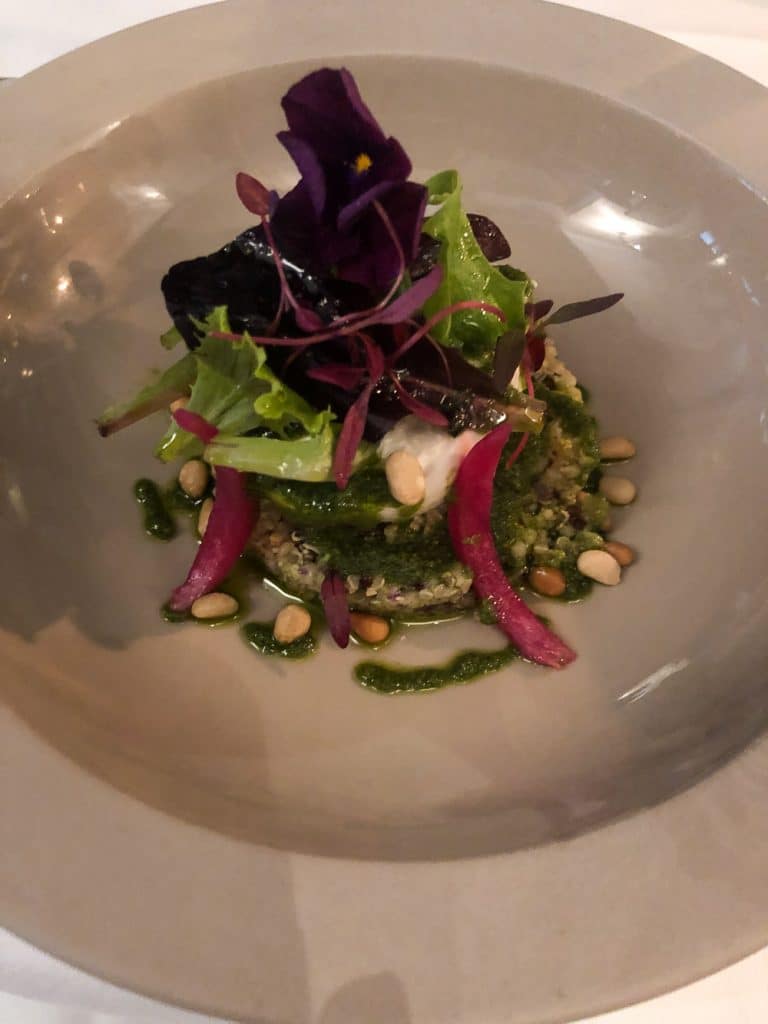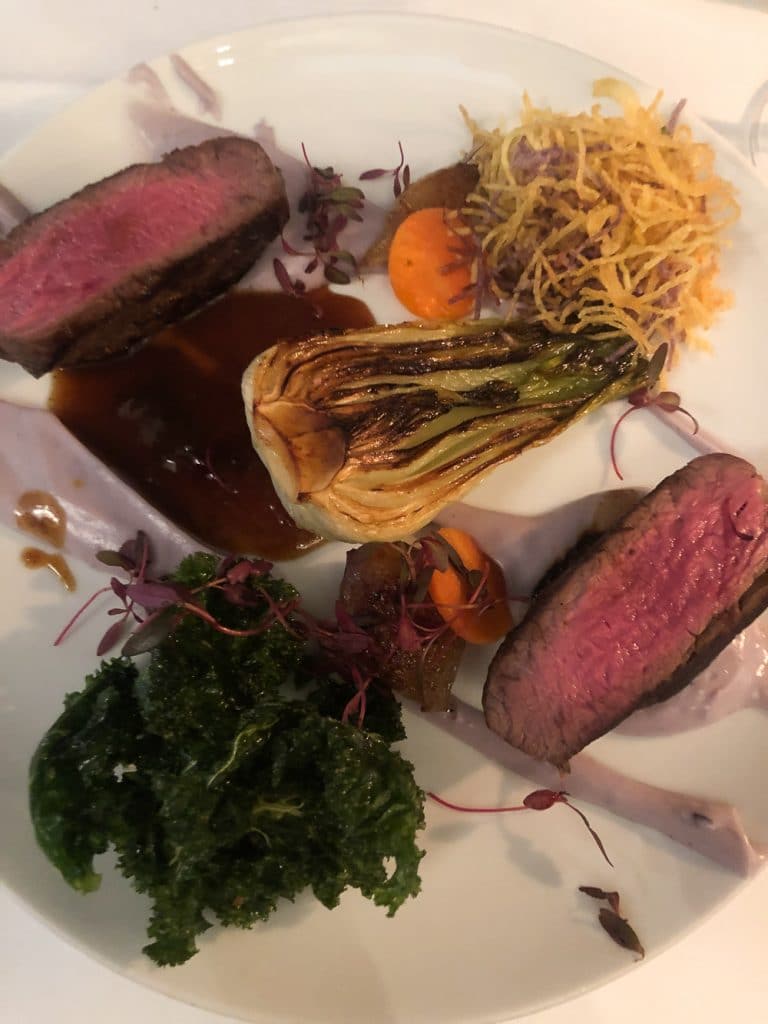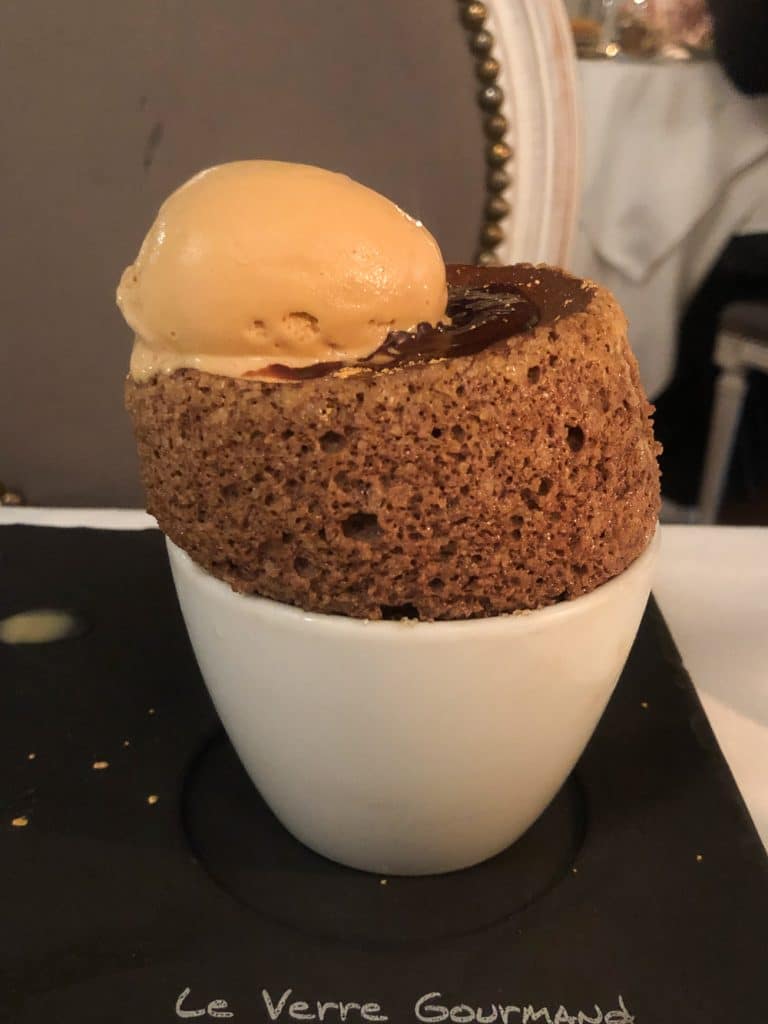 The restaurant is another Michelen-start rated restaurant. We had a delicious farro salad, filet and roasted veggies, and a molten lava cake for dessert. It was so so so good. I'm so glad I choose to have some nicer dinners in Paris. There's just SO much good food there, why not? 
Set an alarm your first night abroad!
That night we were SO jetlagged. We planned to wake up bright and early and explore! We had already bought tickets for the Big Bus Hop On Hop Off Tour… Unfortunately, we couldn't fall asleep until super late, and it didn't even occur to us to set an alarm. We slept in until ELEVEN am. 11! We were bummed because we slept through half of our only day in Paris! Lesson learned!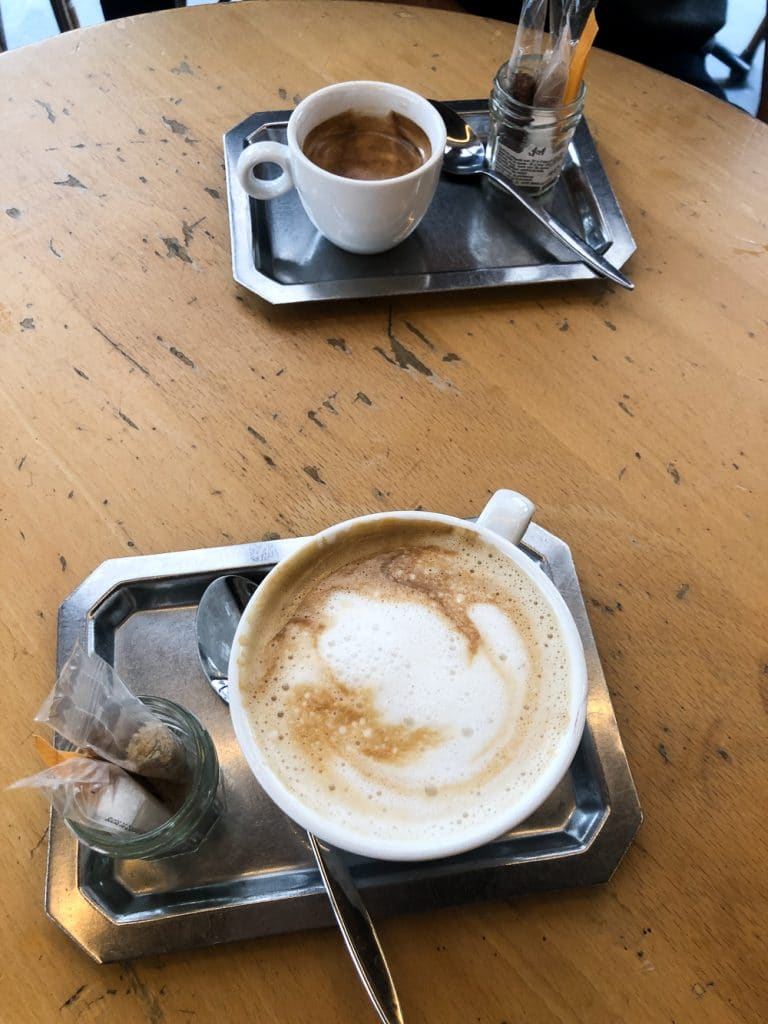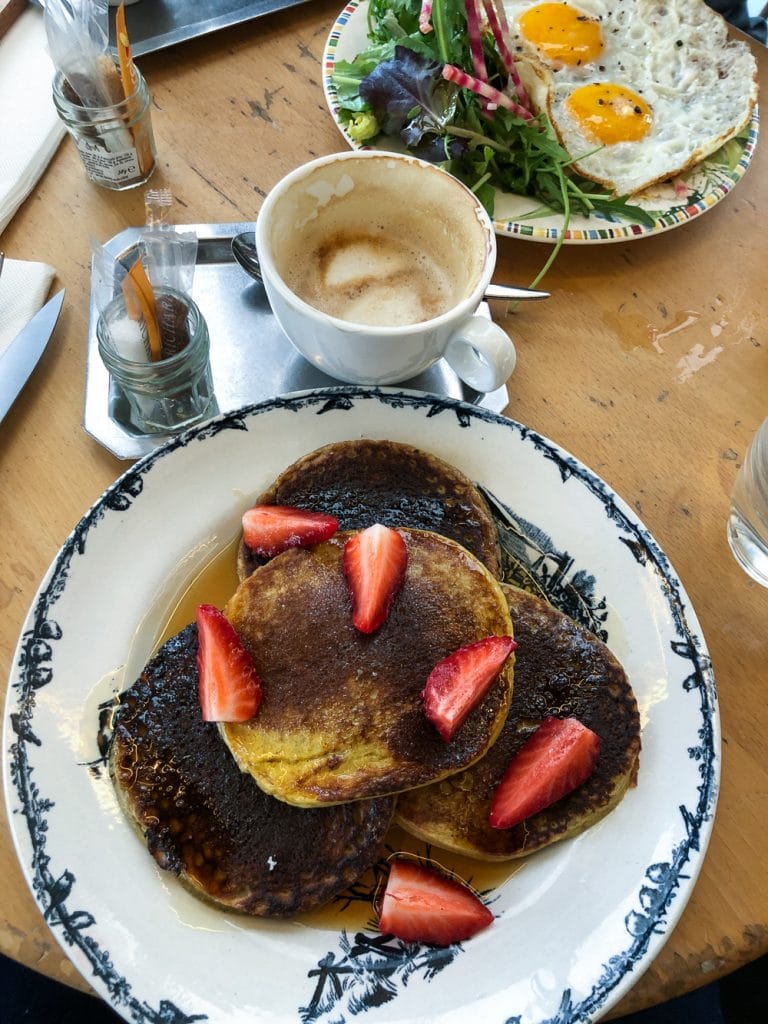 In the morning we walked right down the road to Café de la Poste for a very traditional Parisene breakfast! I was a HUGE fan of the $1 or $2 lattes- unlike our $6 American lattes! I got the buckwheat pancakes (gluten free!) and Chaz got two fried eggs and a salad. Isn't he the cutest?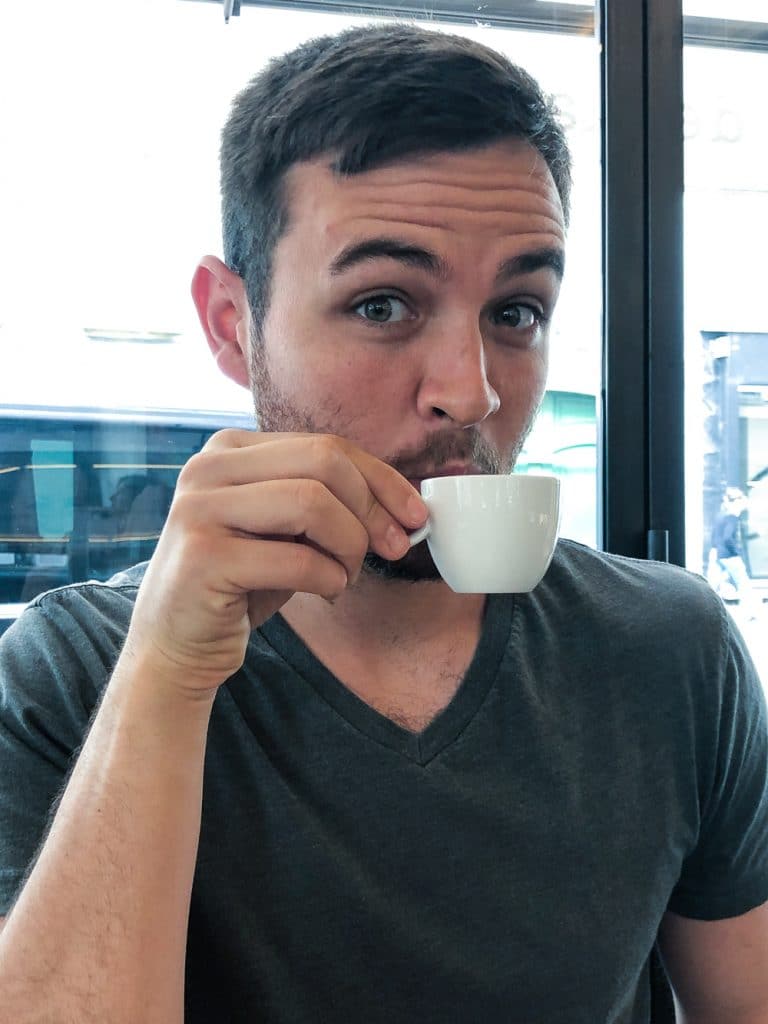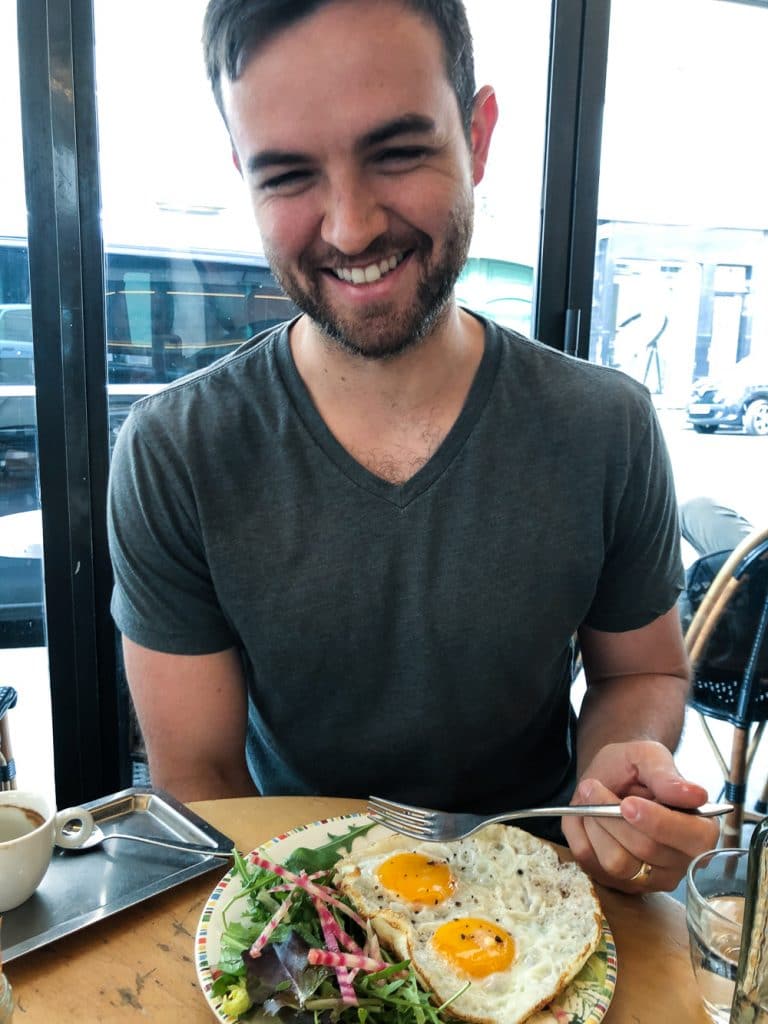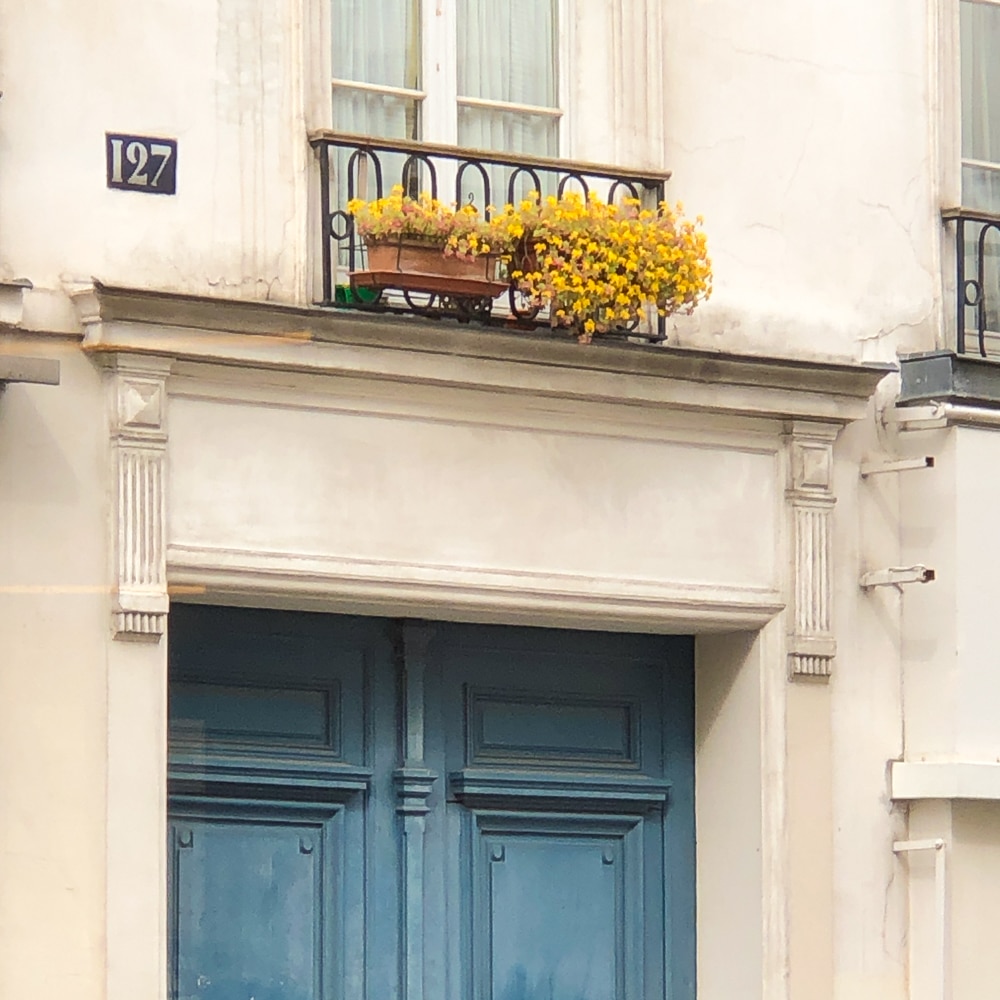 This was the gorgeous view outside of Café de la Poste- isn't this door gorgeous?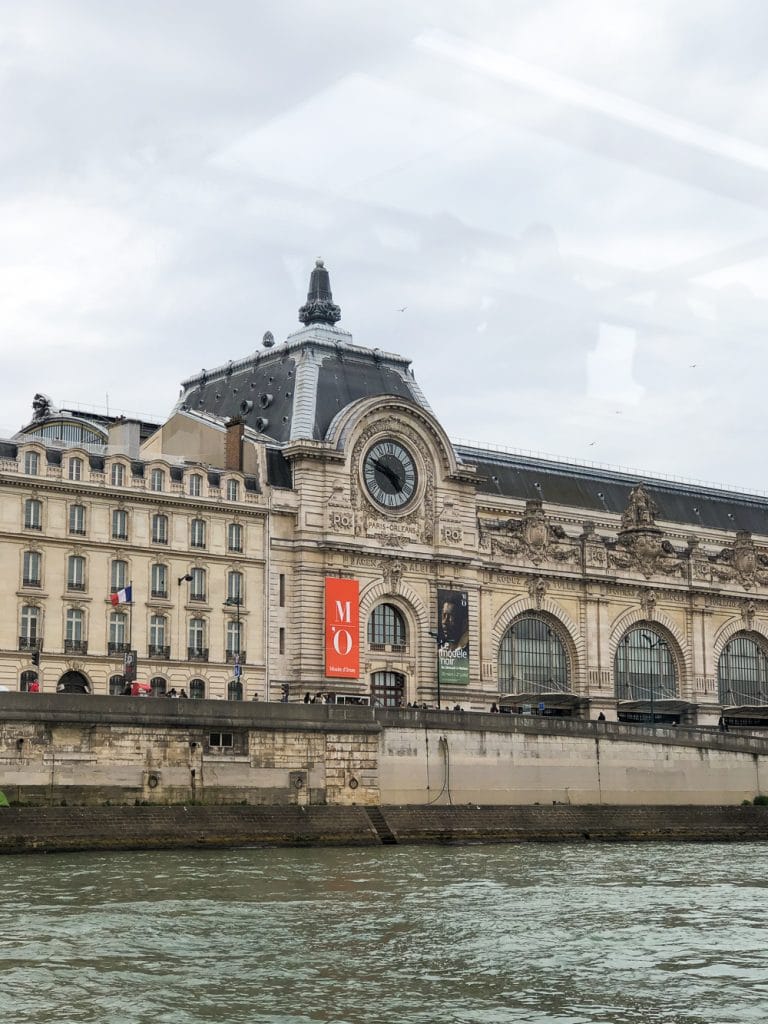 Museé D'Orsay– get Skip the Line tickets!
My BIGGEST priority in Paris was going to Museé D'Orsay, as impressionism is my favorite art period, and it's my ALL-TIME FAVORITE art museum in the world. Chaz isn't huge into art (I mean, we ARE complete opposites in every way), so I promised him this would be THE art museum we'd go to on our trip… And even though we were in Italy, I kept that promise!
On the first Sunday of the month, a ton of museums are open to the public for FREE. It was a Sunday, BUT when we got there there was SUCH a huge line. We're talking 3-4 hours. It was one of those moments we decided to opt for convenience, knowing that our hours in Paris were limited and time is money! We got a skip-the-line pass and walked RIGHT in. I'm so glad we did! The museum was, and always is, incredible. I would personally go to Museé D'Orsay over the Louvre 100 times out of 100! Even Chaz enjoyed it!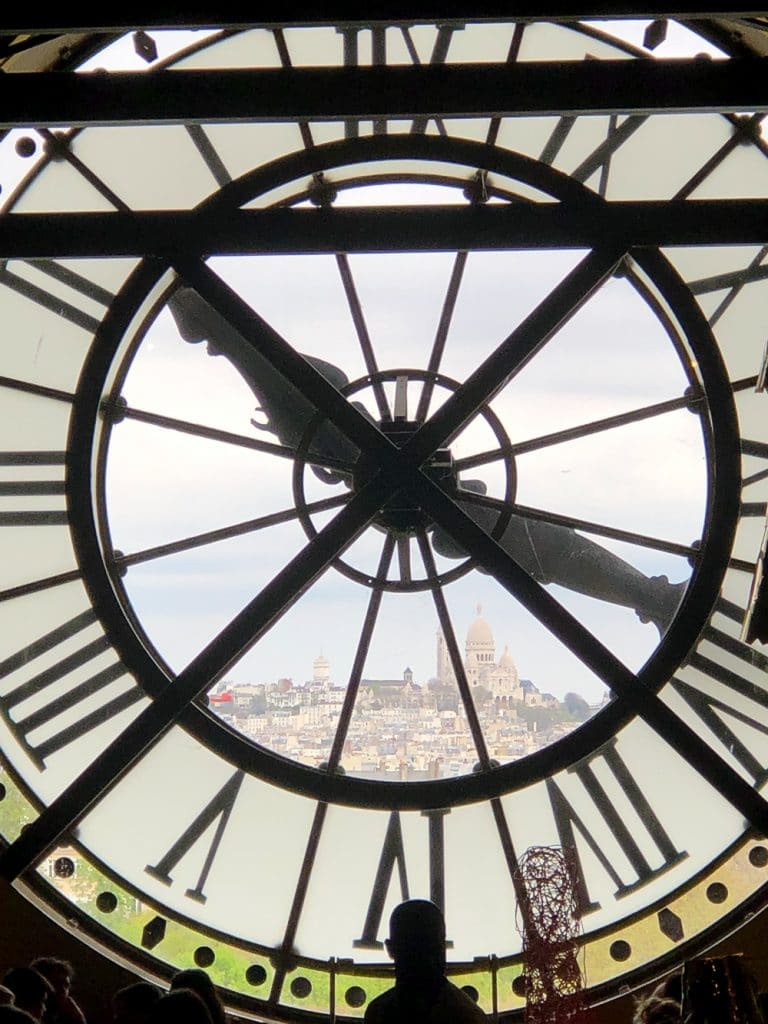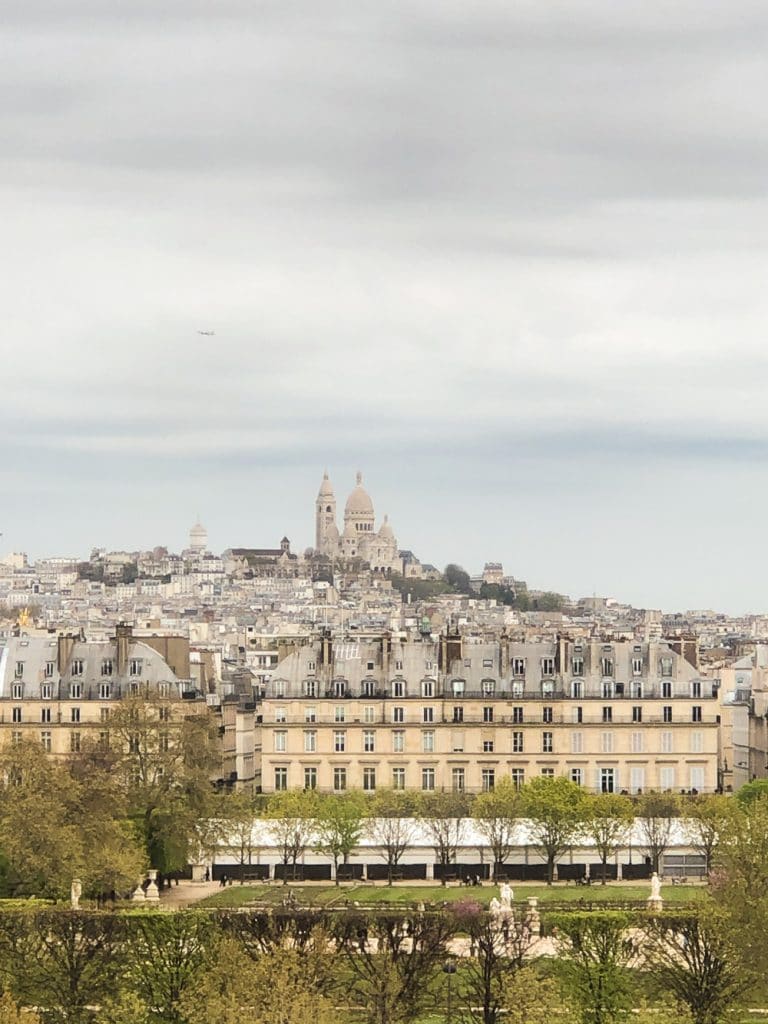 You can look OUT of the grand clock to see the city- isn't it so gorgeous? You can look out and see Sacre Coeur!
Get the Museé D'Orsay Skip the Line Pass from GetYourGuide here!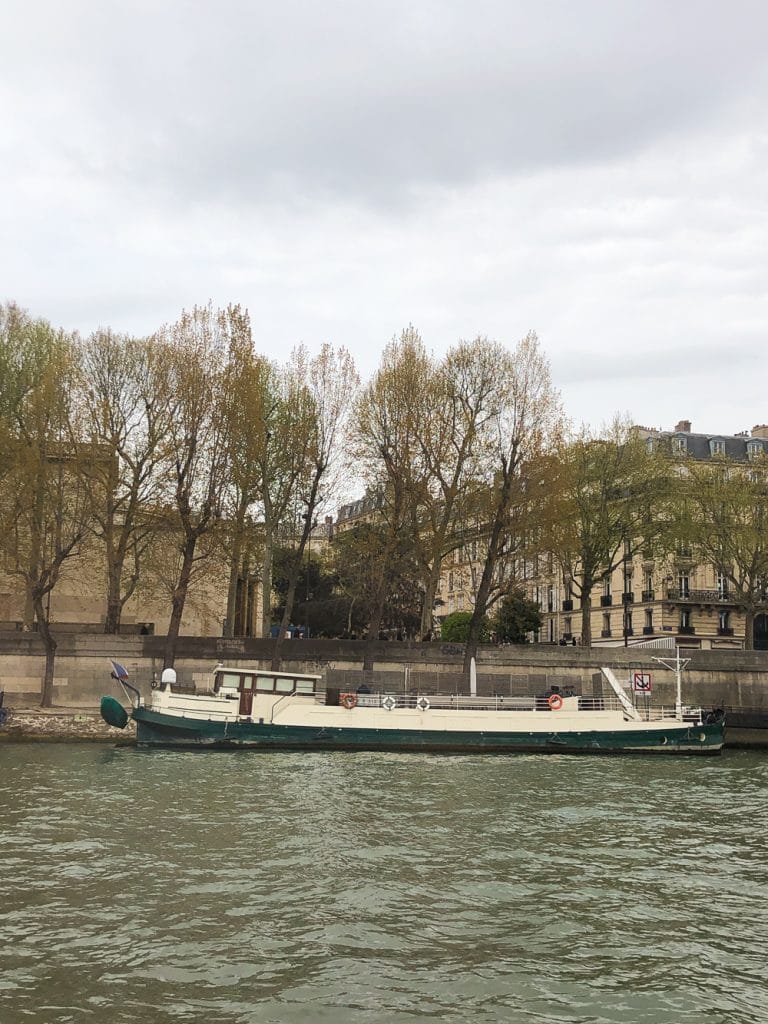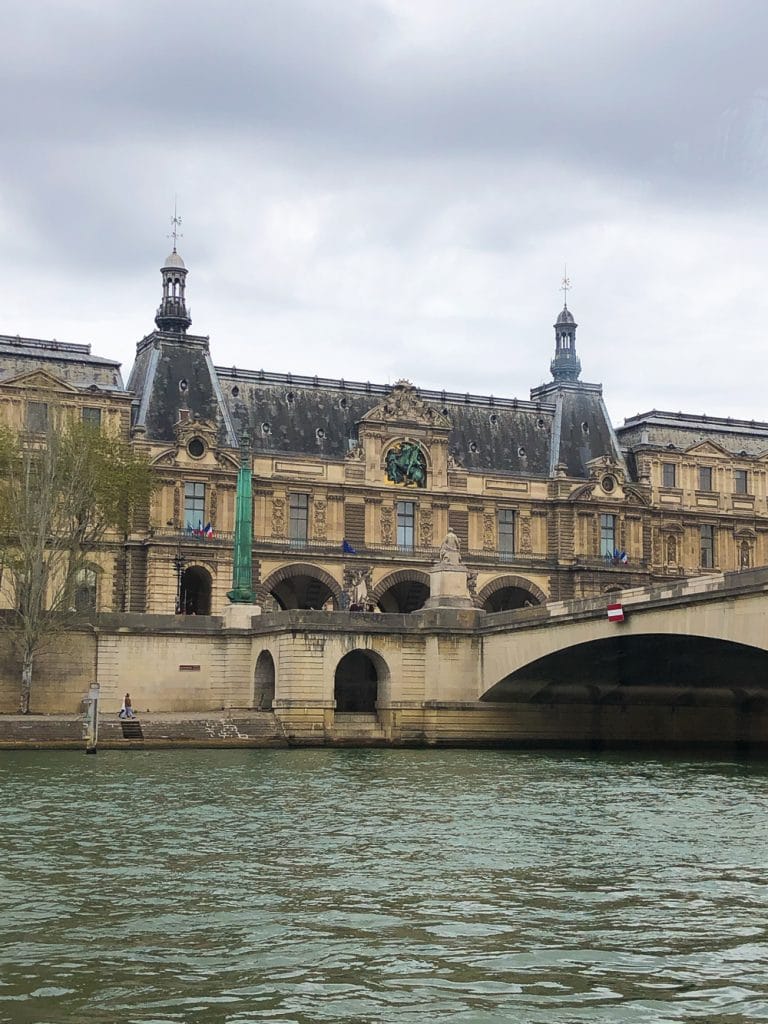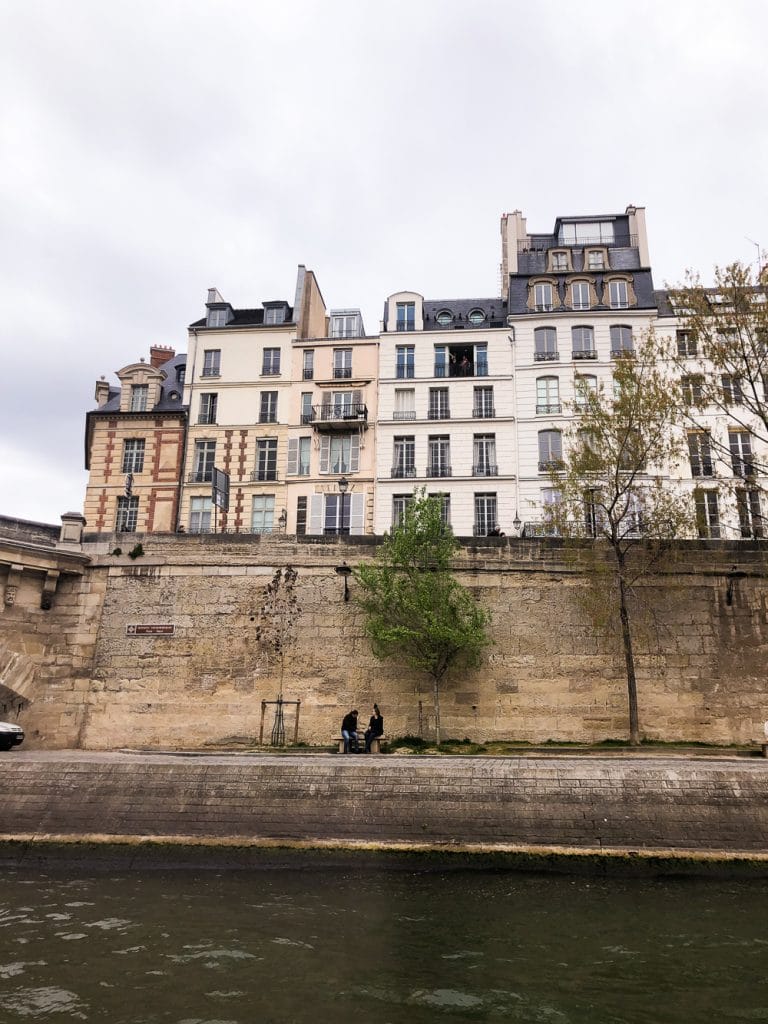 We then hopped on our Hop On Hop Off bus and got a tour of the city! If you only have a short time in Paris, this is a GREAT way to see all of the touristy things in a relatively short period of time! We got the version that also had a boat cruise! That was a super great choice because it's a gorgeous way to view the city.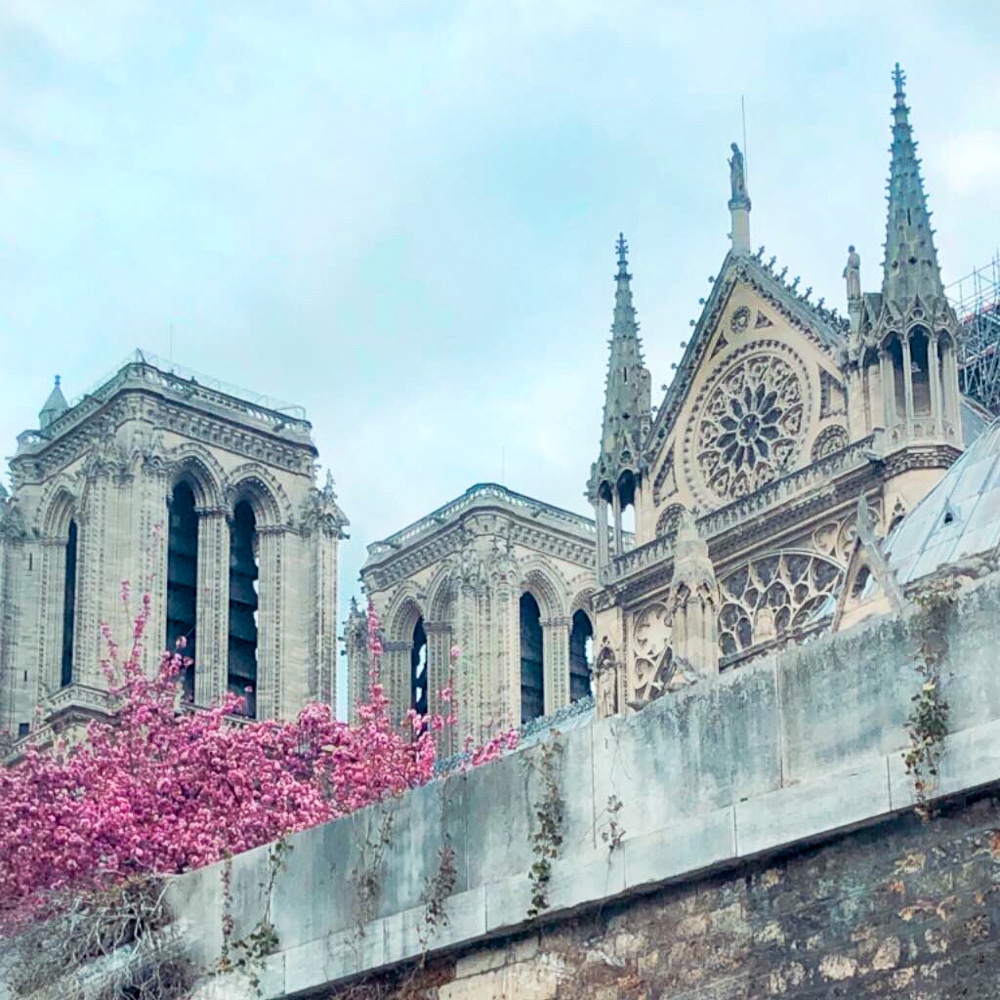 I'm so so so SO glad we did, because that was our only view of Notre Dame. We flew back out of Paris 10 days later THE DAY it burned. I can't tell you the level of regret that we didn't make going inside a priority- Chaz had never seen it. Alas, at least we got to see the exterior from the river, and the trees were in bloom no less!
Best Place to Take a Picture of the Eiffel Tower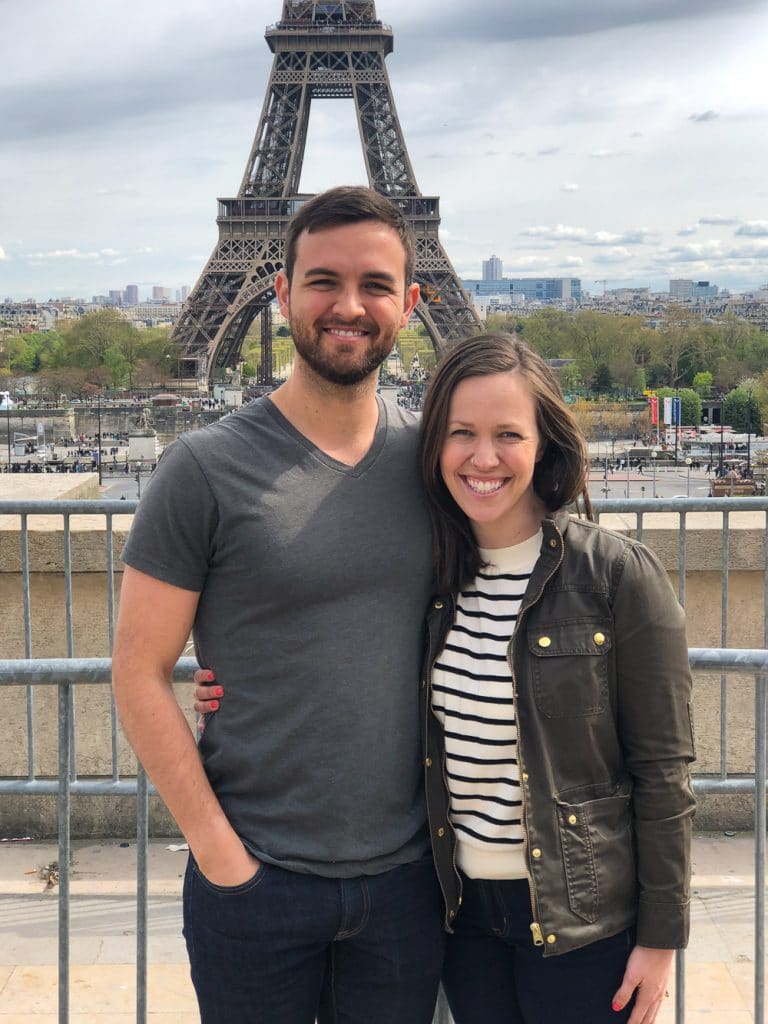 By far the best place to take a picture with the Eiffel Tower is at the Trocadero metro stop! (This is also where our Big Bus Hop On Hop Off Tour stopped) You just turn the corner to get a great view of the Eiffel Tower! Since time was of the essence, we didn't go up it this trip! Honestly it's beautiful even from afar!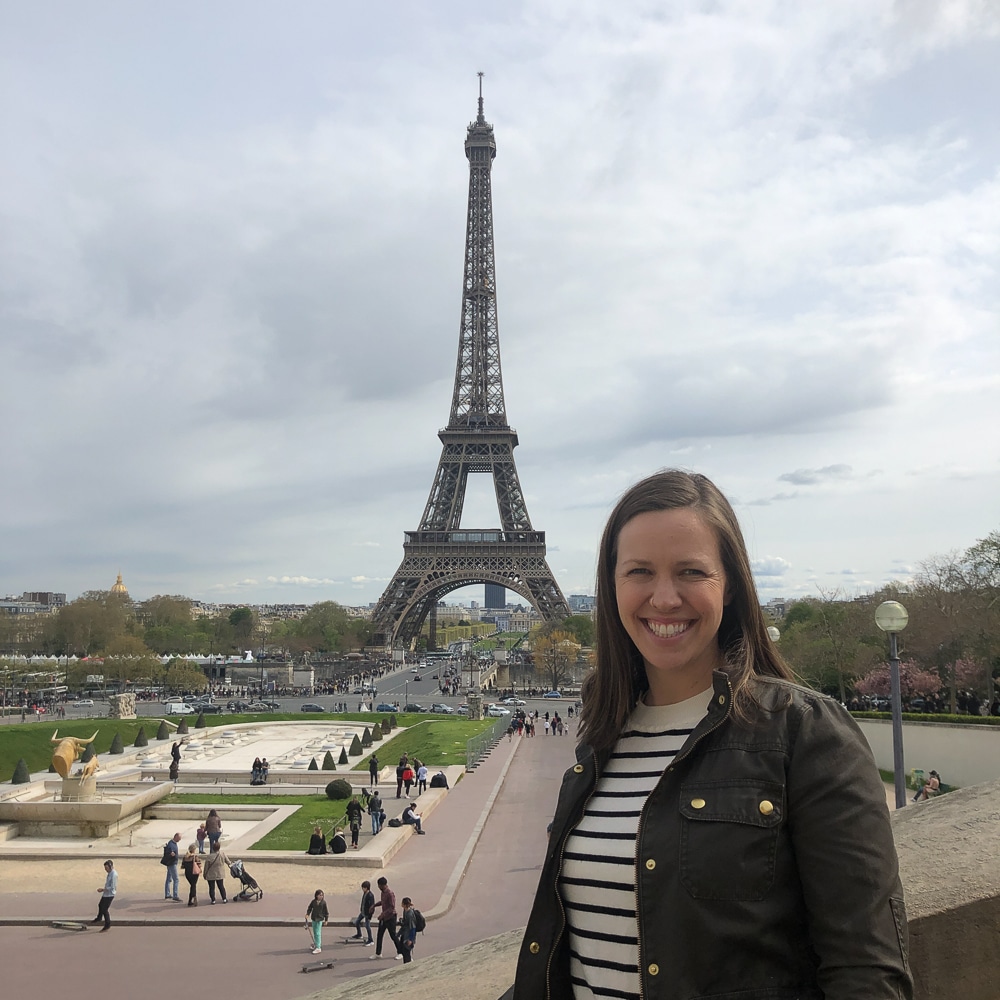 Since we had just eaten breakfast (since we slept in so egregiously late), so we grabbed focaccia pizza at the bottom of the eiffel tower on the left!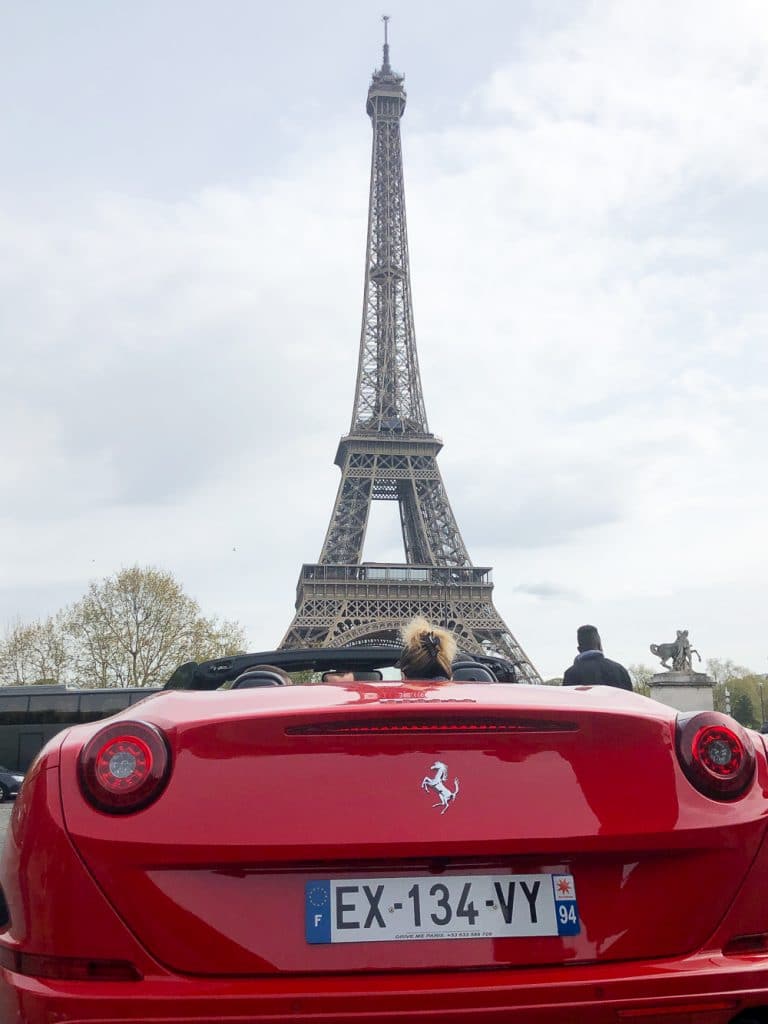 Oh, and spotted this Ferrari! 🙂
The best view of Paris – from Sacre Coeur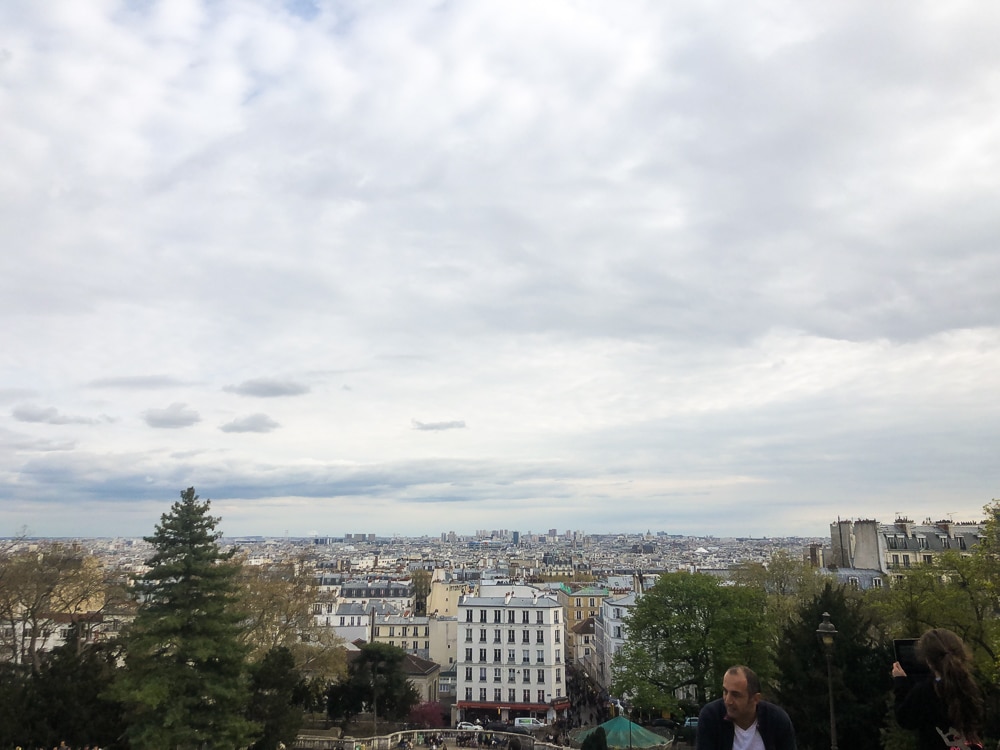 We then took the metro to Sacre Coeur – it takes a long time to get there, but I think it's absolutely undeniably the best view of Paris. We got coffee and croissants and had a lovely walk up the hill.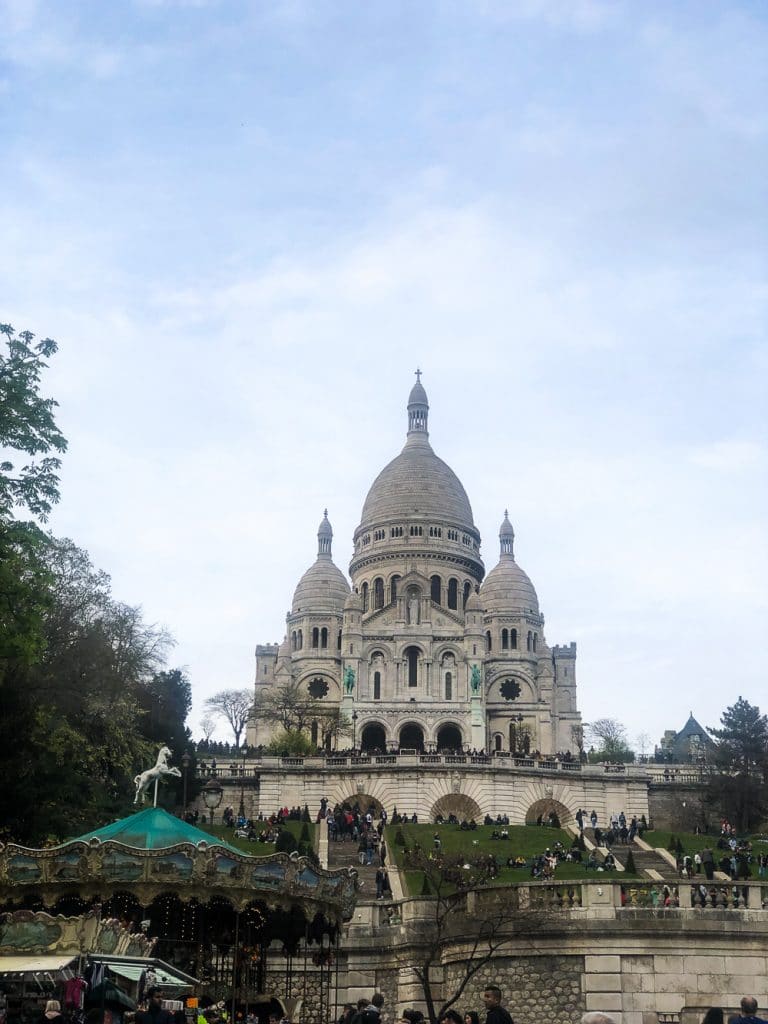 The sunset over Paris from the top of Sacre Coeur was a beautiful moment for us! All of the buildings and homes around this area are to die for!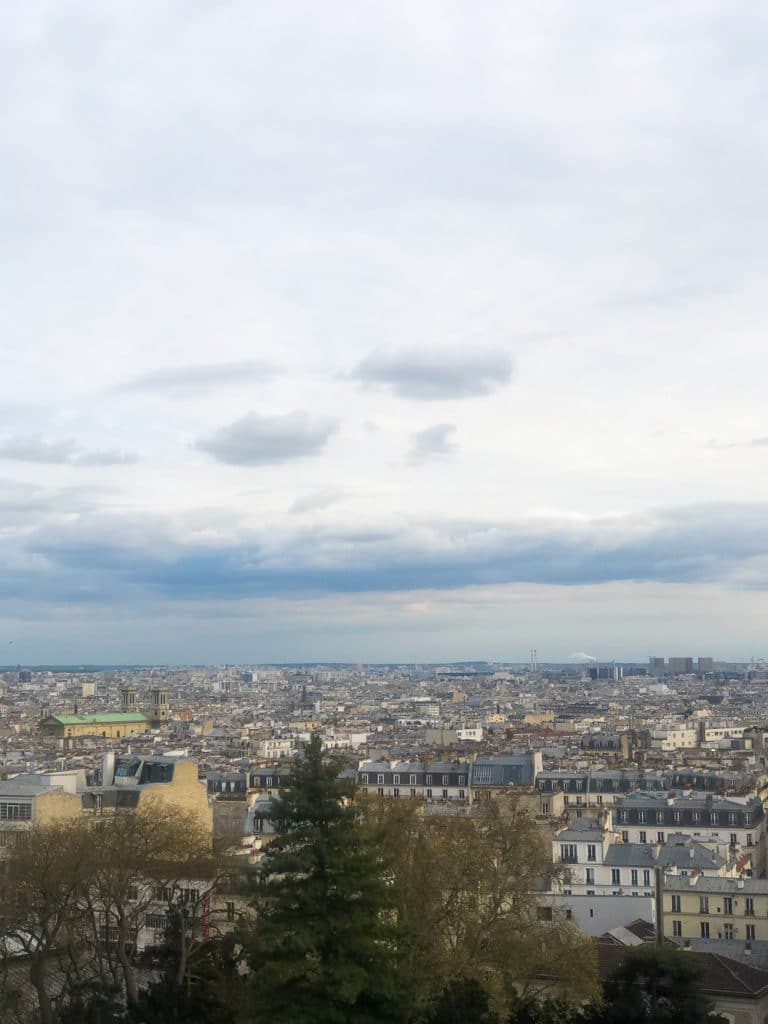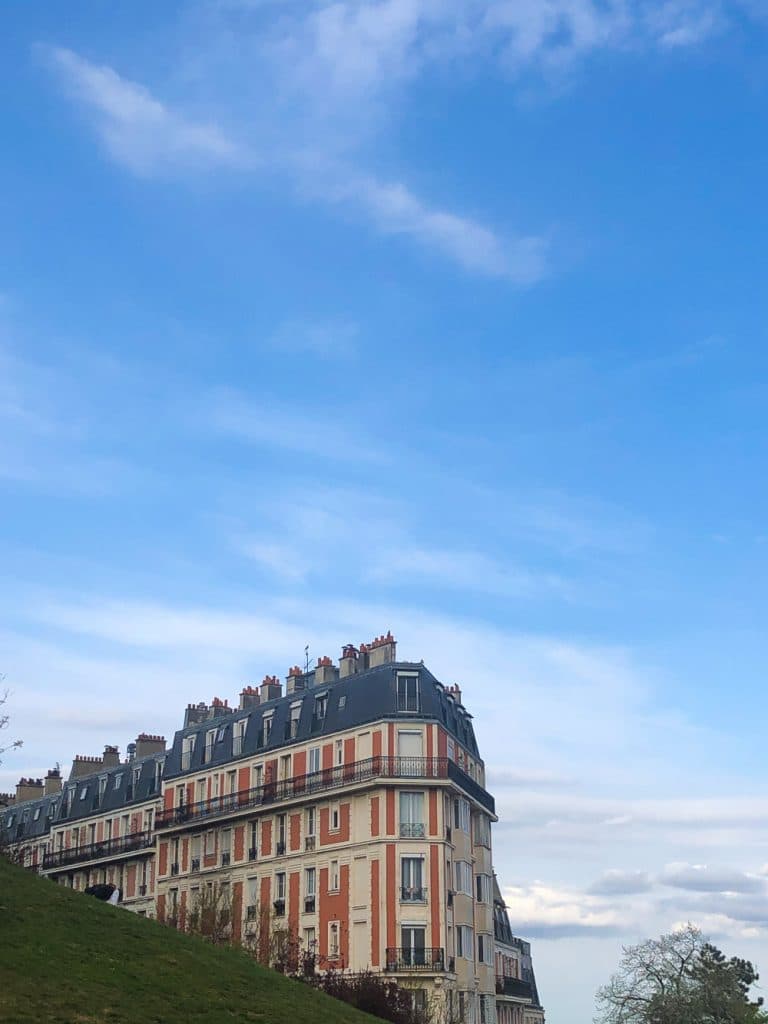 Side note: there are typically people trying to scam you into putting bracelets on you and they try to force you to pay to remove them. Just beware- they tried to do it to us but we were forewarned so they didn't get us!
That night was our dinner at Auberge Nicolas Flamel – notes above!
Check your airports in Paris!!
We went straight back to our hotel, because we were going to have to leave around 3am to get to the airport in time. Now here's the biggest oops of our entire trip. That morning, we got ALL the way to the security line of the Charles De Gaulle airport, to find out our flight was actually out of the Orly airport, hours away on the Southern side of Paris.
Chaz booked our flights into Paris, and I booked this flight from Paris to Venice, so I guess it just didn't even occur to me it could be a different airport. Neither of us even noticed on the tickets we had printed in advance!!
Chaz is THE most gracious human ever, and we just decided to skip Venice altogether. Thankfully, we didn't even have a hotel there. The plan was to do the day in Venice, then train late to Florence. We skipped Venice and flew to Florence instead. It was definitely a bummer and we lost a few hundred dollars, but we loved Florence so much, I'm actually glad we had the extra time there!
Have you been to Paris? What are some of your MUST do things? Places to eat?
Also be sure to check out this Paris bucket list post with ideas from my audience! We just couldn't get to them all 🙂 
Want to save this Things to do in Paris post for later? Pin it here!